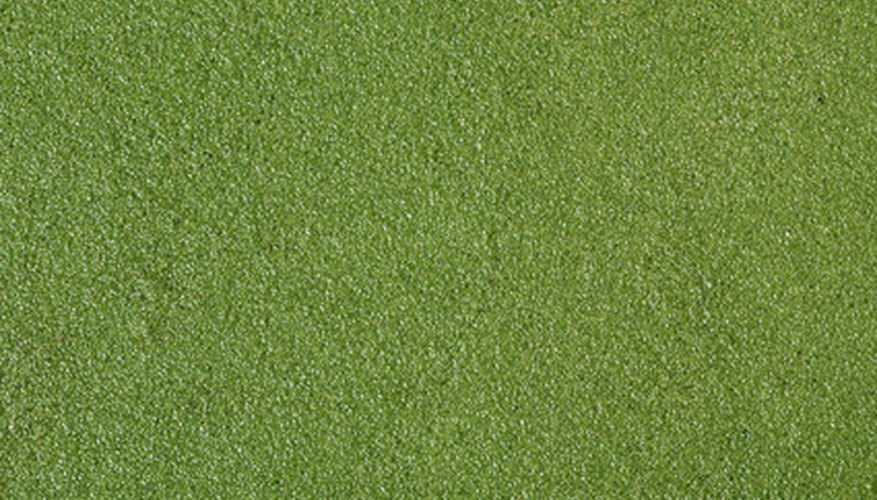 Facts on Duckweed
Duckweed is an aquatic plant that floats stemless over stagnant or slow-moving water. It grows in small clusters of leaves measuring one-half to one inch in diameter and has been described as green carpet over the surface of water.
Lighting
Duckweed can grow in both low and high levels but is better suited for low or indirect sunlight. Minimal light will help control the quick growth of the plant.
Environment
Duckweed lives in an aquatic environment with no soil. It floats above stagnant or slow water.
Temperature
Duckweed needs temperatures between 50 and 85 degrees Fahrenheit. Indoor aquariums provide the best temperatures for the plant.
Size
Though duckweed plants are small, they are extremely fast-growing and must be controlled regularly. If allowed to grow freely, duckweed will cover the surface of the water, depleting the fish under it of all oxygen and sunlight.
Tips
Duckweed helps purify aquarium water and acts as a food for fish. Goldfish especially love to feed on duckweed.The plant must be thinned regularly.
How to Grow Duckweed for Feed
Collect duckweed seed from surrounding pond areas. Collecting duckweed from local ponds ensures the duckweed is adapted to the local area, says the World Bank.
Place a bamboo divide in a fresh water pond to reduce the spread of duckweed from wind. Duckweed is highly invasive, notes Iowa State University, and will spread readily if left to grow.
Add the duckweed seed to the containment area in a place with partial sunlight. Add the duckweed seed at a rate 21 to 32 oz for each 10 square feet (600 to 900g per square meter) for best results.
Check on the duckweed seed after a week. Do not add fertilizer as the duckweed will recover and begin growing around this time.
Collect duckweed with a fine mesh net screen.
How to Remove Duckweed
Skim the water surface with the leaf-skimmer net to collect the duckweed. Use a pole extension to reach more areas in a pond or stream. In small areas like an ornamental pond, your hand can act as a skimmer, scooping out the floating plants.
Collect and fill the leaf-skimmer net with as much duckweed as possible and lift the net to allow water to drain away. Draw the net above the water surface.
Invert the net over a bucket, dumping the unwanted duckweed out of the net.
Repeat Steps 1 through 4 until only a satisfactory amount of duckweed remains in the water.
Empty the bucket filled with duckweed into a compost pile or waste area where the sun will dry and kill the plants. Do not dispose of the duckweed where a rainfall may wash the plants back into the water area just cleaned.
How to Dry Duckweed
Collect duckweed in a porous container and allow it to drain for 5 to 10 minutes.
Put small amounts of duckweed in a shallow oven-safe container. According to biologists at Denison University, duckweed can be dried by baking it in an oven at 170 degrees Fahrenheit for 48 hours.
Spread duckweed over a large sheet of plastic and place it in direct sunlight. According to agronomists with Livestock Research for Rural Development, duckweed can be sun-dried. The amount of time this will take will depend on the temperature out doors (usually between 24 and 48 hours) so this is best done during the warm season.