How to Kill Spiders With Diatomaceous Earth
In the garden, spiders are beneficial insects that trap and eat large numbers of insect pests. Certain types of spiders are deadly, however, and their presence in the home can endanger family members and pets. If you notice unwelcome spiders in your house, you can eliminate them with diatomaceous earth, a natural product made from diatom fossils. Diatomaceous earth shrivels the exoskeletons of spiders and other arachnids and insects. Since it harms beneficial insects such as ladybugs and honeybees it should not be used in the garden.
Purchase natural grade diatomaceous earth powder from a hardware store, drug store or home center. Be sure to select natural grade diatomaceous earth, not the kind used for swimming pool filters.
Shake the powder in a thin layer under appliances and in cracks and crevices.
Shake a thin line of the powder at entry points to prevent spiders and other arachnids and insects from entering the home.
Store the powder in a high cabinet out of reach of children and pets.
Effect of Diatomaceous Earth on Plants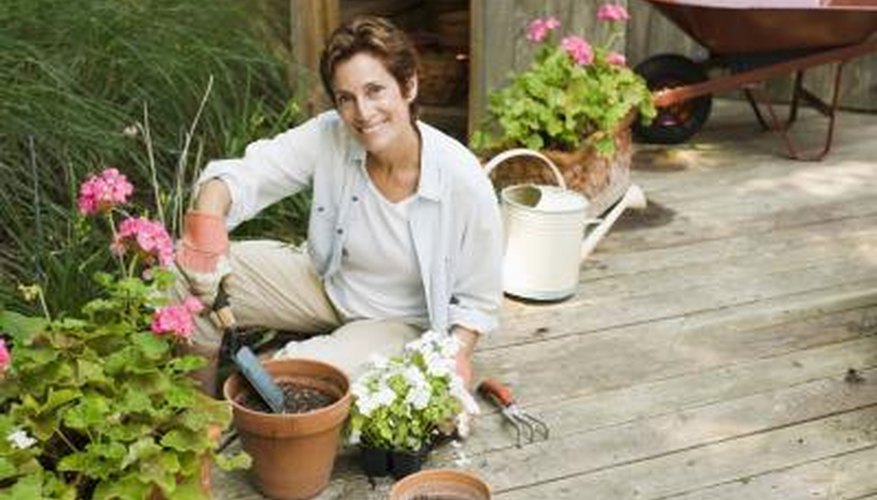 Identification
Diatomaceous earth is made up of diatoms, the tiny fossilized shells of ancient water plants. These shells formed chalk-like deposits that contain minerals including silicon, calcium, sodium, and iron. The mined substance is ground up to produce a white powder that looks a lot like talcum.
Insect Control
Diatomaceous earth is useful for controlling insects that could harm garden plants. Its tiny particles have extremely sharp edges that cut through insects. The insects can die from the cuts (and subsequent dehydration) or from the shards entering their bodies and absorbing fluids, according to Gardening IQ.
Kinds of Insects
Gardening stores recommend diatomaceous earth for controlling ants, thrips, mites, cockroaches, slugs, snails, and aphids.
Human, Animals, and Plants
Although diatomaceous earth is deadly to many insects, it's harmless to the touch and taste of humans and animals, and does not harm plants. Even animals licking the powder off their coats won't be harmed. However, you should wear a dust mask when working with diatomaceous earth, because until the powder has settled it can irritate mucus membranes.
Other Uses
Because it is harmless to humans and animals, diatomaceous earth is also used to control insects in homes and yards as well as gardens. It has also been recommended as a way to help protect pets from fleas and ticks.
How to Use Diatomaceous Earth on Gnats
Amend the soil with diatomaceous earth. Diatomaceous earth is a mineral powder made from fossilized water plants. Diatomaceous earth affects gnats by stripping or absorbing the waxes and oils from the insects' body. When it is blended with the soil, diatomaceous earth comes in contact with larvae and destroys them. Study remains necessary to determine how effective this method actually is. It appears to be least effective in greenhouse plants.
Sprinkle diatomaceous earth on the soil surface. Ideally, diatomaceous earth works best when it prevents gnats from laying eggs and allowing larvae to hatch. The layer of diatomaceous earth creates a barrier between the gnat and the soil. When the adult gnat becomes exposed to the diatomaceous earth, its exoskeleton is shredded.
Spray a solution of diatomaceous earth over plants and soil. This method has the potential of dispersing the diatomaceous earth most evenly, and may even affect gnats in flight. Repeated application is required.
Create a slurry of diatomaceous earth and water. To treat large areas plagued with gnats, paint the surroundings with this slurry. For example, you can use this method to fill cracks in pavement or garden walls. You can also use it to coat the bases of tree trunks or sturdier plant stems.
How to Use Diatomaceous Earth in Gardening
Understand how diatomaceous earth works. While it seems like a harmless powder to us, it is actually quite sharp and hazardous to insects. It must come in contact with the pest to be effective. It will scratch and puncture the exoskeleton of soft-bodied insects, thereby causing them to dehydrate and die. Hard-bodied insects will absorb the diatomaceous earth into their spiracles, eyes and other entry points into the body.
Look for agricultural or horticultural grade, rather than pool grade. You may be able to find it at a feed store. However, if you cannot find diatomaceous earth locally, there are plenty of online retailers from which you can purchase it.
Make a shaker out of an old coffee can and an extra lid to make application a little easier, and reduce waste,. Punch holes in the bottom of the can with a nail. Cover this end of the can with your extra lid. Fill the can and cover the top with your other lid. Place a lid from a second can on the other end for storage. Simply remove the lid covering the holes when you are ready to sprinkle diatomaceous earth on your garden.
Apply the diatomaceous earth when you don't expect rain in the next few days. If it does rain, reapply the powder as soon as the plants and ground dry out.
Dust plants with a layer of the diatomaceous earth. In addition, coat the ground around the plants. Look for anthills and other insect nests. Apply the powder directly to these nests.