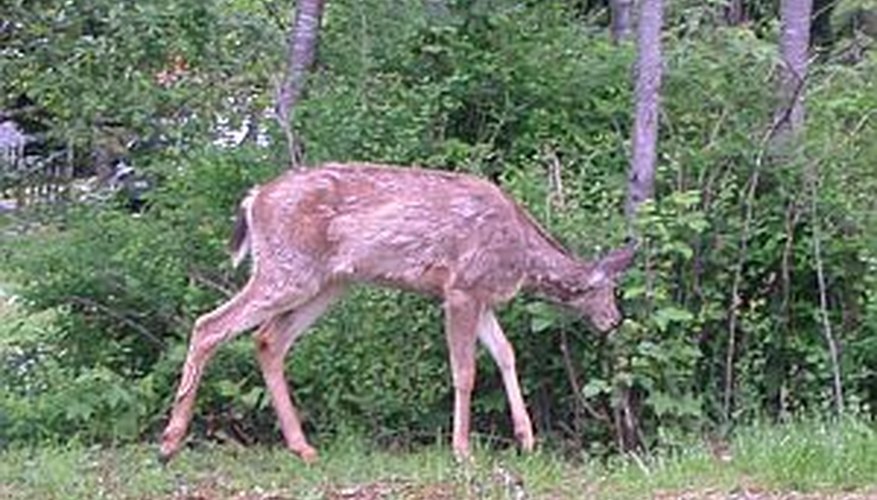 Homemade Deer Repellant Recipes
Though it may be enjoyable to live in an area where deer and other wildlife roam freely, there's an unfortunate downside: deer can destroy both landscapes and gardens. To create a deer-proof area, you must find a deer repellant that works. Instead of purchasing a repellant, consider making one yourself from a recipe.
To make a homemade deer repellant, place 3 eggs, 3 tbsp. garlic juice, 3 tbsp. hot pepper sauce and 1/2-cup water in a blender. Process until combined. Add this mixture to 1 gallon of water and fill a spray bottle with the repellant. Spray your outdoor plants to repel deer.
For another deer repellant, place 2 eggs, 1 cup water, 1 cup skim milk and 2 tbsp. liquid dish soap in a blender. Process until combined. Spray on plants.
Another popular recipe is 2 eggs, 2 tbsp. liquid dish detergent and 2 tbsp. oil mixed well. Add this mixture to 2 gallons of water. Fill a spray bottle with this repellant, and spray plants as needed to keep deer at bay.
Combine 1 egg yolk, 1 tbsp. baking powder and 1 gallon of water. Mix well and pour into a spray bottle. Spray plants with this repellant approximately every two weeks to repel deer.
Scatter human or animal hair around plants. It will keep deer away, and as the hair decomposes, it enriches the soil with nitrogen.
Will Mothballs Keep Deer Away From Plants?
Preparation
Place mothballs in an old nylon stocking and put them around your garden. The stocking will hide the mothballs, which otherwise could be mistaken for food by deer or even pets. The chemical smell alone usually will keep deer away.
Quantity
You need to use a significant amount of mothballs to deter the deer from your plants. Place the mothballs above the ground around the circumference of your garden area.
Weather
You will need to replace the mothballs on a regular basis because rain, dew and other weather will dissolve them. You need enough around your plants to keep the chemical smell going.
How to Make Your Own Deer Repellent
Whisk together three eggs and 1 cup of cold water. Strain the mixture through the cheese cloth to remove any larger particles that could clog your garden sprayer.
Add 3 tbsp. of minced garlic to the egg mixture. Fresh garlic is more potent than jarred or canned garlic.
Add 3 tbsp. minced hot peppers (such as jalapeno or habanero) or 3 tbsp. hot pepper sauce to the egg and garlic mixture. Always wear disposable gloves when handling hot peppers to avoid burning your skin, and do not touch your eyes or other sensitive areas until you have removed the gloves and washed your hands thoroughly.
Add 1 tbsp. liquid dish soap or castile soap to the egg mixture.
Combine the egg mixture with one gallon of water and stir well.
Fill a garden sprayer with the deer repellent mixture and spray the foliage of any plants you would like to protect from deer. Apply the spray in late morning or mid-afternoon, after the dew dries. If possible, wait for dry weather.
Reapply the deer repellent spray at least once a month and after any heavy rainfall.
How to Keep Deer Away
Take a metal bucket and tie nuts and bolts to the sides. Suspend the bucket by the handle between trees with twine. When the wind blows it creates a noise that will keep deer away. This also works when the deer hits the twine by causing noise.
Display pie pans in the direct sunlight. The reflection can deter deer during the daylight.
One of the easiest and most effective ways of keeping deer away is to use human hair. Call a beauty salon and ask them if they will save you a bag of hair. Simply sprinkle the hair around the area you wish to keep the deer out of. If preferred you can place the hair in cloth bags and distribute them around the area.
Deodorant soap is also a repellent of deer. Simply place bars of soap around the garden, flowers and shrubs.
Is Weigela Deer Resistant?
Plant Resistance
Deer often eat plants with tender, smooth leaves. Mild flavor is also attractive to them. Weigela is sometimes eaten by deer, and is occasionally damaged.
Location
If your neighborhood has a large deer population, or if deer are known to eat local weigela, plant the shrub within closed borders, such as a fenced-in or a hedged-in area. Weigela planted near the house and near the scent of human activity will be safer than those planted near the edges of forests and thickets.
Deer Repellents
Deer repellents can be as simple as deodorant soap and bags of human hair suspended from branches. Commercial preparations often contain rotten eggs and putrefied meat. Deer have a high learning curve, so periodically switching from one repellent to another keeps them from failing over time.
How to Keep Deer From Eating Your Plants & Trees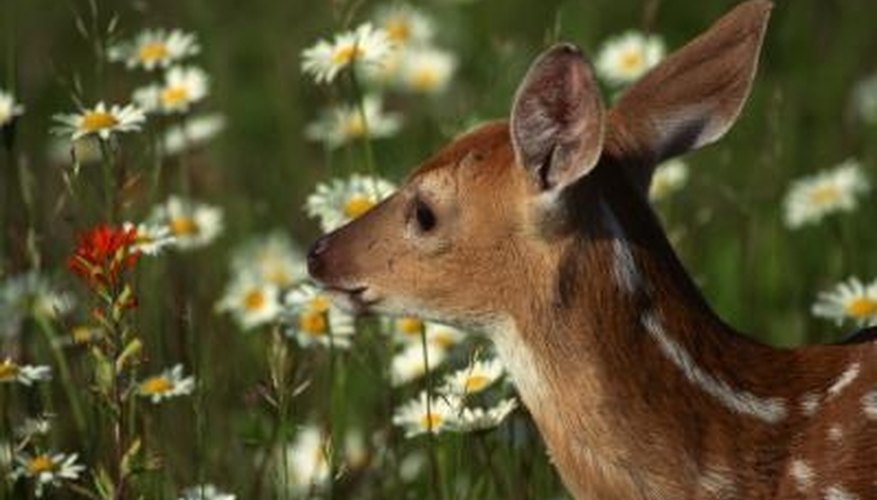 Install a fence around your garden to prevent deer from entering. Because deer can jump very high, you will need to construct a fence that is at least 8 feet tall. If your yard slopes steeply downhill, the fence might need to be higher. Fence your entire yard if you want to completely keep out deer. Another option is to simply install a fence around your garden space if you don't mind the deer entering other areas of your yard.
Plant flowers and trees in your garden that deer don't enjoy. There are many plants that deer will not eat, unless there is absolutely no other food to be found. For example, choose plants like asters, Atlantic white cedar trees, butterfly bushes, geraniums, pansies and Virginia bluebells.
Purchase a deer-deterring spray from a local home and garden shop. These sprays contain ingredients that deer do not like. Follow the instructions on the brand of deer-deterring spray you choose and spray it around your garden and the base of trees. You will need to regularly reapply the spray to keep the deer away, especially if it rains.
How to Deter Deer from your Yard
Choosing plants the deer don't have much of an appetite for is a great way to encourage deer to dine elsewhere. Plants white-tailed deer tend to avoid include: daffodils, ornamental grasses, herbs, bee balm, Russian sage, barberry, cleome, coneflower, yarrow, peony, oriental poppy, lungwort, lamb's ear, foxglove, forget-me-not, yucca, speedwell, columbine, butterfly weed, lily of the valley, bleeding heart, wood fern, globe thistle, joe-pye weed, baby's breath, lenten roses.
The feel of something hard to identify that touches their legs is one big pet peeve of white-tailed deer. String pieces of thin wire or sturdy fishing line at a height of 2 to 3 feet to keep deer away.
The smell of deer predators will make them turn and high tail it out of your yard. Purchase the urine of fox or coyote, and deposit drops of the predator urine in key spots around plants. One sniff and the deer turns and runs away, feeling that it is in danger of encountering an unfavorable predator.
Does Soap Keep Deer Out of a Garden?
Effects
Gardeners with a deer problem can purchase almost any brand of scented, wrapped bar soap and hang it from a tree or post by puncturing the bar and threading a sturdy length of string or cord through the hole. Deer will be repelled by what is, to them, an overpowering scent, and avoid any garden plants near the bar of soap.
Benefits
Ordinary scented bar soap costs far less than commercial deer repellents, which, at more than $40 per unit, may not be as effective as soap, according to the deer repellent study conducted by Ken Konsis in cooperation with the international Walnut Council, a sustainable forest nonprofit. Unlike other repellents, soap lasts for months or years in a garden with average rainfall without the need for reapplication, provided that it retains its water-resistant wrapper.
Considerations
"Tasty" soaps with edible ingredients like coconut oil will repel deer but might attract other wildlife, such as rodents, who will eat the soap and remain in a garden they might not have visited otherwise.
Deer-resistant Evergreens
Japanese Plum Yew
The Japanese plum yew looks similar to standard yews. It has needles that are aboyt an inch long and a dark green color. These shrubs can be left to grow naturally into a dense hedge or can be pruned to make a more formal arrangement.
Oregon Grape
This plant group contains shrub and ground-cover varieties. Check with your local nursery or mail order catalog to select a plant that will work for your climate, as the cold-tolerance of these plants varies widely within the species.
American Holly
The holly tree, with its inedible red berries, is not favored by deer. It is a slow-growing tree but can reach heights of up to 60 feet. The ornamental branches are often used in festive winter decorations.
Douglas Fir
The Douglas fir is perhaps most recognized as a popular choice for use as a Christmas tree. It is also known to be deer-resistant. This evergreen thrives in Western states, and cultivated varieties often reach 60 to 70 feet in height.
Boxwood
The boxwood is another evergreen that deer do not enjoy. Most varieties of boxwood bloom in early spring, but the shrubs also retain their green foliage year-round. Much like the yew, the boxwood can be aggressively pruned to create a formal hedge or left to its own devices for a more natural look. Some varieties can grow up to 15 feet tall.
Which Plants Keep Deer Out of a Garden?
Bamboo
Japanese arrow bamboo (Psuedosasa japonica) is a hardy grass that grows in zones 7 through 10. This fast-growing grass reaches heights between 14 and 20 feet. Bamboo is not only repellent to deer, it can also provide a natural fence around the garden to further detract deer from entering.
Lavender
Lavender is an aromatic herb that deer typically will not eat. In fact, gardeners report that the scent of lavender in a garden repels deer. Lavender is hardy in zones 6 through 10 and produces fragrant cones of flowers during the spring and summer months. Lavender is a natural seeding plant and a vigorous ground cover, so it must be maintained unless you desire an entire garden of lavender.
Yarrow
Yarrow (Achillea millefolium) is a wild flower that thrives in zones 3 through 9. This weed-like plant is a natural-seeding ground cover that thrives in full sunlight and is drought resistant. Yarrow comes in many blossom colors including red, yellow, orange, white, purple and pink. If properly cared for, yarrow can grow to be between 8 to 16 inches tall. Similar to lavender, yarrow is extremely aromatic, and naturally repels deer.
How to Stop Deer From Eating Shrubs
Set up a scarecrow on your property near your shrubs. Deer are neophobic, which means they are afraid of new objects. The deer won't go near any of the shrubs that are next to a scarecrow.
Set up a few wind chimes near your shrubs. Deer scare very easily. If the sight of the scarecrow doesn't phase the deer, the sound of the wind chimes might.
Spray predator urine on your shrubs. Fox and coyote urine are both good choices. Deer have an excellent sense of smell. They will smell the urine and think a predator is nearby. This will keep them from coming near the shrubs.
Get some plastic netting and wrap it around your shrubs to protect them. If you don't want to do this, you can also use the plastic netting on the ground near the shrubs. The deer will step on it and not like it. This will keep them from getting to your shrubs.
How to Protect Grapevines From Deer
Set up a motion-activated sprinkler. Whenever the deer come close to the grapevines, the sprinkler will activate. This will scare the deer and send them running in the opposite direction.
Blend 12 whole eggs in a blender. Add the eggs to a 5-gallon bucket of water. Mix until well-blended. Spray this mixture around your vineyard to repel deer.
Set up a sonic device near your grapevines. These devices are battery-operated and can be placed anywhere. When a deer approaches, the sonic device will set off a high-frequency noise and turn on an LED light. This will startle the deer out of your garden.
Install an 8-foot fence around the grapevines. This is the best way to ensure that deer do not damage your grapevines. Fencing is an expensive option, but it will last a long time and will keep your vineyard intact.
What Is the Height of a Garden Fence for Deer?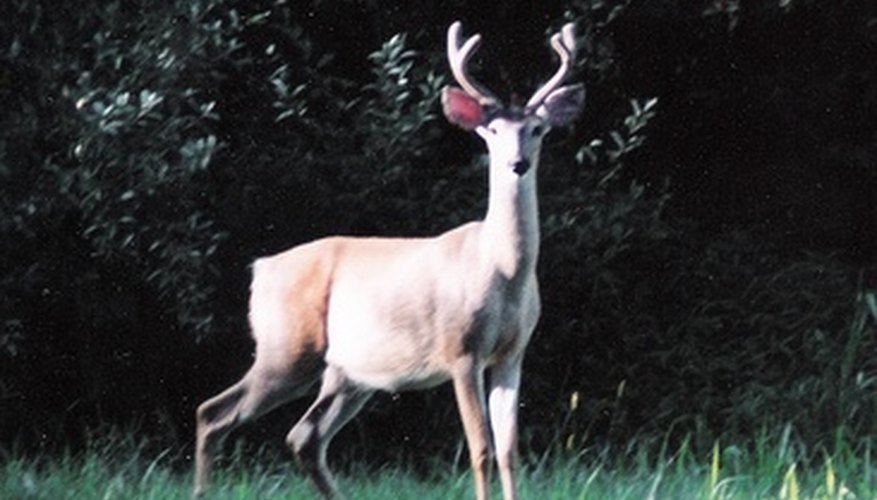 Deer fencing should be at least 8 feet tall if using wire, wood or similar materials. Electric fencing, with a single wire at 30 inches off the ground, may be useful, but only recommended for repelling small deer populations.
Will Deer Eat My Grape Vines?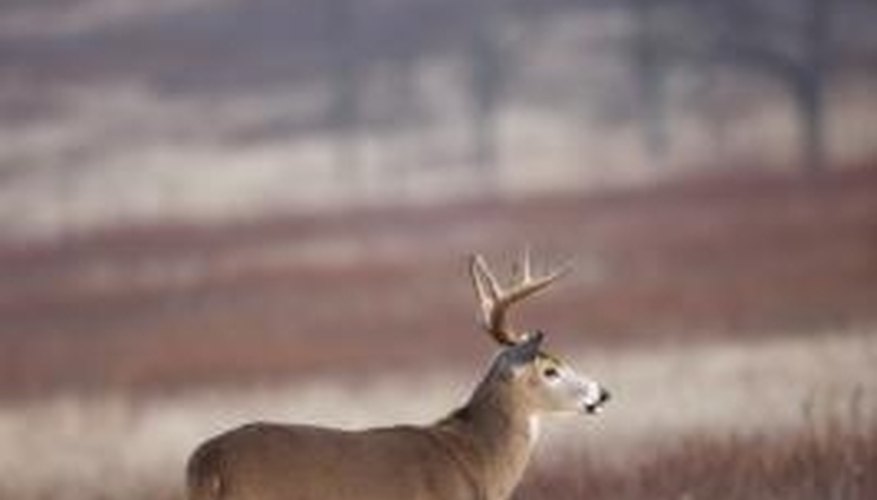 Place two handfuls of the dried peppers into each plastic ice cream container. Fill with water. Let it stand in the sun for seven days.
Strain 2 to 3 quarts of the pepper solution into the pump sprayer. Add two tablespoons of the dishwashing liquid along with a 1/4-cup of the arasan, a deer repellent. Place the top on the sprayer and shake well to mix.
Spray the leaves of the grapes vines until the solution drips. Apply on a weekly basis or after a heavy rain.
Refill the 1-gallon ice cream container with water to make another batch of dried pepper solution. In most cases, the peppers will produce up to four batches per one handful of dried peppers. Wash the grapes before consumption.
How To Repel Deer From a Garden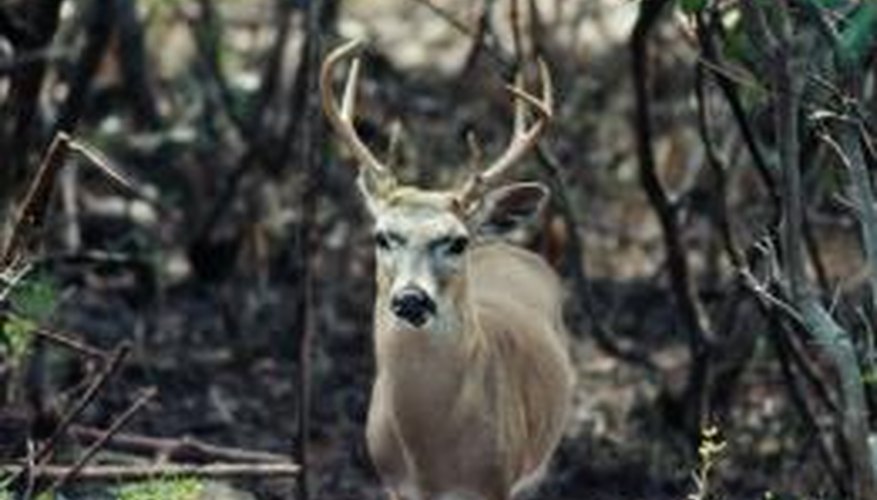 Step 1
Hang bars of soap by wires from tree branches, posts or other sturdy objects in the garden. Let the soap dangle 1 1/2 feet above the ground. The scent of soap repels deer.
Step 2
Monitor the deer's activity for a few days to determine whether the soap bars are effective. If deer still consistently enter the garden, mix a raw egg with 1 qt. of water in a bowl.
Step 3
Fill a spray bottle with the egg solution. Spray the egg solution onto the plants and trees susceptible to deer. Eggs are repulsive to deer.
Step 4
Keep a watchful eye on your plants and trees for a week to determine if deer are still eating and damaging them. Reapply fresh egg solution every three days.
Step 5
Apply a commercial deer repellent to the susceptible areas of the garden if you continue to notice trampled plants, shredded tree bark and broken branches. Follow the deer repellent manufacturer's directions exactly.
Step 6
Install an 8-foot-high wire fence around perimeter of the garden as a last resort of controlling deer. Homemade and commercial repellent methods can become ineffective over time and deer will overcome their fears.
How to Make a Knife Handle Out of Deer Hooves
Measure your current knife handle between the butt cap and blade guard. Use a hacksaw to cut your chosen deer leg to the length you need.
Use acetone and long pipe cleaners to remove all marrow from inside the bone. Repeat two to three times to ensure complete cleaning.
Use an electric drill and a bit whose diameter is the same as the width of your knife tang to auger out the bone as wide as possible without piercing it. Clean the inside of the bone again, using acetone and long pipe cleaners.
Use a right-angle grinder and a 24-grit wheel to grind your knife tang so that it will fit into the hollowed bone of the deer hoof.
Fill the inside of the bone with gray metal epoxy. Coat your knife tang with the same epoxy as well. Push your knife tang into the hollowed bone inside the hoof section. Allow the epoxy to cure for 24 hours before using your knife. According to custom knife maker Earl Blackmore of hellfire-forge.com, "...using epoxy to mount the handle...will strengthen it and seal the porous material inside the bone. Otherwise the interior of the bone can slowly break down with use, and your handle will loosen up."
Is Bishop's Weed Plant Deer Resistant?
Bishop's weed is deer resistant but not deer proof. Deer will eat Bishop's weed if there is no other food source available.
How to Plant a Food Plot in Michigan for Deer
Test the soils pH to determine the best type of plant grow growing. Typically a food plot thrives the best when the pH is either neutral or slightly acidic. If the soil is alkaline, contact your county extension office for recommended treatments that will add acidity to the soil.
Spray down the entire lot with weed killer and rake up all the dead weeds.
Sprinkle the lot with plant seed and rake over the seed to mix it into the topsoil. Roll over the lot with a lawn roller to press the seed firmly into the ground.
Fertilize the lot annually in the spring to produce a rich, green patch. The richer the patch, the more deer that will be attracted to it.
Water the patch bi-weekly if there is a drought. If the area is receiving its normal annual rain, then there is no need to water.
How to Deer-Proof Evergreens
Put your habanera peppers in a blender with half a cup of water. Blend until completely combined.
Strain the pepper/water through a piece of cheesecloth.
Add vegetable oil, glue and dish soap to the pepper/water. This makes your deer repellent concentrate.
Mix 1/4 cup of the concentrate with 2 1/2 cups of water. Pour this into an empty spray bottle.
Spray the leaves of your evergreen trees with the deer repellent. If the deer do try to munch on the evergreen trees, they will hate the taste and leave the tree alone.
How to Protect Your Trees from Deer
Step 1
Drive three or four stakes into the ground surrounding your tree. You may need a rubber mallet or hammer to assist you. Use four stakes if the tree is larger. Three stakes will be just fine for a smaller tree.
Step 2
Cut a piece of plastic or wire mesh to size. Use a scissors for plastic or wire cutters for metal mesh. You will be wrapping the mesh around the stakes. This forms a wall around the tree the deer cannot eat through. The mesh will let sun through, which is needed for your tree.
Step 3
Staple the mesh to the stakes. Use enough so the mesh does not come loose easily. It is not necessary to use a lot of staples in your stakes.
Step 4
Inspect your new shield from time to time to ensure your wall has not been compromised. You may need larger stakes depending on the size of your tree. You may need to move the stakes as the tree grows larger. Once the tree is ten feet tall or more, you should no longer need to protect the tree from deer.
How to Keep Deer Away From Vegetables
Redirect deer to other parts of your property, so they won't eat the vegetables. Do this by placing salt licks at least 100 yards away from the vegetables, encouraging the deer to walk in that direction.
Plant border plants that deer detest, including rosemary and rue, to encircle your vegetables. Not only are these border plants attractive, but they also have the added bonus of repelling deer. Rue is ideal for colder climates because it thrives in freezing temperatures, if necessary.
Repel the deer with certain scents obtained at a local nursery. Hang bags of mothballs by the vegetables, use a commercial deer repellent or spread pet or human hair around the vegetables. Commercial sprays will not be odorous once they dry.
Fence the vegetable garden, if all else fails. As long as it's sturdy and tall (deer can clear fences of 5 feet tall), a fence will be the best and most permanent deterrent. Build it just around your vegetable garden or your entire property. Available at local hardware and gardening stores, select a fence that works for your landscape and budget as well as a installation method. Electric fences, which provide a mild shock, are particularly effective.
How to Deer-Proof Shade Plants
Combine two large jalapeno peppers, 1 tbsp. of dishwashing soap, 1 garlic clove and 1 gallon of water in a blender, mix together and pour the mixture into a garden sprayer.
Spray the shade plants with the jalapeno mixture thoroughly, spraying high enough so deer will not eat any leaves without tasting the mixture, even when standing on their hind legs.
Cover the shade plants with a fine netting during the winter. Vexar netting, thin and tough, will break down in sunlight in three to five years yet requires little or no maintenance.
Release your dog into the yard, if you have one, because dogs are great deer deterrents