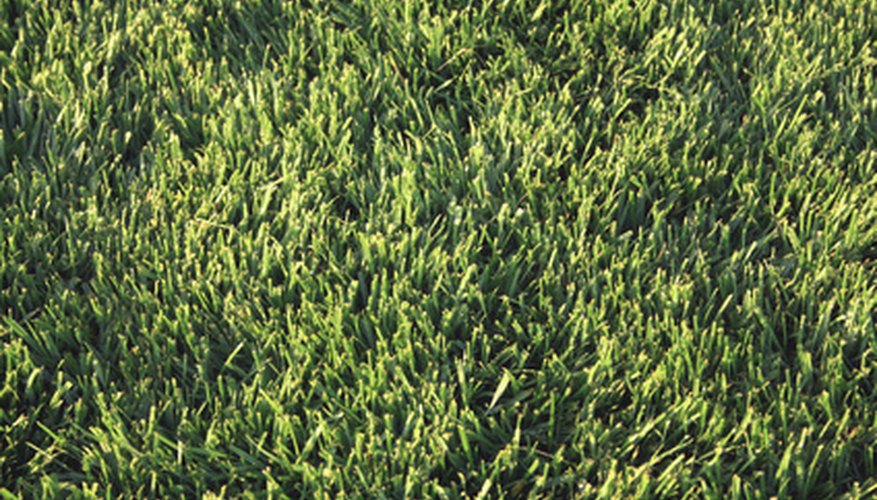 How to Kill Crabgrass in Centipede Lawns
Crabgrass is an annual warm season grassy weed and once it takes root in your lawn, it can be difficult to kill. Use a pre-emergent herbicide in the late winter or very early spring to keep crabgrass from sprouting in your lawn. During the summer and after the crabgrass has rooted in your lawn, you can kill it by spraying the affected areas with a weed killer specifically formulated to not damage your lawn.
Mow your centipede grass lawn seven days before treating your lawn for crabgrass.
Choose a selective herbicide that has sethoxydim as its active ingredient. Sethoxydim is safe for centipede grass lawns and selectively kills crabgrass. Mix the herbicide with water in a sprayer following the manufacturer's directions.
Spray your centipede grass lawn with the herbicide when the wind blows less than 10 mph. Allow the herbicide to remain on the grass for one hour before watering. Wait seven additional days before mowing your lawn.
Removing Crabgrass From a Zoysia Lawn
Use a handheld spade to remove the crabgrass manually. This is ideal for small bunches of crabgrass. Slide the spade under the crabgrass bunch and pull it upward.
Treat your lawn with herbicides for widespread crabgrass removal. Start with a pre-emergent herbicide applied in February before the crabgrass seeds germinate. Chemicals include oryzalin, bensulide and trifluralin. Administer onto your lawn according to the herbicide's label, since toxicity varies by product. These chemicals kill the dormant crabgrass seeds and break the weed's life cycle.
Follow with a post-emergent selective herbicide such as clethodim and fluazifop. This kills any crabgrass plants in your lawn that have already germinated without harming your zoysia.
Maintain your zoysia lawn to prevent a return of the weed. Mow the lawn at the maximum allowable height of 1 inch to help crowd out any other plants. Fertilize the lawn during the summer months of May through August with a standard lawn fertilizer to boost the lawn's vigor and further reduce the chance of crabgrass invasions. Zoysia is a warm season grass and fertilizing at any other time is detrimental--
Homemade Crabgrass Killer
Fill a pot with water and set it on the stove. Set the stove to high heat and bring the water to a full rolling boil.
Take the water outside as quickly as possible. Pour the hot water slowly on the crabgrass. Keep in mind that the hot water will likely kill any plants it comes in contact with, so do your best to pour it only on the crabgrass.
Repeat the process as often as necessary. It may take three or more attempts to kill fully matured crabgrass with this method.
How to Treat Crabgrass
Treat crabgrass with a pre-emergence herbicide before it germinates or spreads, usually between mid-March and mid-May. Have it done professionally to avoid killing your lawn as well as the crabgrass. Or, be careful to treat only the crabgrass infected areas and then spread grass seed to help the grass grow back.
Wet your lawn and then pull or rake out the crabgrass late in the fall after the weather has turned colder and your lawn is entering the dormant phase. This will slow the crabgrass from spreading in the spring when it will begin to grow and spread wildly. This will give you time to have your lawn treated properly in the spring before the crabgrass gets out of hand.
Maintain your lawn when it is at its healthiest. Make sure to mow your lawn regularly. A lawn that is thick with grass, well-watered and well-fertilized will have less chance of growing crabgrass.
Fertilize your lawn every six weeks beginning in early spring (around mid-March) until it goes into its dormant season, which depends on your climate. Many fertilizers have crabgrass killers in them that will also protect your lawn. If you use these fertilizers regularly throughout your lawns most active growing times you should be able to keep the crabgrass under control.
How to Kill Crabgrass in Flower Beds
Pull crabgrass shoots as they appear, making sure you remove the roots. It is best to remove the grass before it produces seeds. Use a garden trowel to loosen the roots if necessary.
Spray herbicide on sections of crabgrass that are difficult to remove. Take caution during application as you don't want to kill other plants.
Use an edge cutter around the flower bed to separate lawn grass from the flower bed. This will prevent grass from growing into the flower bed.
Apply 2 to 3 inches of mulch around the flowers once all grass remains have been removed. This will block the growth of weeds, including crabgrass.
Apply a pre-emergence weed killer in the spring if there is a known crabgrass problem. The application must be made before the crabgrass appears.
How to Kill Crabgrass in July
Hand weed your crabgrass with the help of a small spade. Water the grass first to loosen the soil.
Spot treat the crabgrass with a post-emergent herbicide listed as safe to use on crabgrass and the type of grass in your lawn. Mow or cut the crabgrass low and allow it to re-grow around 1 inch before spraying it. Coat the crabgrass with the herbicide (according to the manufacturer's instructions) early in the morning on a day when there is no rain forecast for the next 48 hours. Re-spray at the intervals dictated by the manufacturer until the crabgrass is gone.
Mow your lawn to a height of 2 1/2 to 3 inches after the crabgrass is gone to help guard against an outbreak the following season.
Apply a pre-emergent crabgrass herbicide in early spring. Spray or spread liquid or granular pre-emergent herbicide over your lawn. Re-apply the herbicide at the intervals dictated by its manufacturer.
The Best Time in Wisconsin for Crabgrass Preventer
In Wisconsin, crabgrass herbicide should be applied in early spring before the seeds start to germinate. Apply the herbicide in April, as long as the snow is gone and the grass is starting to turn green. You do not need to treat the entire lawn, only the locations where you had crabgrass the year before in fall.
How to Kill Crabgrass and Reseed
Spray the lawn with a herbicide specifically designed to kill crabgrass. Use a selective herbicide that will not kill your grass. If you have just a few patches of crabgrass, cut the weeds off at the roots with a knife and pull them out. If you sprayed, wait a few days to see if it all has died. If not, respray.
Mow the lawn so that seed can get down to the dirt. Tall grass will trap seeds and keep them from reaching the growing area and cast shadows that blocks the sunlight.
Add a starter fertilizer that will stimulate seed growth.
Aerate the yard to loosen the soil and provide places for the seed.
Spread seed of the same kind already growing in your yard. The package will tell you how much to use for overseeding a lawn that already exists. There is no need to waste the product by spreading too much. Spread in one direction on the lawn and then at a 90-degree angle to the first direction.
Cover with a thin layer of straw to keep away birds.
Water the lawn daily for the first month.
When to Apply Crabgrass Preventer in Texas?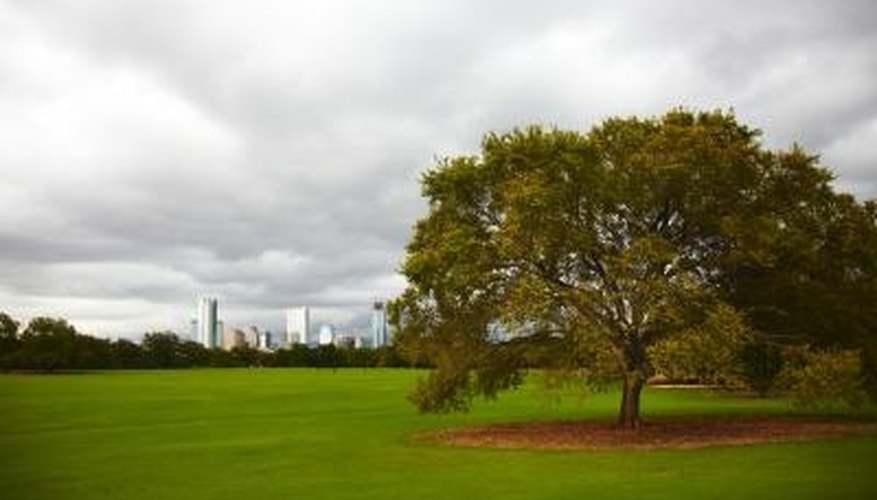 Germination Temperatures
Understanding when crabgrass sprouts is the key to correct pre-emergent timing. Crabgrass seeds germinate when soil temperatures reach 55 to 60 degrees F and remain at that level for three to seven days. Apply crabgrass preventer roughly two weeks before soil warms to this temperature.
Spring Application
In north Texas, apply crabgrass preventer by April 1. Central Texas warms up earlier and needs an application by March 15, while southern Texas requires an application by March 1. Sunny slopes and lawns near sidewalks warm up quicker than the rest of the lawn and may need early treatment.
Summer Application
Crabgrass thrives in hot weather and continues to germinate until late summer. Treat your lawn again with crabgrass preventer six to eight weeks after the spring treatment, or according to the manufacturer's directions. Be aware that crabgrass preventer interferes with warm-season grasses. If your lawn is patchy or recovering from stress, wait until the grass rhizomes have suitably filled in bare areas before using crabgrass preventers.
When to Apply Scott's Crabgrass Preventer?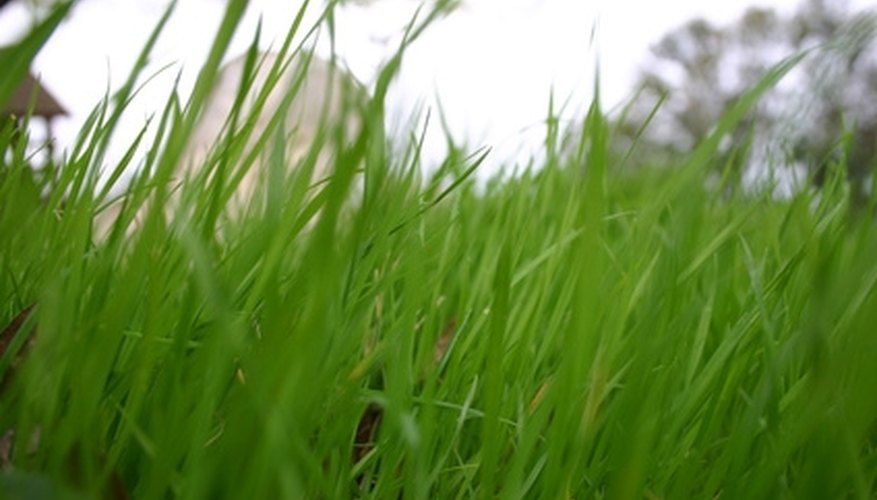 Application
Scott's Turf Builder With Halts Crabgrass Preventer is designed to be applied early in the spring, before the outside temperatures reach 65 degrees Fahrenheit. The product is designed to feed early growth in the lawn, helping it green quickly, while providing a barrier that prevents crabgrass seed from germinating.
Cutting Height
To prevent crabgrass later in the season, leave the cutting blade on the lawn mower at a higher level. Tall grass encourages the growth of desirable lawn grasses, and also creates shade. Crabgrass seeds don't germinate well in shade, and that's why thick, deep grass rarely has crabgrass.
Watering
Crabgrass, like other weeds, thrives in adverse growing conditions. Shallow, frequent watering encourages crabgrass growth and doesn't allow grass to thrive. For best prevention, water grass once a week to a depth of about 4 to 6 inches. This is equal to approximately 1 inch of rainfall.
How to Control Texas Crabgrass
Mow the crabgrass to 1 inch in height to reduce seeding and to weaken the weed.
Remove thatch--dead grass that has become a layer over the soil--by raking the surface of the lawn using a thatch-removal rake. This will improve herbicide application.
Apply a pre-emergence herbicide two weeks before the expected date of crabgrass emergence. Past experience of crab grass in the lawn will inform you when your areas germination will begin. The germination season lasts anywhere from April to September.
Apply a post-emergence herbicide on all areas where crabgrass appears. Crabgrass specific herbicides are available from garden centers. MSMA, DSMA, AMA and CAMA are effective selective herbicides.
How to Kill Post-Emergent Crabgrass
Spread a drop cloth around the crabgrass to protect beneficial grass from the herbicide's overspray.
Spray a broad-spectrum herbicide directly on the crabgrass. Allow the crabgrass to turn brown and die. Remove the grass and its roots from your lawn with a trowel.
Remove older crabgrass by digging it out of the soil with a garden trowel. Crabgrass will not return if you pull all of its roots up.