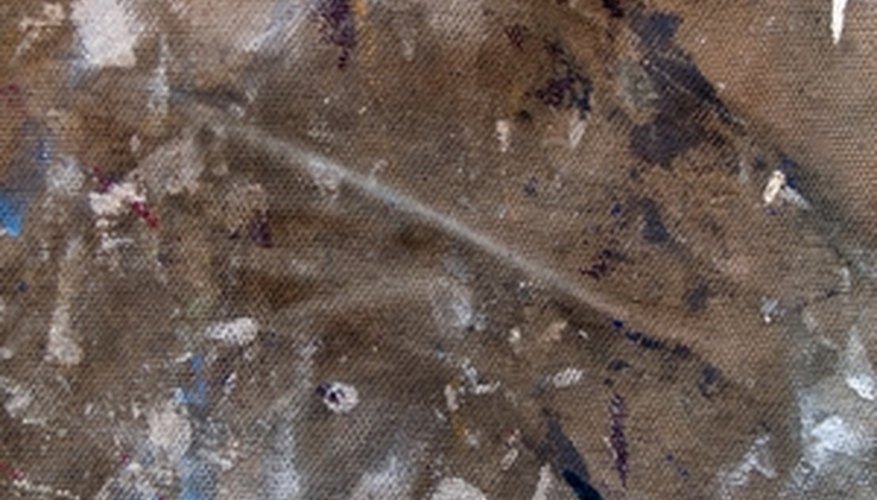 How to Epoxy Concrete Countertops
Because concrete countertops are porous, they tend to stain relatively easily. Many homeowners choose to apply an epoxy coating to their concrete countertops to protect them from stains and everyday duress. Epoxy coatings also serve to enhance the beauty of an ordinary countertop by providing an attractive sheen. Before you apply epoxy to your concrete countertops you need to understand the proper preparation and application procedures or you may end up with disappointing results.
Cover flooring with fabric drop cloths.
Apply a concrete primer to the concrete using a latex paintbrush. Allow the primer to dry for two full hours.
Clean the brush with water.
Pour the resin into a 2-gallon painter's pot. Stir for two minutes using a wooden stir stick.
Pour the mixture into a different, clean 2-gallon painter's pot. Stir the mixture for another five minutes, then pour the mixture directly onto the concrete countertop.
Spread the epoxy using a new, clean 4-inch latex paintbrush. Ensure that there are no dry spots on the countertop. Brush slowly around the edges to prevent the epoxy from running over.
Break surface bubbles by heating them with a heat gun. Smooth the indentation left after they pop with a porcupine roller.
What is Silestone?
Definition
Silestone is a man-made solid surface countertop made of quartz, resin for binding, and pigment (or color).
Why Silestone?
There are many manufacturers of quartz countertops, but Silestone is unique in that it incorporates a layer of germ and bacteria protection in the molecular level of the countertop during production. This protection, called Microban, and doesn't wash away or fade with use.
Hardness
Silestone countertops measure a 7 out of 10 on the Mohs scale of hardness for rocks and minerals, and as such are very resistant to heat and scratches.
Other Benefits
Silestone countertops are non-porous and resist stains much better than granite countertops. They're also much more uniform in color, because they're man-made and lack the natural irregularities of stone.
Expense
Silestone is an expensive option for countertops but is a good choice because of its beauty, durability and bacterial protection.
How to Apply Tung Oil on Concrete Countertops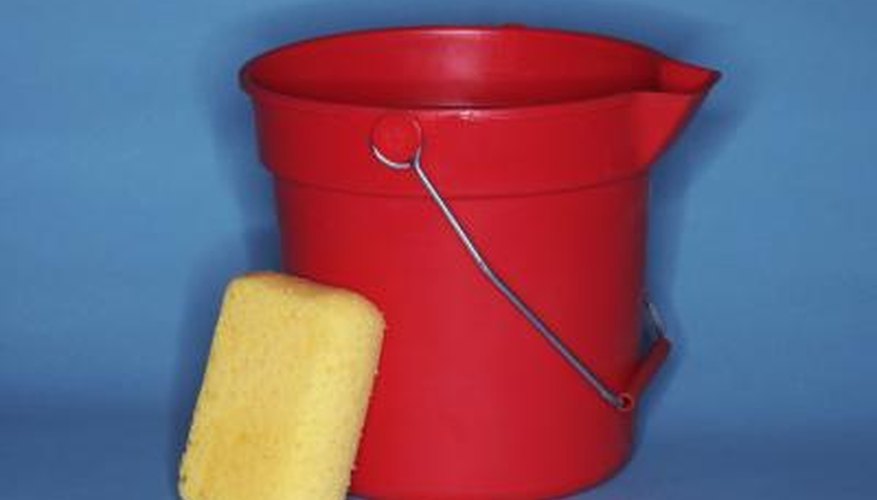 Step 1
Clean the surface of your concrete countertop. In a bucket, mix hot water and trisodium phosphate. Wash the countertop to remove the dirt, grease and grime buildup. Dry the countertop thoroughly.
Step 2
Apply a liberal amount of tung oil to the surface of the concrete countertop. Rub this in with your hand or a clean, soft rag.
Step 3
Allow this application to set for 20 minutes so the oil soaks in. Remove the excess with clean soft rags. After 30 minutes, check the surface for any excess oil that may have accumulated on top. Wipe this off.
Step 4
Leave the countertop to finish drying for 24 hours. If any oil pools on the surface, simply wipe it off with a dry towel.
Step 5
Repeat Steps 2 and 3 for a total of up to six applications. When the surface will no longer absorb any more oil, that lets you know you have enough coats.
Step 6
Once a year, or more often if needed, apply another application of tung oil with a cheesecloth or a lint-free rag. This will cause water to bead on the surface.
How to Break Granite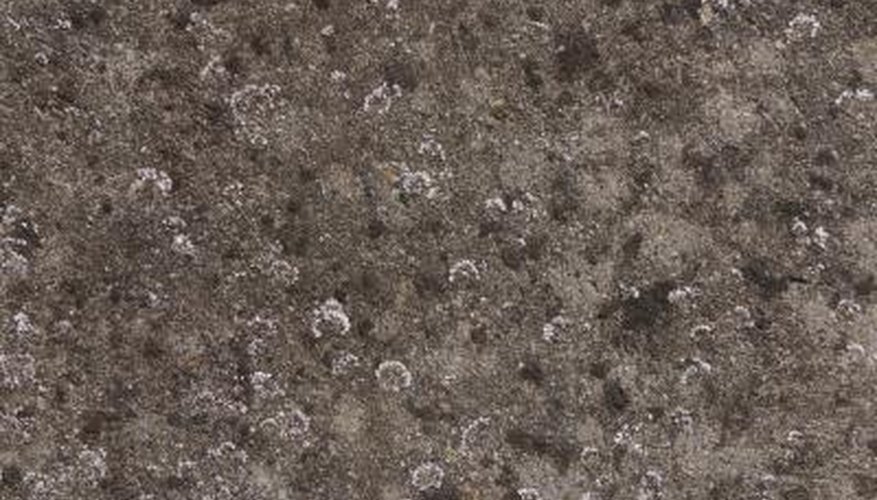 Step 1
Choose a non-explosive demolition agent such as Dexpan to help break up the granite. The agent should be composed of 89.6 percent calcium oxide, a percentage of organic resin and 2.5 percent ferric oxide.
Step 2
Determine the location of the desired break in your concrete slab. Use measuring tape and a water-soluble chalk to mark the line where you will break the concrete.
Step 3
Using an air hammer drill, drill 1 ½-inch-wide to 2-inch-wide holes along the marked line in your granite slab. Space each hole along the line between 1 and 2 feet apart. Each hole should reach to approximately 80 percent of the slab's depth.
Step 4
Combine 3 parts water to 1 part non-explosive demolition agent in a bucket. Mix the solution until the demolition agent powder dissolves completely in the water. Check the instructions from the demolition agent manufacturer for any additional preparation guidelines.
Step 5
Connect a vacuum hose to an air compressor. Vacuum out the holes previously drilled into the granite slab with the hose to clear out any debris. Use a small measuring cup to pour the solution into the holes, leaving two inches from the surface empty. Retreat to a safe distance.
Step 6
Allow the mixture 45 minutes to an hour to set. The mixture should expand within the holes, causing the granite slab to ultimately break apart into two pieces.
Do-It-Yourself Thin Set Colored Concrete for Countertop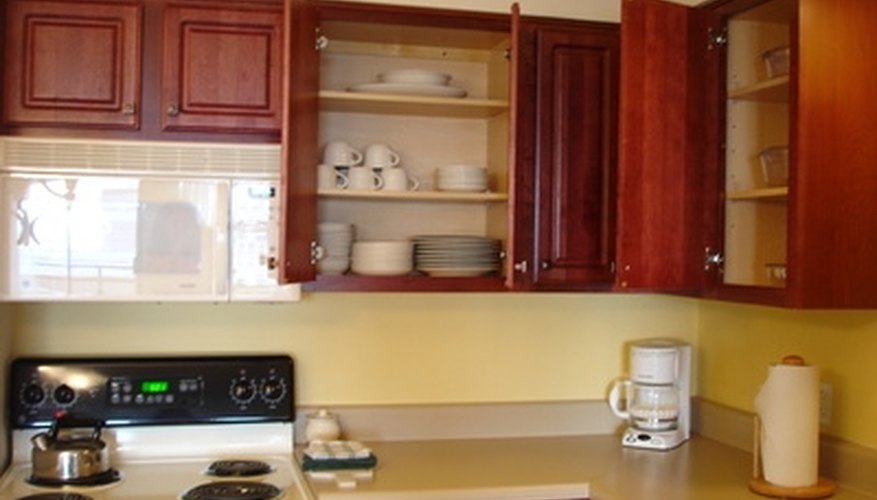 Thin Set Concrete Countertops
Mix the concrete and concrete color according to the packaging directions. To keep color consistent you will need to make sure that each batch you mix has exactly the same proportions.
Cover the existing countertops with a very thin layer of thin set using the trowel to keep the surface as smooth as possible. Tile countertops and countertops with damage may require several coats to smooth things out.
The concrete must be completely dry before another layer is added and before sealer can be applied. Do not rush this step.
Seal the concrete using a countertop epoxy. This will keep it stain-free and make it much easier to keep clean.
How to Fix Concrete Countertops
Save the formula used to create the concrete for your countertop, if it is a specialty color. Have a small amount of concrete mixed to match at your local hardware or home improvement store. Use this concrete to carefully fill any deep depressions of chipped holes. Smooth the surface with a metal finishing trowel and allow these areas to cure for 24 hours.
Sand your countertops to remove minor scratches and stains. Put on work gloves, protective goggles, and cover your nose and mouth with a paper mask. Prepare an orbital sander with a 100-grit disc. Beginning at one end of the countertop, sand the entire surface in long, even lines. Horizontal lines are faster for uninterrupted countertops, but vertical lines are a better choice if you have a sink or range inset. Remember to sand the edges of your countertop as well. Examine your countertop for any remaining small chips, scratches or stains. Repeat the sanding procedure until the countertop is pristine once again.
Seal your countertops to prevent damage in the future. Pour some concrete sealant into a plastic paint pan and use a clean paintbrush to apply it. Use long, even lines. Allow the sealant to dry overnight before using your countertop again.