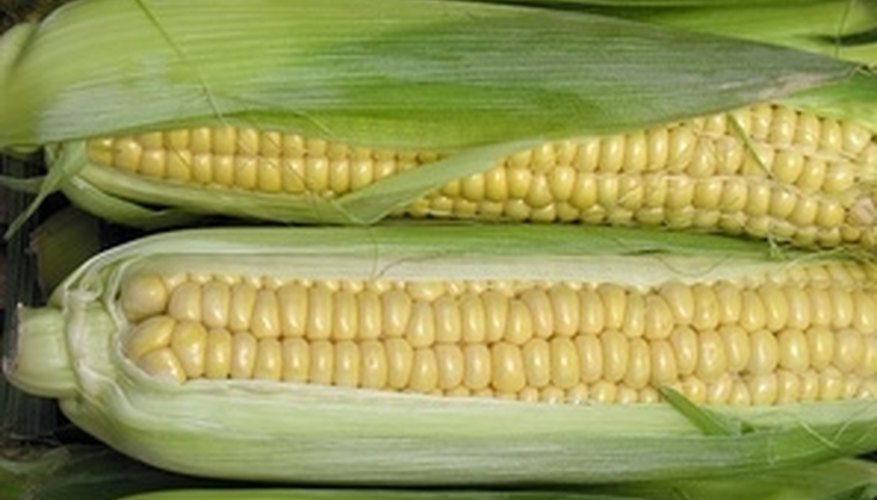 How to Compost Corn Cobs
Composting is an excellent way to reduce the use of plastic garbage bags, enrich the soil of your garden with organic fertilizer and save space in ever-shrinking landfills. Vegetable food scraps, eggshells, almost anything but meat and dairy scraps can be mixed into a backyard compost pile, and corn cobs are no exception. In fact, they are a good "heat generator" that speeds the decay of other types of vegetable matter. Compost corn cobs in small pieces to further accelerate the process.
Chop up corn cobs into 2-inch lengths with a sharp knife. Use a food processor on a chop setting if you have one.
Mix the corn cob pieces in with other vegetable waste, such as corn husks and silk, potato and carrot peelings and wilted lettuce.
Place the mix in the compost pile. If you need to make one, puncture an old garbage can and lid with holes for ventilation. Add a few shovels of topsoil that contains earthworms, some leaf litter, grass clippings and plenty of moisture. MIx the cobs and food scraps into the soil with a shovel or spade until they are well buried.
Water the compost pile only if it's dry enough that worms and bugs start to die. Moisture from decay and rainfall should be sufficient. Turn the pile every two weeks with a shovel or spade and continue mixing in new food waste as you produce it. Corn cobs will release silica and potash as they decompose, both essential nutrients for good soil.
How to Use Grass Clippings as Fertilizer
Use a mulching blade on your lawnmower when you mow your lawn. A mulching blade is specially designed to reduce grass clippings to tiny pieces, which helps them to decompose faster.
Spread the clippings out to dry; if you've just cut your yard and the grass clippings are in wet, heavy clumps, you'll need to rake them out so that they can dry before being used as fertilizer.
Leave some clippings on the lawn. A light layer will quickly fall below the growing grass blades and begin decomposing into the soil, adding nutrients to the root system of the grass.
Add some grass clippings to your compost pile. Freshly dried grass clippings can be added in a three-inch layer to a compost pile, then add a layer of brown matter (soil, dried and crushed leaves) before adding another layer of grass clippings to keep the nutrients balanced and the pile decomposing well.
Use some grass clippings as the bottom layer of mulch around perennials, shrubs and trees. A layer of grass clippings helps reduce weeds as it decomposes and fertilizes beneath shrubs, hedges, trees,and perennial flowers. Add a layer of traditional mulch on top if you don't like the look of the grass clippings; but regardless you'll reduce the amount of wood mulch you need, which saves money as well.
Composting Flower Petals
Layer flower petals onto the top of an established compost pile creating an even layer not to exceed 2 inches in thickness. If you have more petals than that, alternate your layers of flower petals with dried brown carbon-rich material such as leaves, wood chips, coffee grounds, dried grass or shredded newsprint.
Sprinkle water over the top of the new material with a slowly running hose or watering can. Add just enough water to make the new layers lightly moist but not soaking wet.
Leave the pile undisturbed for three to five days. On the fourth or fifth day turn the compost pile thoroughly by moving the top layers into the center of the pile and moving what was in the center to the top and sides of the pile.
Add just a few more cups of water if the pile seems dry at the top after you turn it to ensure that the top of the pile is evenly and lightly moist.
Layer over more flower petals as they become available for composting and repeat the process.
How to Store Compost
Fill garden trash bags with finished compost. Store in a dry space such as a garden shed or garage. Check the moisture content once per week to make sure that the finished compost does not dry out.
Alternatively, decorate a large metal trash can with spray paint. Use a rust-proof paint so that it also protects the trash can from the weather. Place the trash can near your garden.
Place a large leaf bag in the trash can, fill with finished compost and put the lid on. Check moisture content once per week, adding small amounts of water as needed to prevent the compost from drying out.
How to Compost Cottonwood Leaves
Use a shredder, pruning shears or your lawnmower to cut the cottonwood leaves into small pieces. The smaller the pieces in your compost pile, the faster they decompose.
At the same time you add the cottonwood leaves, add twice that amount of brown material such as hay, dried leaves or bark. This will help to keep the nitrogen/carbon balance of your compost pile optimal for micro-organic decomposition.
Turn your pile to mix its ingredients thoroughly.
Continue to turn and add to your pile as usual until its contents have turned into humus.
How to Mix Vegetable Peels in a Garden
Save yard clippings and fallen leaves. Run them over with your lawn mower to chop them up in to smaller pieces.
Place a layer of your yard clippings in the bottom of a compost bin. Ideally, the compost bin should be 3-by-3-by-3 feet. This is the best size for a compost bin because it hold heat in the best.
Place a layer of vegetable peels on top of the layer of yard clippings. Vegetable peels contain nitrogen, enabling materials in the compost pile to break down faster.
Water the compost pile.
Repeat adding layers of yard clippings and vegetable peels until your compost bin is full. Water the compost pile after adding each set of layers.
Mix the pile together with a rake, and cover with a tarp. The tarp will retain the heat so the material decomposes. Ideal compost temperature in the center of the bin pile is at least 90 degrees F. Use a long thermometer to check the temperature.
Mix the decomposed vegetable peel compost in with your garden soil when you plant new seeds.
Most Common Problems With Composting Toilets
Odor
If your composting toilet is working properly, it should be odorless. An odor means that your toilet is not composting the way it is supposed to. Usually, this is because there is not enough dry material to support aerobic (with oxygen) decomposition. The decomposition process for liquid is anaerobic (without oxygen) and very smelly.
Liquid Build-Up
Excess liquid is the most common problem with a composting toilet. Some manufacturers may say not to urinate in a composting toilet, but that is beyond impractical. Adding dry material, such as sawdust, can help absorb excess liquid. The best permanent solution to this problem is to have a composting toilet that diverts liquid away from the solid waste.
Removing the Finished Compost
Sometimes, removing the finished compost can be a problem. This is usually due to the system being overloaded. Excess liquid can be the problem, making for a very messy removal. It is important to remove finished compost promptly. You can also help make the process easier by using a lightweight composting medium such as peat moss. Be aware that the most common commercially available composting toilets are only meant for seasonal use and won't be able to handle daily household use.
How to Compost Nuts
Shell the nuts and set the shells aside.
Put the nuts in a food processor and chop them as finely as possible. Ground to a powder is ideal. If you do not have a food processor or blender, simply finely chop them with a knife or grind them with a mortar and pestle.
Spread the nuts and shells over the top of the compost pile.
Turn the compost pile so that the majority of the older material is on top and the newer material is on the bottom.
Replace the cover on the compost bin.
How to Compost Wood
Use a wood chipper to make wood pieces as small as possible to speed up decay. Wood products decompose slowly and large pieces of wood will take a long time to break down in most cases.
Add organic material to the wood in layers to aid in decay. Use cow manure, mushroom compost, kitchen scraps and other materials to encourage microbial activities within the compost pile. Other yard waste, such as lawn clippings and leaves, may also be used. Waste particles of various size and composition are recommended for best results.
Moisten the compost pile with water. Ohio State University recommends keeping the compost pile "about as moist as a wrung-out sponge."
Turn the compost pile after three to four weeks, or more often for faster decomposing. Depending on the size of the compost pile and its constituents, the compost should be ready to use in three to four months. Ohio State University recommends checking the internal temperature regularly, and turning the pile when temperatures within the pile decrease.
How to Compost Meat
Cook the meat first. Raw meat contains harmful bacteria that may be passed on to you the next time you handle your compost. Plus, raw meat takes considerably longer to break down than cooked meat.
Keep the meat to a minimum. The best meat scraps for composting are bones with very little fat or flesh on them. When you're finished with chicken, steak or pork chops, for instance, consider stretching the meat by making a soup from the bones and remaining meat before tossing it into the compost pile.
Cut the meat up into small pieces.
Open the door to the tumbler compost bin and sprinkle the meat over the top of the compost pile.
Add compost accelerant to the pile according to the manufacturer's instructions for the volume of organic material in your compost bin.
Turn the compost pile three times daily.
What Is the Purpose of Composting?
Composting enriches the soil by adding much needed microorganisms. Where it would take nature hundreds or even thousands of years to make rich soil, composting good soil only takes about a decade. Sometimes even less time is required to achieve the desired results with compost.
How to Compost Eucalyptus
Use pruning shears, a shredder or your lawnmower to break the eucalyptus leaves into the smallest pieces possible.
Spread the leaves over the top of the pile.
Shred or break up twice the amount of leaves by volume of brown material and add that to the pile.
Moisten the top layer of the pile by lightly sprinkling it with the hose.
Turn the pile so that the ingredients are thoroughly mixed. Continue to turn the pile (at least once weekly or whenever a compost thermometer shows that there has been a drop in the pile's internal temperature) and add material as usual.
What Goes Into a Compost Bin?
Types of Compostable Materials
As you cook, set aside scraps for the compost bin. Vegetable peelings, fruit cores and peels, egg shells, teabags, coffee grounds and grain-based items like breads and cereals can all be composted.
Newspapers, paperboard, and scrap paper (if undyed and non-glossy) can also be shredded and composted.
Function of Compost
When decomposed, these materials slowly turn into compost. Compost is a natural, organically based fertilizer. Starting a home compost bin will allow you to fertilize your garden organically for free.
Considerations
Always keep an eye out for things you can compost. Many items that are frequently thrown away, like cardboard boxes and banana peels, can be added to a compost pile and kept out of the trash. Consider setting aside a small kitchen container to keep these scraps until you're ready to add them to your outside compost bin.
Time Frame
Composting is a slow process; it may take six months to a year for your compost to be ready to use. That's why many people keep two bins, one for older compost that's in the process of maturing, another to add their daily compost scraps to. If you do that, you'll rarely be without usable compost.
Benefits of Composting
Composting helps you to save money while reducing your environmental footprint. Adding composting to your daily routine will eliminate your need for commercial fertilizers and provide you with a free source of nutrition for your flower or vegetable garden.
How to Plant in Compost Only
Remove any twigs, or large pieces of organic matter from the compost. Many prefer to screen compost with wire screens to remove debris that has not properly broken down in the composting process.
Fill planters or hanging baskets with compost.
Plant seeds or transplant seedlings directly into the compost following the recommended seed depth and spacing for the specific plant. Firm down with your hands to secure seedlings or remove air pockets around seeds.
Water until water runs free through the drainage holes at the bottom of the pot.
Place in the recommended lighting for the plants you have chosen to grow. Water when soil is dry to the touch.
How to Make Colloidal Humus Compost
Place grass clippings, dry leaves, kitchen scraps and straw into a shredder. One can be rented from your local equipment rental dealer. Shred organic materials into fine particles.
Add shredded materials to large back trash bag. Add 1 cup of lime to the bag. Add 1 quart of water to the bag. Place the bag in direct sunlight during the summer and into a heated garage or basement in the winter. It takes approximately six to 12 months for this to completely breakdown.
Open the bag after six months. Grab a handful of compost. It should form a rubber-like ball. If it does not form a rubbery ball, close the bag and allow the mixture to decompose for six more months.
How to Mix Compost With Soil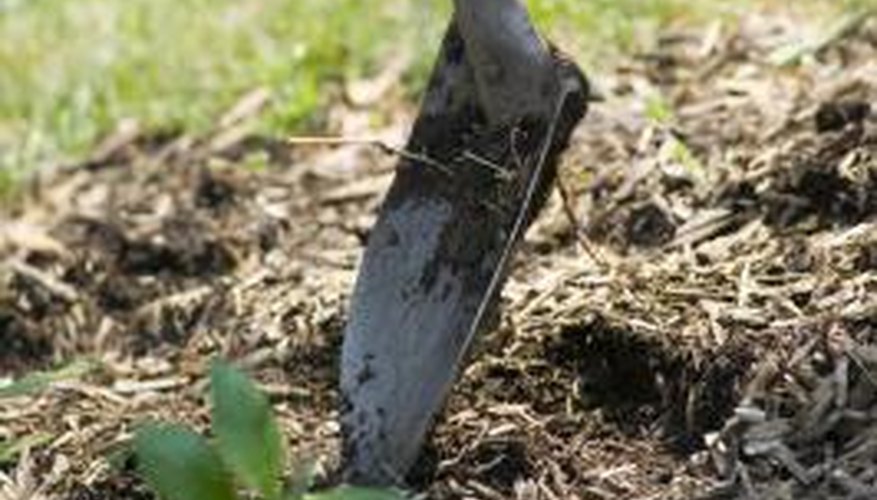 Step 1
Clear all weed roots, dead plant material and weeds from vegetable gardens and annual flowerbeds in late winter or early spring. Turn over the top 10 inches of soil using a garden fork or a rototiller.
Step 2
Spread a 4-inch thick layer of seasoned, well-rotted compost over the prepared garden bed. Turn the compost into the top 10 inches of the soil using the garden fork or till it with the rototiller.
Step 3
Mix compost with potting soil at a ratio of one part compost to three parts potting medium for container grown plants. Avoid using compost to start seeds, as it contains microorganisms that can damage the seed and prevent germination.
Step 4
Spread a 4- to 6-inch layer over new lawn sites before seeding or laying out turf. Till the compost into the top 8 inches of the soil to get lawns off to a good start.
Step 5
Mix compost with the soil before planting landscape trees and shrubs. Mix the soil removed from the hole with compost for a mixture of one part compost and two parts soil. Back fill the hole around the roots with the compost mixed with soil.
How to Apply Compost
Finished Compost
Wait 1 month before planting to amend finished compost into the soil.
Spread compost onto the surface of your garden with a shovel or garden fork.
Turn finished compost into the soil to a depth of 1 to 3 inches with a rototiller.
Spread compost evenly over lawns to a depth of 1/4 inch thick.
Unfinished Compost
Time your compost application for fall when the unfinished compost is still fibrous.
Spread unfinished compost directly onto the ground of your garden with a shovel.
Apply unfinished compost around the perimeter of perennial roots rather than directly over the roots of the plant.
Compost Tea
Place finished compost in a burlap bag.
Place burlap bag in a 5-gallon bucket.
Fill the 5-gallon bucket with water from a garden hose.
Let tea solution sit for an hour.
Remove burlap bag from bucket and dump the finished compost out in your garden.
Use compost tea on potted plants, or as a spray for roses.
How to Compost Orange Peel
Collect your orange peels and other kitchen scraps in a bucket, instead of discarding these items into the trash. Keep the bucket covered to minimize odors and insects.
Empty the bucket with the orange peels and other kitchen scraps into the compost bin two or three times per week. Pour the contents of the bucket onto the top of the compost bin.
Add a layer of brown ingredients immediately after adding the green layer of kitchen scraps. Add five to eight times more brown ingredients than green ingredients. For example, if you added 2 inches of kitchen scraps, add at least 10 inches of brown ingredients.
How to Grow Vegetables in Compost
Test the compost's maturity to determine if it is ready to use. Fill two flowerpots with compost. Scatter about 12 radish seeds in each pot (count them exactly). Cover the seeds with ¼ of an inch of compost. Water the seeds. If nine or more seeds grow radishes, the compost is ready for use in the vegetable garden.
Cover the garden plot with a 2- to 3-inch layer of compost in the spring. Till the soil to a depth of about 4 inches to work in the compost. Dig and turn the soil by hand or garden tiller. Mix 30 percent compost (by volume) with vermiculite or perlite for growing vegetables in containers.
Plant the desired vegetable seeds or seedlings.
Apply an additional 1 inch of compost to the garden after harvesting the vegetables, if further soil amendment is desired.
How to Compost in Garbage Bags
Collect leaves and other yard clippings. If possible shred or cut the clippings and leaves in pieces.
Put the leaves and yard clippings in a large heavy-duty garbage bag. The bag should be almost filled.
Add two shovels full of garden soil and 1/2 cup high-nitrogen fertilizer.
Spray just enough water in the bag to dampen the leaves.
Punch about 10 to 15 small holes in the bag with a knife. Close the top of the bag with a knot.
Turn the bag once or twice to mix ingredients.
Store the bag for about two weeks. Check on the composting process and tumble the ingredients in the bag. The compost should be ready for use in 6 to 8 weeks time. Check and tumble periodically during the process.
How to Store Compost Over the Winter
Place your compost sieve into the bed of your wheel barrow.
Shovel the contents of your compost bin into your sieve until the sieve is halfway full.
Shake the sieve back and forth to screen out any large debris.
Return large debris to the compost bin so that it will continue to "cook."
Transfer the finished compost into the large garbage cans and cover with tight-fitting lids.
Cover the garbage cans with a tarp or place them under the eaves of a house or in a garage where moisture cannot reach the soil.
Wait until spring to distribute the compost to the soil.
What Is the Difference Between Compost & Humus?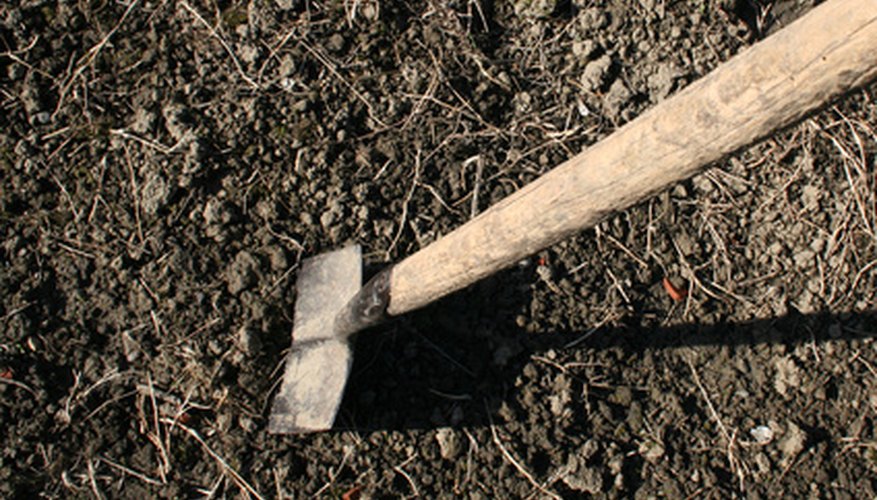 Aerobic Decomposition Equals Compost
Aerobic decomposition occurs when organic material decomposes in the presence of oxygen. As the nitrogen and carbon react in the presence of oxygen, energy is released in the form of heat. The final result is compost.
Anaerobic Fermentation
Anaerobic fermentation occurs when organic material decomposes in an oxygen-deprived environment. As fermentation occurs the rotting matter releases methane gas. The final product is humus.
Examples of Aerobic Composting
Aerobic decomposition occurs in nature when leaves fall to the ground and combine with other organic matter. Aerobic decomposition can also be a man-made process where people combine organic matter in a compost bin.
Examples of Anaerobic Decomposition
Anaerobic decomposition occurs in nature as well, often in swamps and bogs. When organic matter drops into a bog it settles to the bottom where there is no oxygen and begins to rot.
Creating Humus
The process of anaerobic fermentation can be very smelly, but humus can be created by enclosing organic materials in a enclosed plastic container and adding a generous amount of water. Humus is complete when it is dark brown and earthy smelling.
How long should I wait to plant after adding mushroom compost to a garden?
Fresh mushroom compost contains soluble concentrated salts that can damage seeds, young plants and salt-sensitive plants. It should be bought in the fall and left uncovered over the winter to age or cure. You can also mix fresh mushroom compost with soil before spreading it around your plants.
Starting Compost Heaps
How to Tell when Compost is Ready
What Is Compost Used For?
Function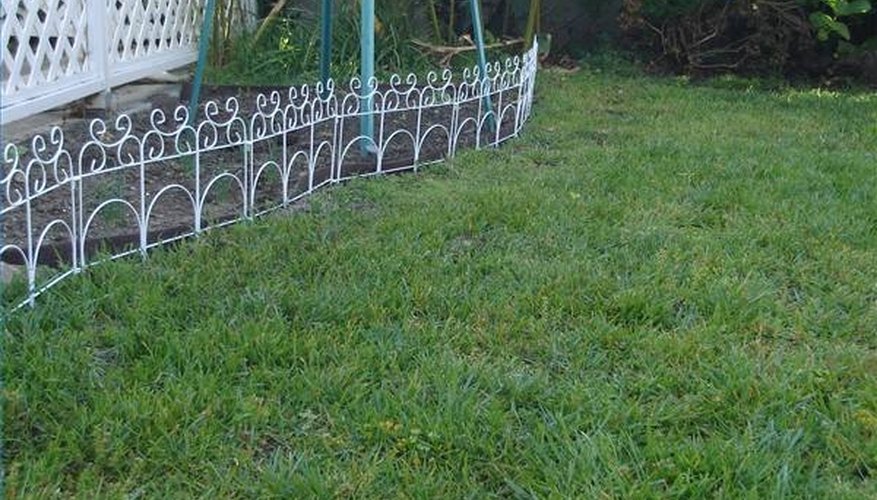 Compost improves your soil's structure so that it can retain moisture and hold it at the roots, where your plants need it the most. It also adds nutrients back in the soil.
Benefits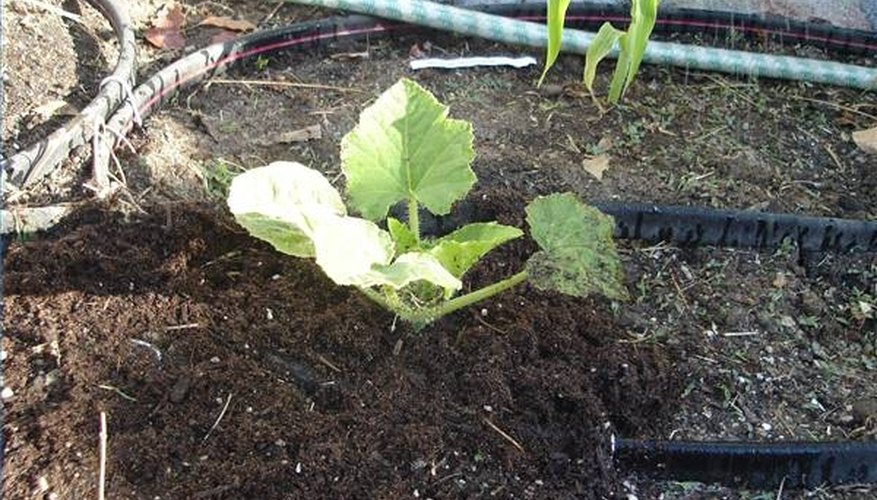 Adding compost to your vegetable or flower garden will help your plants' root systems grow stronger and produce more of whatever it is you're looking for. It will also reduce water runoff, saving you money on your next water bill.
Fun Fact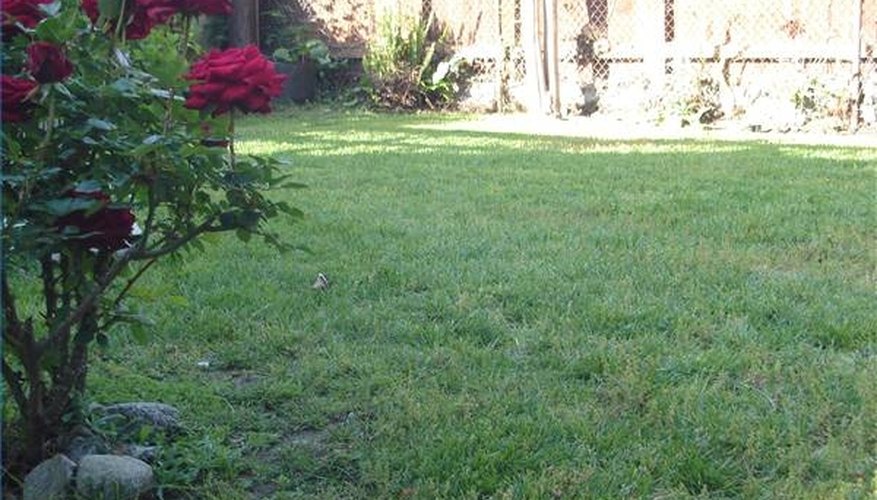 You can make compost "tea" by wrapping compost in cheesecloth and soaking it in water. Sprinkling the "tea" on your plants will give them an organic serving of nutrients.
Extra Benefits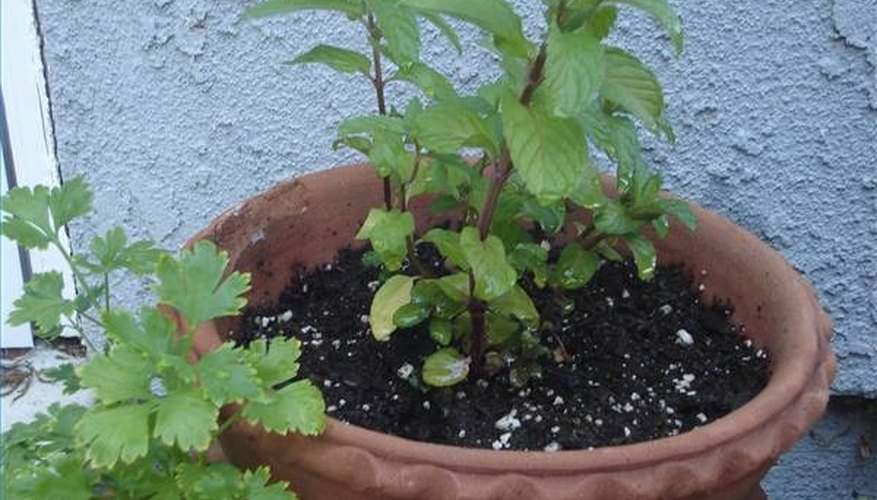 Compost, combined with vermiculite, makes an excellent potting soil for outdoor containers or indoor plants.
Misconceptions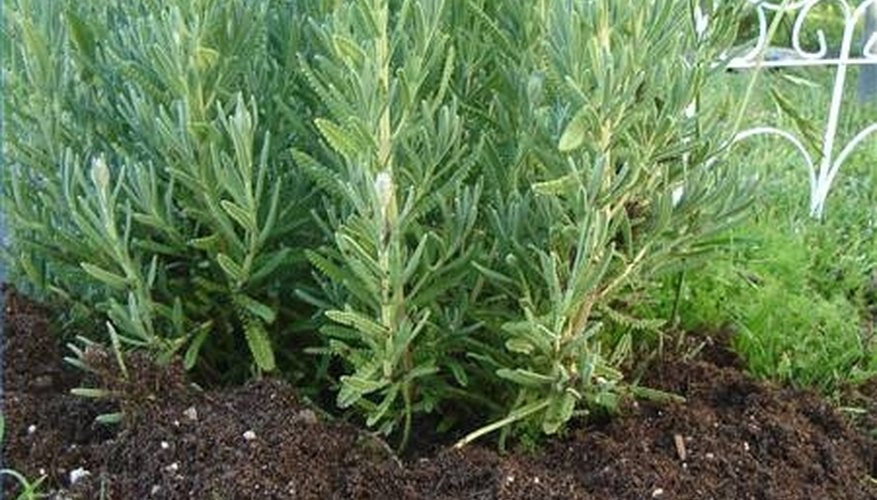 Although compost can be used as mulch around existing plants to retard weed growth, it's not the same thing as mulch. Typical bark mulch does a better job of reducing water evaporation than compost does.
What Is Liquid Compost?
Liquid compost, otherwise known as compost tea, is a mixture of compost and water. It is sprayed or sprinkled onto garden soil. Liquid compost allows the plants to absorb nutrients faster than if solid compost were applied.
Compost Trees
Compost Bins for Gardens
How to Topdress Plants With Compost
Before applying any kind of mulch, compost or otherwise, it is important to thoroughly weed the garden and water the soil in well. Aim to soak the soil to a depth of about 8 inches.
Compost that is completely finished-meaning you won't be able to identify any of the original ingredients and it does not contain any sticks or other woody material-works best for topdressing. Commerical compost that you can buy in bulk or in bags is typically completely finished. Homemade compost, however, tends to have woody material that is not fully decomposed. If this is the case with your compost you can either screen out the woody material or just purchase a few bags of compost for the purpose of topdressing.
Spread a 1- to 2-inch layer of finished compost between your plants. Prevent smothering your plants by leaving a little donut-shaped well around the base of each plant, then water the compost in well.