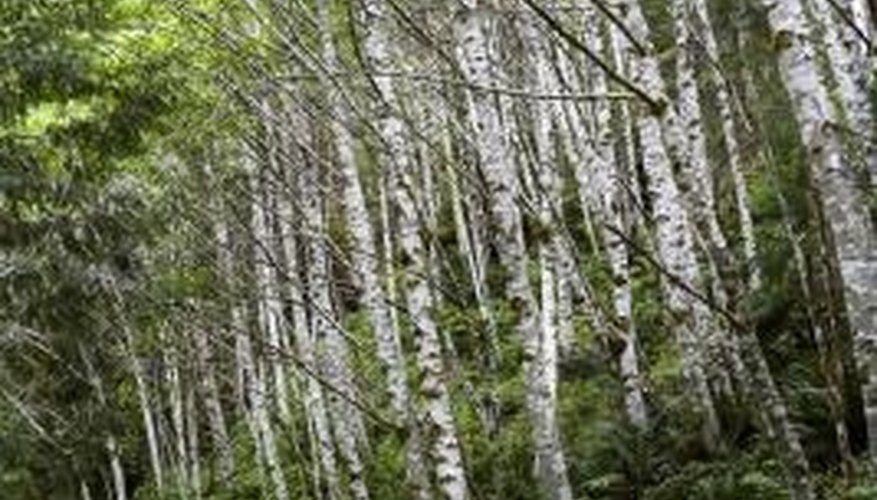 Caterpillars & Birch Trees
Several caterpillars use birch trees as sources of food during their larvae stage. The caterpillars eat the leaves of the trees while they grow big enough to go into their pupate stage before emerging as moths.
Types
The birch leaf roller, Epinofia solandriana L, is a small caterpillar commonly found in south-central Alaska. The insect gets its name thanks to the older caterpillars that start to roll the leaves as they feed on them. Forest tent caterpillars may also feed on birch trees while building nests to live in while they eat and grow bigger.
Damage
While leaf rollers cause little long-term damage to birch trees, the tree can become unsightly. Forest tent caterpillars also cause little permanent damage, but they can cause the tree to produce smaller leaves to replace the ones the caterpillars ate. Tree growth rates can decrease because of the defoliation, causing the trees to become more susceptible to other pests.
Control
Natural predators, including the parasitic fleshfly, help control the insects by eating forest tent caterpillars in their cocoons. Insecticides may be required if birch leaf rollers infest a tree for more than two years in a row.
How to Kill Caterpillar Nests
Step 1
Look for egg masses on tree twigs in fall, winter and early in spring.These masses look like brown or gray foam in a circle around a twig.
Step 2
Scrape the eggs off with a butter knife into a bucket filled with soapy water.
Step 3
Remove the silky, tent-like nests with your hands as soon as you notice them on trees.Wear work gloves, as certain types of caterpillars deliver a painful sting.
Step 4
Drop the nest pieces and caterpillars into a bucket of soapy water to exterminate them.
Step 5
Dispose of the dead caterpillars in the garbage or compost to prevent caterpillar odors in your home or yard.
How to Keep Caterpillars From Destroying Plants
Maintain the garden well. A well-maintained garden and plants are your best defense against this pest. This includes feeding and watering plants regularly and adequately, cultivating the soil and weeding the plants on a weekly basis, and removing drooping stems and partly eaten foliage frequently. Avoid using pesticides. The absence of pesticides will promote the presence of caterpillar predators such as birds, parasitic wasps and lady beetles.
Get rid of old leaves and stems. After harvest time, be sure to burn and trash any old foliage that may be laying around. Caterpillars like to spend their winters in them.
Check out the soil in the spring. Dig or rototill your garden before you begin planting. This will help to expose pupae that you can later destroy.
Get rid of any caterpillars you find. For leaf-eating caterpillars, pick it up using gloves, then drop it into warm soapy water or water topped with ½ inch of kerosene. If the infestation is major, spray the plants with a natural control which is toxic only to caterpillars. Some caterpillars may not be visible because they burrow into the stems of plants, like squash. In order to detect their presence, look for leaves that are stunted or yellow. For these pests, make a lengthwise cut in the stem of the leaf and discard the caterpillar, then rid your garden of weeds where they typically breed. For tree and fruit eating caterpillars, look for egg masses on trunks, branches and bark during the winter. Then scrape them off and destroy them.
How to Get Rid of Catepillars in a Vegetable Garden
Look on the bottom sides of the leaves on your vegetable plants for caterpillar eggs, which will be tiny white clusters, most of the time near the vein of the leaf. Wear gloves when inspecting the leaves. Pick the eggs off and discard them so that they do not get a chance to hatch.
Pick adult caterpillars off of the leaves if the infestation is not extensive. Place the caterpillars in a bucket of soapy water to kill them.
Purchase trichogramma wasps, which are natural predators of caterpillars, to naturally control caterpillar populations. Trichogramma wasps lay their eggs inside of the caterpillar eggs. When the trichogramma wasp eggs hatch, they eat the caterpillar eggs.
Mix bacillus thuringiensis (Bt) with water as directed on the packaging label. Spray the mixture on the vegetable leaves to kill the caterpillars, which eat the bacillus thuringiensis and begin dying within three to five days.
Pickleworm Information
About Pickleworms
Pickleworms (Diaphania nitidalis) are the larvae of night-flying moths. They seek out tender growing tips on young plants to feed on. Once they become caterpillars, they then switch to eating flowers and fruits. These garden pests are predominant in the southeastern United States, ranging north to Connecticut and New York. They overwinter only in Florida and Texas, where they may be active all year round. Pickleworms have very short lifecycle, lasting as little as 3 weeks. After feeding for about 2 weeks, the larva spins a cocoon in a rolled section of a leaf. The pupa rests for 7 to 10 days, and then the new moth emerges to start another generation.
Prevention and Control
Choose resistant varieties of susceptible crops. Also plant fast-maturing varieties as early as possible in spring to promote strong growth and fruit set before pickleworms reach damaging levels.Cover seedbeds and young plants with row cover and seal edges to prevent moths from laying eggs on plants. Keep the cover for as long as possible.
Affected Plants
CucumbersMuskmelonsPumpkinsSummer squashWatermelonWinter squash
Damage
A single caterpillar can tunnel into and ruin the plant's leaves, flowers and fruits.
Predator Insects
Nematodes, Parasitic wasps, Assassin bugs, Lacewing, Minute pirate bugs, Bacteria (Bacillus thuringiensis, Saccharopolyspora spinosa), Trichogramma wasps
Natural Insecticides
Spraying flowers with beneficial nematodes once a week is helpful, because the nematodes can survive in the damp enclosed areas of the flowers and attack pickleworms feeding there.Use of bacterial sprays (Bacillus thuringiensis, Saccharopolyspora spinosa) can also kill pickleworms if they eat the treated flowers and leaves. These sprays cannot kill pickleworms burrowing in fruits and stems.
Other Methods of Control
Trap Crops. Plant summer squash a week or two ahead of desired crops. Check growing tips and flowers of the trap crop daily for pickleworms. Kill any caterpillars that you may see. When the blossoms get infested, destroy the trap crop and then plant a new hill of summer squash and repeat the process of killing caterpillars and destroying trap crops. Insect Traps. During the early part of the season, set up insect traps that include floral lure to attract pickleworm moths. Trapping female pickleworm moths will reduce the number of laid eggs. Garden Cleanup. After harvesting, shred all crop remains to kill hidden larvae. Work the soil to bury the pupae.
How to Stop Caterpillar Damage
Pull the caterpillar nests out of the trees or prune the affected areas, dropping the caterpillars into a bucket of soapy water. Start early in the spring, as soon as you begin to see evidence of caterpillars. They will be easier to remove and the damage will be less severe.
Spray the leaves with a BTK mixture, a natural biological control for caterpillars that can be found at most garden supply stores, on trees with a serious infestation, or if you can't reach the affected areas. BTK must be eaten by the caterpillars, so be sure to spray BTK when the caterpillars are feeding. Pyrethin spray mixed with insecticidal detergent may be effective as well.
Encourage the caterpillar's natural enemies, such as wasps, yellow jackets and birds. This is the most environmentally sound and least expensive method of dealing with a caterpillar problem.
Remove any wood mulch from around the trees and spread about 2 inches of compost at the base of the tree and work it in to the surface of the soil.
Water the infested trees very heavily for the remainder of the summer. If the weather is dry, let a hose drip for about 2 hours several times a week.
Scrape or pull away any egg masses in the fall. Egg masses will circle small branches, and appear to be a brownish-gray band that hardens and looks similar to Styrofoam. This will help to prevent an infestation the next spring.