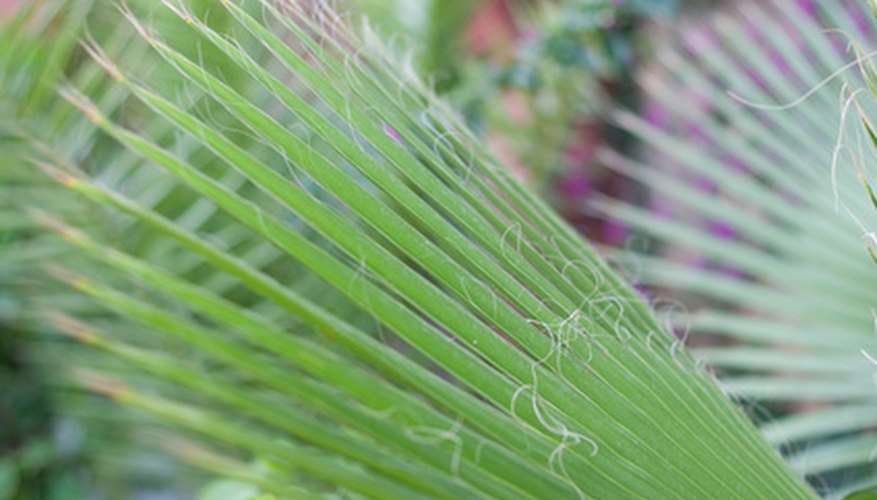 Facts About Cold Weather Palm Trees
Cold-weather palm trees can withstand the weather outside USDA zones 10 and 11. In zone 9 and below, freezing temperatures can be expected each winter, prohibiting the planting of familiar warm-weather palms like the coconut palm.
Cold Tolerance
The palm with the most cold tolerance is the needle palm. It will tolerate temperatures as low as minus-20 degrees Fahrenheit. The California fan palm will survive with a minimum of 12 degrees Fahrenheit. The dwarf palmetto will survive to minus-5 degrees Fahrenheit.
Winter Protection
Even hardy cold weather palms can suffer from a cold winter. Many owners of these palm trees protect them from winter winds with a greenhouse or a wire cage lined in plastic. The peacock palm is a cold-weather palm, but can only survive 24 degrees and warmer. It may need to be protected during the coldest winter months.
European Origin
The Mediterranean fan palm is the only palm tree native to Europe. It will tolerate temperatures as low as 15 degrees Fahrenheit.
Species
The palm family, Palmaceae, consist of more than 1,500 palm species. Not all of these plants are trees. Some palms are shrubs and some are vines. The scrub palmetto is a shrub palm.
Sunlight
Not all palm trees prefer full sun exposure. Some species of cold-weather palm prefer shady areas. Those palms are often protected from cold winds by the trees and buildings that provide the shade.
How to Keep a Palm From Growing Tall
Remove yellow or brown fronds. The color change indicates the fronds are not healthy and will eventually fall off anyway. They are taking energy from the rest of the tree and are better off removed now.
Thin out the palm if it's clumping and getting too large for the planting space. Prune new growth where it meets the rest of the tree.
Leave two rows of mature fronds in place when pruning palm trees. The mature fronds are growing just underneath the current season's blooms.
Prune the palm over a few seasons to achieve the desired look.
Winter Care for Palm Trees
Cover small palm trees with a large cardboard box or quilts, weighted down with rocks to prevent the cover from blowing away.
Wrap the trunks of larger palms with burlap or old blankets. Hold the covering in place by binding it with ropes.
Place a heavy layer of mulch around the base of the tree. You can pile mulch or straw around smaller palms, almost burying them.
Remove all wrappings and mulch when temperatures rise above freezing.
How to Fertilize a Pindo Palm
Purchase a fertilizer that has a ratio similar to 3:1:3 for nitrogen, phosphorous and potassium. Using a 15:5:15 ratio fertilizer would be ideal.
Water the soil thoroughly before applying the fertilizer. You want a moist, but not waterlogged, soil.
Apply the fertilizer as per the bag's instructions. Mix it into the soil with a good raking if possible. Water the fertilizer into the soil. Water until the soil is moist, but don't water too much or the fertilizer will run off.
Reapply the fertilizer every two to three months during the growing season. Withhold fertilizing during the cooler winter months when the pindo palm isn't growing.
Nikau Tree Facts
Geography
The primary locations of the nikau palm tree are on the North and South Islands, as well as on Pitt Island and Chatham Island. It thrives in lowland forest and coastal areas.
Identification
The nikau tree grows up to 50 feet tall, and has a ribbed, greenish-brown trunk with a smooth, bulbous crownshaft that sprouts long, dark-green palm fronds and leaflets. Pale pink or purple flowers bloom from November to April, and clusters of green fruit appear in February and slowly ripen to red by November.
History
The word "nikau" is from the Maori (native Polynesians of New Zealand), and relates to the tree's numerous palm fronds. Ancient Maori used the nikau's palm fronds to weave baskets, bags and the siding of dwellings. They also ingested the pith as a laxative and drank the sap to ease labor pains during childbirth.
Considerations
The nikau palm makes an excellent potted tree, but is slow growing and difficult to transplant. Its roots will die from even slight damage.
Fun Fact
The nikau palm tree is extremely long-lived and can reach an age of several hundred years.
Care of Triangle Palm Trees
Water the tree for long periods once a week when young and every other week for older trees. Spread the water in a 3- to 6-foot diameter of the trunk, as the root system spreads far. Cut watering back to once a month in early winter to prevent the tree from freeze damage.
Apply a palm tree food in April, June and August. Follow manufacturer's directions on how much to apply for the size and age of the tree.
Cut off palm fronds that are yellowing or dead as close to the stem as possible, using a ladder and long-handled pruners. Do not prune the triangle palm as the fronds gather nutrition for the tree and cutting them off will leave the tree weak.
Apply an extra dose of fertilizer if the tree develops yellowing in the crown, yellowing or bleaching to the fronds or spots on the fronds that just do not look normal. These are signs of a nutritional deficiency, usually caused by using a general-purpose fertilizer not made especially for palms.
What Is the Scientific Name for a Palm Tree?
Generally, palms are called Arecaceae, Palmae or Palmaceae. More specific scientific names are descriptive. They denote the location the palm was found, the type of palm or a prominent feature.
How to Make Money Selling Palm Trees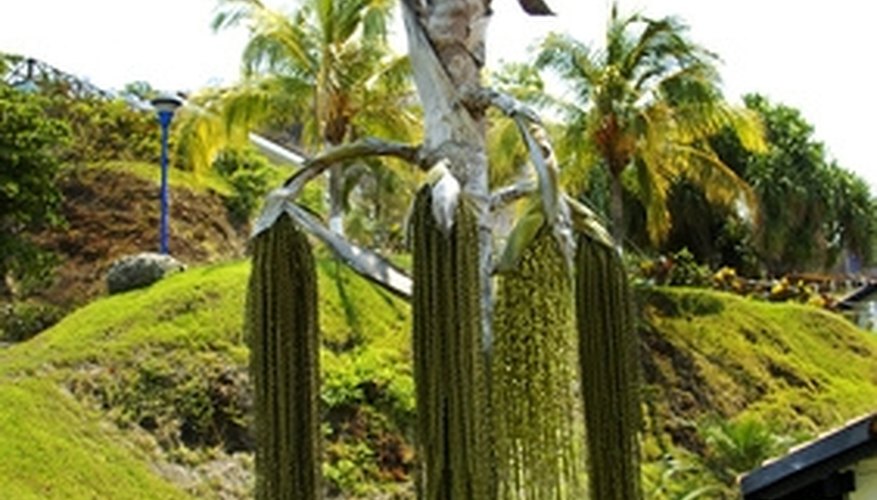 Check with your local zoning board to find out whether you can legally remove large trees in your area. Examine the vicinity of your large palm to see whether it is near any public utility wires. If so, do not move it because of the risk to life and limb if that tree accidentally falls and takes down a wire; select a different tree on your property.
Call your local nursery or use online resources to identify what type of palm you have and how much it retails for. Use these resources to locate a local palm digger and find out how much it will cost you to have the palm dug up and moved to a new location.
Advertise and let people know by word of mouth that you have a palm for sale. Start by placing a free ad on a site such as craigslist (see link in Resources section).
Hire the palm digger once you have a buyer and complete the transaction.
How to Prune Palm Trees
Gently shake the tree to remove any brown, falling-off fronds, or leaves. Palm trees shed their fronds naturally, so the safest way to remove these fronds yourself is to gently help the tree to shed them.
Gently pull at brown, sagging fronds with your gloved hands. If the leaves pull away with your hands, remove them. Do not tug or rip the fronds, even if they appear dead.
Trim at the base of the remaining brown, hanging fronds with pruning shears. If the leaves grow horizontally or up towards the sky, do not trim these fronds, even if they have turned brown. Only trim fronds that have drooped and are now pointing towards the ground.
Do not over trim. Palm trees use their fronds as protection against the weather, animals and diseases, and it is not necessary to trim them. If you must trim them for aesthetic reasons, never trim green fronds, or fronds that grow straight in the air.
Remove all palm tree clippings from the ground around the tree. These trimmings can be added to a compost heap or turned into mulch, then placed back around the palm tree.
How to Care for a Pindo Palm
Cut away any trees or other plants that completely shade the pindo palm, which does best in sunny or partially shaded areas.
Water the palm when the top few inches of soil become dry, applying enough water that the soil is moist to 12 inches deep, using a shovel to check the soil is moistened to the right depth.
Apply a palm-specialized fertilizer, with high nitrogen, potassium and magnesium, following the packaging labels. Apply minor element fertilizer six times a year, 1 to 2 lbs. of fertilizer every two months.
Remove old, dead leaves that have turned yellow or brown. Pindo palms do not discard old leaves and require regular pruning.
The Significance of Palm Leaves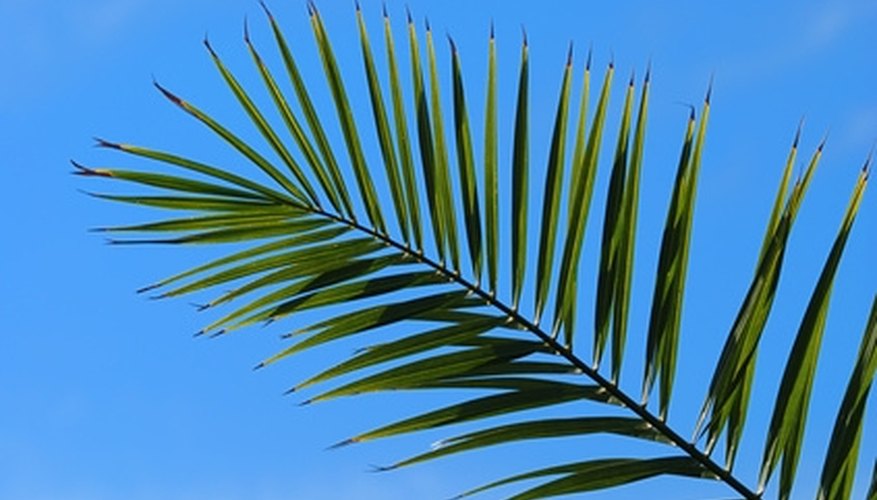 Romans
During Roman times, palm leaves signaled victory in battle. Leaders gave palm leaves as rewards to those who had won games. They also gave them to those who returned home successfully from war.
Christianity
Christianity adopted the Roman tradition of palm leaves as a symbol of victory. However, in Christianity, palm leaves represent victory for the faithful against those who want to claim their soul. Palm leaves are most often given to martyrs. On Palm Sunday, religious leaders hand out palm leaves to represent Jesus entering Jerusalem.
Judaism
In Judaism, the religious use date palms. It represents peace and plenty. The palm leaf, along with myrtle, willow and a citron fruit, make up the Four Species, or the lulav. The lulav is waved around during the Jewish holiday called Sukkot. It is one of the religion's most joyous holidays.
What Are Leaves on a Palm Tree Called?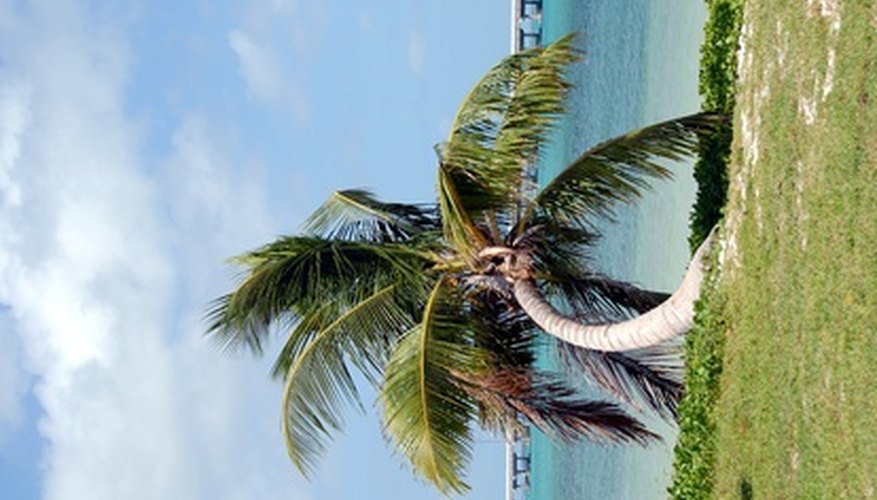 The leaves of a palm tree are called fronds. Palm trees come in two types, as the University of California Cooperative Extension Master Gardeners of Tulare & Kings Counties mentions. They may be feather-leaved or fan-leaved.
How to Take Care of Palm Houseplants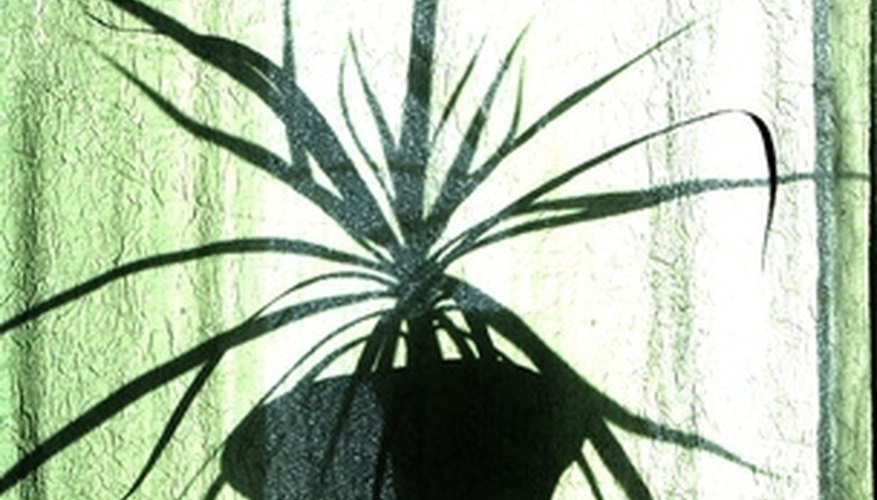 Situate your palm houseplant near window that faces east, west or south, where it can receive approximately six hours of bright, indirect light each day. Position your palm at least five feet away from heaters, drafts or air conditioners.
Keep the growing medium for your palm moist, but not soggy. Overwatering can lead to root rot. Allow the top 1/2 inch of the growing medium to dry to the touch between waterings.
Set the daytime temperature of your home between 70 and 80 degrees to provide your palm with the warmth it needs to grow successfully. Turn the temperature down to 55 to 60 degrees at night.
Fertilize your palm plant during the spring, and once more in the summer, with a half-strength solution of a water-soluble fertilizer. Apply the fertilizer according to the directions on the package to avoid burning your palm.
Rinse the foliage of your palm plant with a garden hose, or in the shower, once every two weeks to clean the leaves and discourage insect pests like mites and thrips. Rinse your palm with room-temperature water for best results.
Cut discolored, diseased or dead fronds from your palm to keep your palm looking attractive and healthy. Trim the plant with a pair of sharpened and sterilized pruning shears.
Why a Tropical Palm Plant Has Brown Spots
Underwatering
When a palm plant does not receive adequate water, the leaves will turn brown. Proper watering will remedy this problem.
Overfertilizing
Palm plants require very small amounts of fertilizer, so they should be fed lightly. Too much fertilizer can cause the tips of the leaves to brown.
Lack of Humidity
Tropical palm plants require a relatively high level of humidity in the air. Misting the leaves will add needed humidity.
Cold Air Exposure
Drafty locations will have a negative effect on your palm plant. Tropical palms can adapt to cooler temperatures, but they cannot tolerate exposure to cold air.
Infection
Palm plants infected with leaf spot disease will display brown spots on leaves. Affected leaves should be cut off and discarded. Leaf spot disease is caused by over-watering or chilling.
How to Cut the Roots When Potting Ponytail Palm Plants Indoors
Step 1
Watch your ponytail palm carefully to know the proper time to repot the plant. When you notice some swelling in the trunk at the base, just above the soil line, it is time to relocate the ponytail palm to a larger pot.
Step 2
Mist the soil around the palm with water until it is just moistened. Slide one hand beneath the bottom of a smaller pot, or turn a larger pot carefully on its side and wrap the fingers of your other hand around the trunk. Tap the bottom of the pot gently and then wiggle it until you feel the root system loosen.
Step 3
Slide the ponytail palm completely from the pot and set the container aside. While holding the palm in place, trim each visible root to no more than 2 inches long using sharp hand-held pruning shears.
Step 4
Pass a pronged hand cultivator over the entire root ball to loosen the system. Trim any newly-revealed roots that are longer than 2 inches, and remove any damaged or poorly-formed roots at their base. Repot your ponytail palm as desired.
Removing Palm Trees
For smaller palms, use a chain saw to cut down the tree a few feet from the base. For larger palms of a few dozen feet, the tree will need to be cut down in sections. It is better to hire a professional to do this work.
Remove the stump with a stump grinder. You can either hire a professional or rent the machinery for a day. If you are removing several stumps, renting the machine is a more cost-efficient option. If you are only removing one stump, contracting a professional usually will be the better deal. Before grinding the stump, remove any debris or rocks from the area.
Remove the root ball by digging all the way around it and cutting pieces out with your chain saw. If you can obtain a backhoe, this will make the task faster and easier.
How Fast Will a Windmill Palm Grow in a Year?
The windmill palm tree is a hardy, drought-resistant tropical plant that can withstand cold temperatures and polluted urban environments. It grows about one foot per year, to a total height of 25 to 30 feet. Its season of most rapid growth begins in April.
Information on Royal Palm Trees
Features
Royal palms grow about 1 foot a year and reach heights of 50 to 100 feet. They produce yellow flowers and purple or black inedible fruits. The leaf blades are between 18 and 36 inches long.
Environment
Royal palms are hardy in Zones 10 and 11. Zone 10 is the hottest in the continental United States and Zone 11 comprises Hawaii.
Growing
Royal palms are usually grown from seed but can be purchased as established plants. Royal palms like a lot of water but can survive a short drought period.
Use
Royal palms are used by municipalities like Miami to line boulevards. They have a tolerance for salt and can be planted near the ocean. Royal palms can be used as a specimen plant by itself or planted in groves.
Problems
The royal palm bug eats the young leaves. The palm leaf skeletonizer eats the leaf tissue between the veins. Giant palm weevils and scales are other insects that can damage the tree. Ganoderma butt rot is a fatal fungal disease.
How to Care for a Palm
Choose a palm according to how big you want it to be. A small palm will likely stay small. If you want a big plant, you must purchase a big one.
Give a large palm plant as much direct sunlight as is available in your house. Palms are native to brightly lit areas and large ones tolerate most high light situations in a home. However, small palms must be limited to two to three hours of direct sun per day. In the wild, small palm plants are shaded and only get full sun as they grow tall.
Water the palm once a week or slightly more often, keeping the potting mixture moist, but give the plant a two month period in the winter with less frequent watering. Good palm care calls for the plant to have a dormant period in the winter.
Use a salt-free water to water a palm. Palm leaves can become spotted and yellow from salts and minerals in tap water. To prevent this, use soft water or boil tap water. Let boiled water cool off to room temperature before watering the plant.
Keep the plant away from sudden changes in temperature such as drafts from doors or window air conditioners.
How to Trim Indoor Palm Trees
Remove any dead, dying or browning fronds from the base of the indoor palm with the pruning shears. Also remove any fronds that are loosely attached to the trunk of the palm. Trim off these fronds as they occur.
Remove any sprouts from the lower trunk of the palm with the pruning shears. Cut them off at the base of the palm as they occur.
Remove any fronds growing low on the trunk or any unwanted bulk from the base of the palm tree. Trim it off at the base of the palm with the pruning shears.
Remove any fronds that are growing downwards. Cut them off at the base of the palm with the pruning shears.
Tall & Thin Varieties of Palm Trees
Windmill Palm
This palm has a slender trunk, often less than a foot in diameter. It is typically wider at the top where it supports dark green, fan-shaped leaves about 3 feet across. The windmill palm grows 1 to 2 feet per year and can grow to about 20 feet tall. It is a cold hardy palm that likes well drained soil and can't tolerate direct salt spray.
Mexican Fan Palm
A Baja, California, native this slender palm has a trunk less than 1 foot across in diameter. It grows between 40 and 100 feet tall and is sometimes called the "sky duster palm." Its large leaves are bright green and sometimes break off the tree when they die, so regular pruning is important. The Mexican fan palm does best with rich soil and regular irrigation.
Queen Palm
The queen palm's trunk is slightly thicker at between 18 and 24 inches in diameter and extends to a height of 50 feet. The gray trunk is evenly ringed all the way up with leaf scars. Fronds have leaflets in double rows giving them a feathery appearance. Its impressive canopy shows attractive flowers all summer which fade to bright orange fruit. This palm is sensitive to frosts and has moderate to high water needs.
Chinese Fan Palm
Large, lush green fronds measuring 3 to 5 feet across top this slender tree. With a trunk no more than 18 inches in diameter and growing up to 50 feet tall this palm is perfect for a large lot. Flowers are not showy, nor are seed pods, but the dense foliage that hides them is quite attractive. This is a cold hardy palm.
Botanical Name for Areca Palm
Areca palm is a variety of palm tree that hails from Madagascar and can be grown indoors as a house plant. The botanical or scientific name for Areca palm is Dypsis lutescens.
How to Care for an Indoor Palm Tree
Select a pot that is approximately the same size as the palm plant. Plant the palm in good potting soil that allows for adequate drainage. Amend the soil with peat moss if it appears packed too tightly. Fertilize the palm plant with a general fertilizer.
Water the palm plant regularly, leaving the soil barely moist. Do not let the plant sit in water because this will cause root rot. Reduce watering of palm plants during the winter months. Keep indoor temperatures slightly above 60 degrees and provide humidity for the plant.
Place the palm in an area where it will receive bright, indirect light. Clean the leaves of the plant with a damp cloth. Re-pot the plant when roots begin to grow from the bottom of the plant. Do not prune any palm species that grows a crown shaft--a green, smooth column that grows on the tree. Monitor the palm for common pest problems which include spider and scale mites and mealy bugs.
Palm Trees Information
Species
Palm trees composed approximately 3,000 species and more than 230 generas. Only a few are indigenous to the United States.
Geography
Palm trees will grow best if planted outside in zones 8, 9 or 10. Grow a palm in a container in zones lower than 8. They will not tolerate cold weather.
Groups
There are two major groups of palm trees: palmate palms have fan-shaped leaves, and pinnate palms have feather-like leaves.
Flowers
The palm tree's flowers are usually small and insignificant. The flowers will turn into seeds when ripe. Some seeds turn into fruits such as dates or coconuts.
Soil
Palm trees grow best in sandy, well-draining soil. Amending with organic matter is an option but not required.
Light
Palm trees need to be placed in areas with full to partial sun.
Characteristics of Palm Trees
History
Palm trees existed over 80 million years ago during the late Cretaceous period. Two groups of palm trees evolved with different shaped leaves--feather, and fan-shaped.
Trunk
The trunk can be smooth or it can have definitive scars, which mark where leaves were positioned before falling off the tree. The inside of the trunk is no different than other tree trunks.
Leaves
The leaves of the palm tree grow out from the top of the trunk, and form the crown of the tree. The tops of the leaves eventually decay, and fall from the tree.
Flowers
The flowers of the palm tree are in most cases very small and green in color. Flowering habits vary according to the species of palm tree.
Fruit
The size of the fruit varies according to the species of palm tree. Some species have fleshy exteriors (date), and others have hard exteriors (coconut).
How to Identify Windmill Palm Seeds
Identify the location. Unless you are in the windmill palm's native habitat, or in the tropical and subtropical climate regions of North America, then it is unlikely that what you have stumbled upon is a windmill palm seed.
Note its arrangement. Windmill palm seeds grow in trees in late summer in grape-like clusters, covered in a thin seed coat that will range in color from yellow to pink to dark blue depending on their degree of ripeness.
Investigate the shape. Windmill palm seeds have a rounded heart shape that makes them resemble tiny beans.