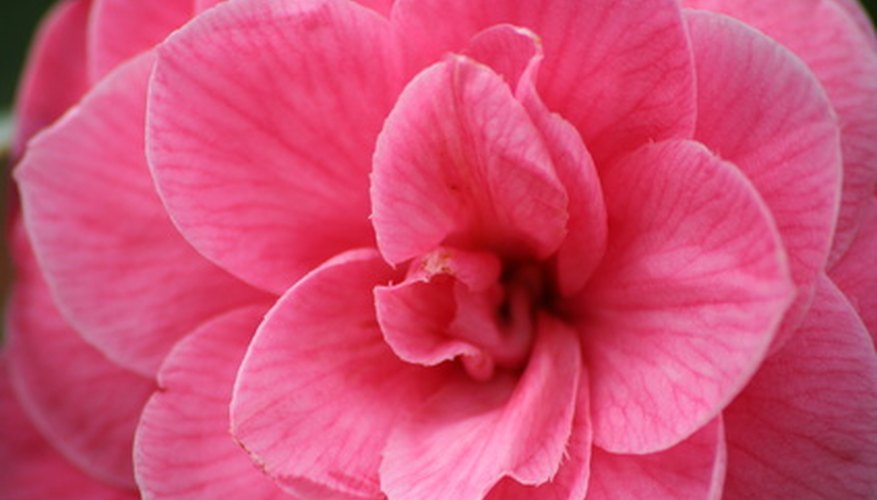 Are Camellias Poisonous to Dogs?
Camellias are beautiful, showy flowers that come in a wide range of stunning colors. Fortunately for pet owners, they are nonpoisonous and cannot harm a curious pet in any way, according to a list compiled by the Animal Poison Control Center.
Camellias are beautiful, showy flowers that come in a wide range of stunning colors. Fortunately for pet owners, they are nonpoisonous and cannot harm a curious pet in any way, according to a list compiled by the Animal Poison Control Center.
Types of Camellias
Hardy Camellias
The most common camellia in the home landscape is the Japanese Camellia (Camellia japonica). It is also the hardiest camellia. The dense upright shrubs bloom from late winter to early spring, depending on the variety, with flowers of red, pink or white. Sasanqua Camellias (Camellia sasanqua) are almost as hardy as Japanese Camellias. They can tolerate more sun than Japanese Camellias. They bloom in October and November. Sasanqua Camellias may have an upright form or a spreading form.
Tender Camellias
Yennan Camellias (Camellia reticulata) need winter protection, except in Zones 9 and 10. They are good container plants and can be trained on espaliers. Large flowers appear in the spring. Yennan Camellias produce excellent hybrids when bred with other camellias.
Other Camellias
Tea-oil Camellias (Camellia oleifera) have small white flowers in fall and winter. The seeds are pressed to produce tea-oil for commercial use. Tea Camellias (Camellia sinensis) also bloom in fall with white flowers. The leaves and buds are used to make green and black teas.
How to Feed Camellias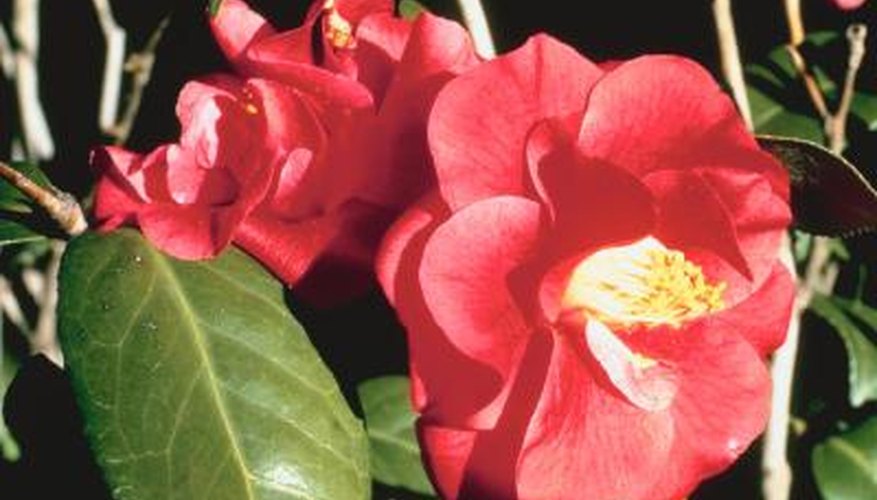 Feeding Camellias
Step 1
Select a well-balanced fertilizer with proper amounts of nitrogen, potassium and phosphorus. A 4-8-8 or 2-10-10 fertilizer will work well for established plants. New plants may need more nitrogen to stimulate growth. Try a 12-4-8 or 10-10-10. Ensure that the fertilizer also contains minor elements.
Step 2
Set up a good schedule for feeding. Apply the quick-release fertilizers three times during the spring. Feed in early March, May and July. Slow-release fertilizers may be applied once in March. Do not fertilize dormant plants in the fall or winter. This can severely damage the root system.
Step 3
Water the camellia plant thoroughly the day before feeding. Avoid feeding during hot periods to protect sensitive roots.
Step 4
Apply 1 tbsp. for every foot of plant height. An 8-foot tree will require 1/2 cup of fertilizer. Spread the fertilizer on the soil under the plant and a little beyond the drip line.
Step 5
Check the pH of the soil using the pH tester. If the pH is above 6.5, increase the acidity of the soil by adding an acidifer. Also, add pine mulch or pine straw to improve the acidity of the soil.
Step 6
Rake the soil and water the fertilizer in thoroughly. This will allow the fertilizer to effectively penetrate the soil.
Is Camellia an Evergreen?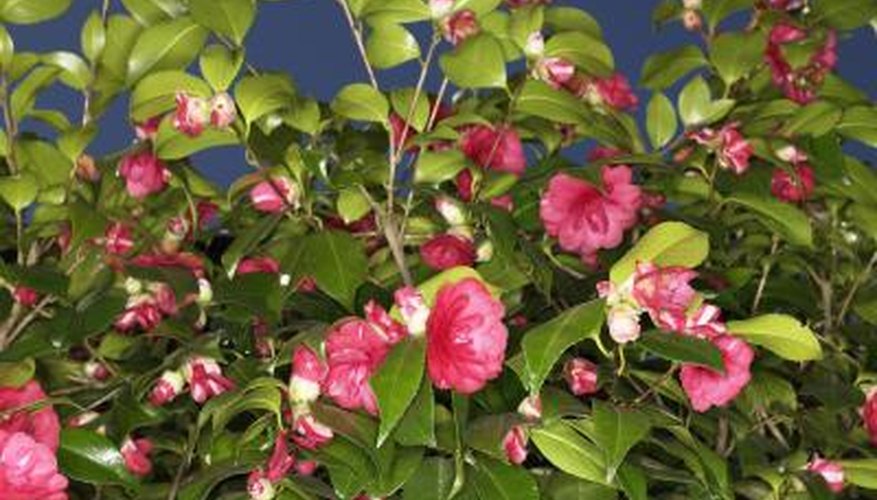 Evergreens
Camellias are evergreens, with dark green leaves that are glossy and dense. They are a shrub and commonly used as hedges. They can grow anywhere from 4 to 12 feet tall.
Bloom
Aside for being prized for their abundant foliage, camellias are popular because of their late bloom. Typically, camellias flower in the late winter and early spring. The flowers are usually a rich pink, red or white and are a great addition to a winter garden.
Hardiness
Camellias are a hardy plant that thrives best in hardiness zones 6B through 9B.
Watering and Care
Camellias have average water needs and are relatively easy to care for.
Sun
While these plants generally prefer partial shade, camellias prefer direct light in the colder months.
How to Prune a Camellia
Plan to prune your camellia only after it stops blooming. This usually occurs in May or June.
Use sharp pruners. Dull pruners can not only damage your plant, they can be dangerous since you may apply too much force and in turn, hurt your hand, arm or back.
Prune for the plant's health. Snip off small, weak, damaged and diseased limbs. Snip it at the place where it meets the larger branch. You can also snip off some of the inner branches, which will allow more air and light to reach deeper into your camellia.
Prune to encourage more blooms and growth. Snip off the last inch or few inches of each branch after blooming. You decide how much. If you like your camellia's current size, snip off several inches. If you want your camellia to grow larger, only snip off an inch or less.
Camellia Flower Information
Choose Your Camellia
When searching for camellias, select healthy, full-branched shrubs. Be sure to avoid those that have heavy insect infestations or discoloring on the stems.
Planting Camellias
When searching for the perfect planting site, find a spot that is well-drained and that is free of tangles of roots from other trees and shrubs. Plant your camellia from the late fall through the early spring. Make sure plants are at least five feet apart when putting them in the ground. Plant in an area that gets part sun (about three hours per day).
Watering
Water well immediately after planting and soak the soil once a week during extremely dry weather. The soil should be wet to a depth of about 16 inches. Consider mulching the surface to keep moisture in.
Pruning
Remove dead limbs to avoid the potential infection of your camellia plant by disease or insects. When pruning your camellia, make sure your shears are sharpened to facilitate a clean cut. Most pruning should be taken care of over the winter months.
Pests to Look Out For
Common diseases of Camellias include root rot, flower blight and dieback. The shrub can also be susceptible to various insects like aphids, spider mites, beetles, grasshoppers and caterpillars.
How to Germinate Camellia Sinensis
Soak the seeds in water for 24 hours. Remove and discard any seeds that float.
Place the seeds in a plastic nursery flat, in the sun, until they crack. Mist the seeds periodically during this time with water from a spray bottle.
Pour moist vermiculite into planting pots and push the seeds 1 inch under the surface, with the eye pointing up. The eye is a lighter shaded spot on the top of the seed.
Place the pots in a shady area and keep the vermiculite moist at all times. The camellia sinensis seeds should germinate within two months.
Move the camellia sinensis seedlings into brighter light when they have their third set of leaves. Growers at the University of Hawaii suggest that you allow the seeds 40 percent shade.
How to Grow Camellias in Texas
Plant your camellia in an area that receives sunlight in the morning and shade in the afternoon. This is typically on the eastern side of your home, with the southern side of the home being second best.
Dig a hole in the ground 2 inches wider and 6 inches deeper than the camellia's container. Discard the soil you dig out of the hole. Use a wheelbarrow or large container to mix gardening sand and peat moss at a ratio of 1 part sand to 3 parts peat. According to Jerry M. Parsons, retired professor and extension horticulturalist, this mixture gives the camellia the drainage and acidity it needs to grow for several years. Put 6 inches of the mixture in the bottom of the hole.
Remove the camellia plant from its temporary container. Shake the potting soil from its roots. Place the camellia in the hole, and fan its roots out over the sand and peat mixture.
Fill in the hole with more of the sand and peat mixture. Use your hands to lightly tamp the soil down around the plant.
Water thoroughly so that the soil is completely saturated, and there is sufficient water to wet the soil 15 to 18 inches deep. Parsons says camellias watered deeply in this manner require waterings only every 10 to 14 days, during the hottest months.