How to Keep Bugs Out of Sheds
Seal all cracks and gaps in your shed with silicone caulk. Even a crack as thin as 1/8 inch wide can allow ants and other small bugs into your shed. Seal around any windows in the shed, as well as all joints between shed pieces.
Sweep out the shed at least once per week to remove dirt and dust. Bugs can hide in dirt and dust and are attracted by unclean areas.
Move all food stores out of your shed, except those that are sealed in air-tight cans or bottles. Open food is an open invitation for bugs.
Set sticky traps or pest-specific traps -- ant traps, roach traps -- around the doors and windows of your shed. These traps will kill any bugs that get trapped in them; some contain bait that a single bug can bring back to a colony to kill the whole infestation.
Improve lighting in your shed. Make it so that any time you're in the shed, the lighting illuminates all corners of the room. Many bugs, including spiders, will run from areas clearly inhabited by humans.
Close the shed door whenever it's not in use, or if you're going to be in there for an extended period of time. This limits the entry points for bugs.
Treat insects with specific sprays as long as there are no pets, children or food stores that can be affected by the spray. These sprays are poisonous to insects but also to people and animals in some cases, so apply with caution. You can treat the whole shed, or just the areas in which you have seen insects.
How to Repel Stink Bugs Off of Tomato Plants
How to Kill Bed Bugs With Ortho Home Defense Max
Verified sightings of bed bugs health departments in many areas of the United States scrambling to supply residents with information on the blood-sucking pests. Known to live where people sleep, people first notice bed bugs usually when waking family members have bites on their faces, necks, arms and legs. The small bugs and their young that resemble brown dots hide during the day and feed at night. Ortho Home Defense Max Bedbug Killer has been manufactured to kill the bed bugs that find their way into homes.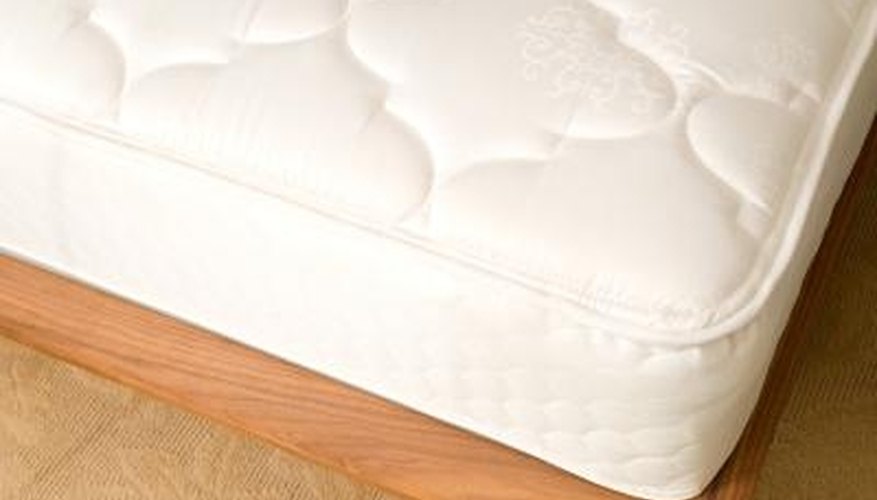 Put on rubber gloves.
Open the can. Direct the spray away from you 8 to 10 inches from the infested surface.
Spray to dampen surfaces of mattresses, box springs, carpets and molding where bed bugs have been seen or are known to hide.
Spray in 12 inch square quadrants until you treat all infested surfaces.
Open windows or doors to ventilate the area. Stay away from the treated area until all surfaces are completely dry.
Reapply as needed or when you notice live bed bugs.
How to Get Rid of Boxelder Bugs & Stink Bugs
How to Get Rid of Spittle Bugs
How to Get Rid of Stink Bugs
How to Get Rid of Shield Bugs
Identify shield bugs before you attempt to exterminate them. These bugs are wide, shield shaped and can be brown or green with red markings. You will see them on plants, in the driveway and on the walls of your home.
Seal any holes in your walls to keep the bugs from hiding in your house once you start spraying. Use cement sealant on holes in the walls and check doors and windows for tight seals. Pay special attention to holes and cracks near the ground.
Spray insecticide on the outer walls of your home and into any cracks. Pay particular attention to the area where your walls meet the ground, as this is the most likely hangout for bugs.
Use your vacuum to suck any dead bugs out of cracks and throw them away.
Stinkbug Information
About Stinkbugs
Stinkbugs are called that because they smell due to a natural defense they possess. Many birds and lizards won't touch them because of their noxious scent. They're native to Asia but have become prevalent in all states, so no one is immune from a possible attack. Less than one inch long, stinkbugs are often brown.
Prevention and Control
Prevention is the best remedy if you can begin when you first discover stinkbugs.Seal all cracks around windows and doors with silicone or silicone-latex caulk. Repair or replace damaged screens.
Affected Plants
Stinkbugs feed on tomatoes, beans, all fruit, corn, peppers and cabbage.
Damage
Stinkbugs can severely damage your fruits and vegetables. Some people experience an allergic reaction to their secretion, which can be hazardous because stinkbugs also like to live indoors and can infest your living areas. Stinkbugs also bite, so avoid handling them.
Predator Insects
Parasitic wasps, Tachinid flies, big-eyed bugs, assassin bugs and damsel bugs feed on stinkbugs. You can attract them by growing pollen and nectar plants, like dill and fennel, and allowing them to flower.
Natural Insecticides
Commercial stinkbug remedies are on the market. Double-cone traps have proven effective in orchards: they use an aggregation pheromone. Placed in tree crotches near the orchard's border, these traps help to detect the presence of stinkbugs.
Other Methods of Control
If you have stinkbugs in your house, spray a commercial product around the outside in the fall, concentrating on doors, windows and other possible entry points. Handpicking can help, but wear a nose plug.