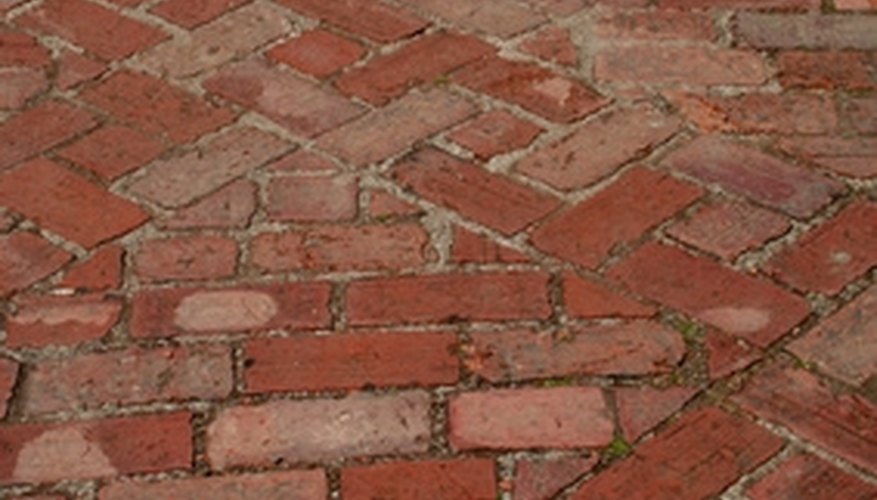 When you are considering finishing your patio, sidewalk or an entryway, two popular options are stamped concrete and brick pavers. Each type of flooring brings its own unique feel to your outdoor space. Although similar in look, they are completely different in the materials they are made from and the amount of raw materials used.
Stamped Concrete
Stamped concrete is concrete that has been poured and stamped while still wet to form patterns that resemble brick or other pavers. A primary color is added to the concrete mix, as well as an accent color. Then the concrete is poured and stamped with a polyurethane stamp. Some stamps are now texturized, creating a look that is closer in appearance to natural brick and flagstone.
Brick Pavers
Brick pavers are individual bricks that are used for patios, floors and sidewalks. According to the Glen-Gery Brick Corp., bricks are made from clay and shale from brick quarries. The materials are dried and ground, then sifted through vibrating sorters. Other materials are added to improve the moldability of the brick material. All bricks are extruded, machine molded or made by hand.
Cost
Stamped concrete and brick pavers are comparatively close in price for the materials, labor and finish work, such as sealant. According to Concrete Ideas, concrete is sold for $80 to $200 per cubic yard. Bricks are sold for 15 cents to $1 per brick, depending on the type of brick, the antiquity of the material and whether it has been made by hand or machine. The labor to lay a patio will be similar for both materials, making the cost similar.
Maintenance
Brick pavers are normally made much smaller than stamped concrete slab. They are more prone to crumbling, cracking and fading if left unsealed. Low-gloss, semi-gloss and high-gloss sealants are available o seal bricks to preserve the material for two to three years at a time. Concrete slabs like stamped concrete are sealed shortly after pouring during the curing phase. These sealants also can prevent cracking and chipping, as well as premature rusting of rebar embedded in the cement.
Recycled Materials
For the environmentally conscious property owner, both stamped concrete and brick pavers can be made from recycled or reclaimed materials. Different types of preowned brick is available at brickyards and specialty stores that recycle antique brick. Stamped concrete can also be made from reclaimed materials as part of the aggregate mixed into the cement mixture.
Considerations
Take into account the type of look and feel you are planning for your landscape before committing to brick pavers or stamped concrete. If you want an old-fashioned feel, brick tends to bring out a more retro feel than stamped concrete. Stamped concrete is great for projects like pool patios, where a certain design may be desired without the extra trip-ups of authentic brick.