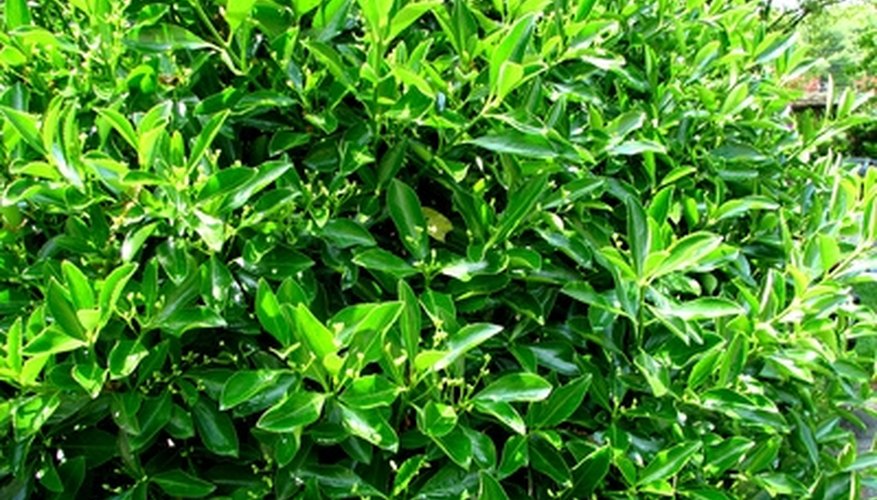 Evergreen plants are plants that do not lose their leaves in winter. Most people think of plants with needles when they think of the term "evergreen," but there are broadleaf evergreen plants as well. As shrubs, which grow slowly and stay relatively short, there are lots of evergreen plants that will tolerate full sun. Some are broad-leaved and some have needles. They can be a good choice in locations where hardiness is important to withstand harsh winters or summers.
Shrubs
A shrub is a short stalky version of a woody plant that will not reach more than about 15 feet high. They usually have more than one main stem, and each main stem will have branches that continue down almost to the ground. Shrubs are often used to line an area for privacy or sectioning it off.
Broadleaf Types
Broadleaf evergreens have broad leaves instead of needles. The leaves are often thick and glossy due to an oil on the surface that will help them avoid drying out in the sun. Some good broadleaf choices for an area with direct sunlight include Blue Holly, Boxwood and Rhododendron. These are hardy plants that all have something showy. Blue Holly can have the characteristic beautiful red berries in the winter if there are both male and female plants present. Boxwood and Rhododendron both bloom pink flowers in the spring.
Needled Types
Evergreens with needles are more likely than broadleafs to require full sun. Many broadleaf evergreens can tolerate both sun and shade. Needles evolved specifically to avoid desiccation by the sun, and often do not do well in the shade. Creeping Juniper is a needled shrub that needs full sun to flourish. Another good choice is Threadleaf Cypress.
Shade Effects
Shrubs that need full sun can occasionally tolerate shade as well, but some are negatively affected. Usually the shrubs that require direct sunlight are needled plants, which are adapted to living in harsher, sunnier conditions. Shaded areas often have damp soil that damages the plant's roots. These roots may drown or the plant may sink if soil conditions are too wet.
Benefits
Evergreen shrubs usually live well in the harshest conditions. They often tolerate full direct sunlight, and so can live well in dry areas and in the hottest summers. They are also a nice treat in the winter because they will be among the only green plants around.