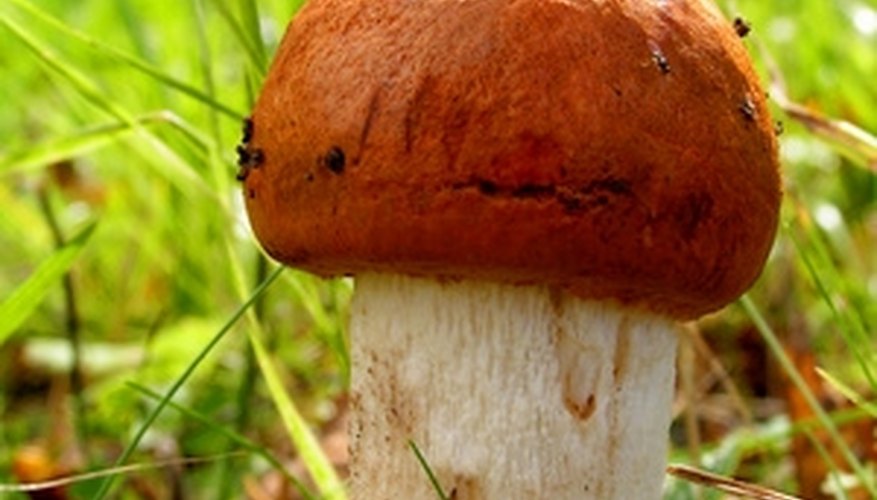 Wild mushrooms grow in many habitats and at various times of the year in most areas of the U.S. Wild mushroom hunters pick edible mushrooms for food preparation, but an amateur hunter should learn the poisonous mushrooms that grow in his area, recommends Barbara Bassett, naturalist with the Missouri Department of Conservation.
Various Mushroom Habitats
Mushroom habitats vary with species, but most wild mushrooms prefer damp areas. Mushrooms frequently grow on living or dead trees--edible oyster mushrooms--and some grow directly on the ground--edible chanterelles--reports Bassett. Some mushrooms grow in open areas on soil or decaying wood--edible puffballs--or on lawns and open grassy areas--poisonous green-spored lepiotas.
Various Seasons for Mushrooms
Wild mushroom species also grow during different times of the year, states Bassett. Some mushrooms grow only in summer and fall--poisonous jack-o'-lanterns--while others prefer spring to early summer--edible morels. Edible oyster mushrooms even grow during winter warm spells; however, most mushrooms grow during the warm rains of spring, summer and fall.
Mushroom Species Abound
There are many different mushroom species scattered over the globe. C. Wayne Ellett with the Ohio State University Extension reports that there are 2,000 species of mushrooms in the state of Ohio alone. The sheer number of mushrooms growing in the wild provides hunters with a literal grab bag of choices that may have deadly consequences for the uninformed.
Poisonous Mushrooms
There are many poisonous mushroom species growing in the wild. Some mushrooms can cause nausea, diarrhea and vomiting--jack-o'-lanterns and green-spored lepiotas--but some poisonous mushrooms are deadly--amanitas. Mushroom hunters should only eat a mushroom that has been positively identified, warns Bassett.
Edible Mushrooms
There are many edible mushrooms growing in the wild. Most wild edible mushrooms are good sauteed or fried. Many wild edible mushrooms are dried for future sale and use. Ellet suggests that wild mushrooms are best cooked and are not safe for raw consumption.