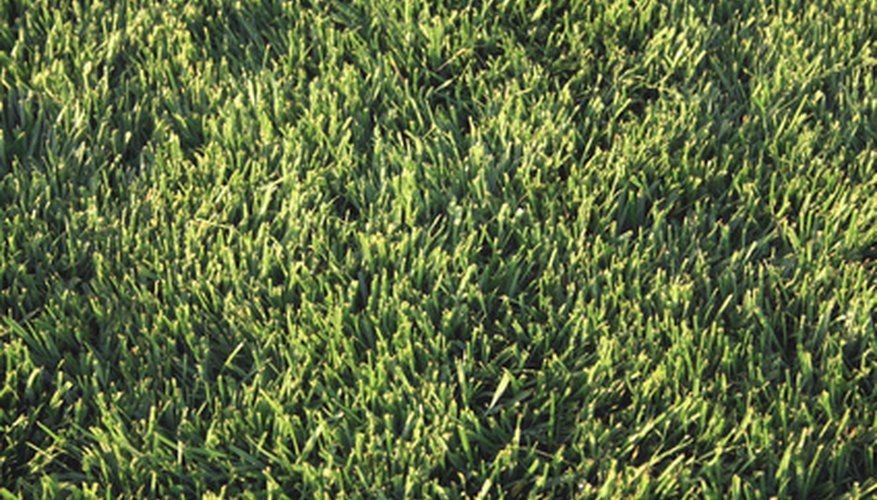 Most people remember the fake look and feel of artificial turf and synthetic grass from years ago. Today's technology has changed how these products look and feel. Artificial turf and synthetic grasses and backings are made from man-made chemicals and materials, but if you are tired of fertilizing and maintaining your natural lawn, or frustrated with trying to grow grass where the sun does not shine, these products are two options to learn about. There are subtle differences between the two types of groundcover, but each one will significantly reduce the need to water, mow and maintain.
Artificial Turf
Artificial turf is also known as field turf, and it is best recognized for its use on school and professional athletic and sports fields. According to the U.S. Field Hockey Association, artificial turf was first used in the 1976 Olympics for a field hockey match. Today, it is used on most fields, as well as on professional golf courses. Older artificial turf had short, coarse blades which often injured players with friction burns and blisters. New product designs have eliminated these issues. The pile height of a blade of artificial turf is usually well under an inch.
Synthetic Grass
Synthetic grasses offer a lush look for home lawns; many manufacturers are offering various blade designs, styles and lengths for residential use. Newer technologies produce softer fibers that feel and look more like natural grass. Manufacturers offer hybrid styles that match natural grasses. A typical pile height for a synthetic grass product is about 1.5 to 1.75 inches and can reach up to over 2 inches.
Savings and Benefits
According to the city of Irvine, Calif., replacing 750 square feet of grass with a synthetic product will save about 22,000 gallons of water usage per year. Irvine has demonstrated the benefits of synthetic grass by setting up four local and public sites. In addition to water savings, the sites prove that no fertilizer or pesticides are necessary to maintain the grass, and mowing is eliminated.
Installation
Installing synthetic turf or grass is just like installing indoor wall-to-wall carpet, according to Bob Vila, since the backing is durable urethane. A professional will install the grass so there is an invisible seam, and the edges of the grass carpet will be nailed down. After it is installed, it is groomed, or brushed, by hand to perk up the blades.
Maintaining
According to Bob Vila, artificial grass absorbs water at a rate of 30 gallons per hour, which is slow. The result is that the ground will stay relatively dry under the carpet of artificial turf or synthetic grass. There is virtually no other maintenance, other than the occasional grooming, necessary for a synthetic lawn.