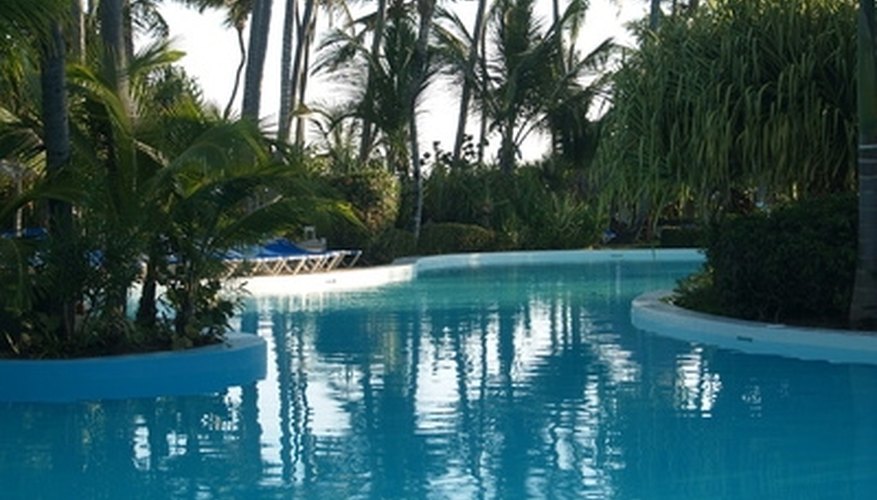 Phosphates are food for plants and when present in swimming pool water, even at low concentrations, they can accelerate algae growth. The higher the phosphate levels in swimming pools, the harder it is to control algae growth. More chlorine is needed to maintain control over algae when the phosphate level is too high. Lower levels of phosphates are treated and removed with a phosphate-precipitating lanthanum product. You can purchase phosphate removal and prevention products at your local swimming pool or spa supply store.
Identification
A number of culprits can raise phosphate levels in swimming pools. Most of them are already in or near your pool. Most likely the tap water you use from your backyard hose to fill your pool is loaded with phosphates. Any decaying leaves or other debris in your skimmer, pool sweep bag or lying on the bottom of the pool will raise phosphate levels. Fertilizers, ground-water run-off, rain water, detergents and soaps on our bodies, some pool chemicals, skin cells and human waste all contain phosphates.
Effects
High phosphate levels create conditions in your pool water in which algae blooms thrive. There are three types of algae that can take hold in a pool. Black algae is perhaps the most difficult to kill because of its resistance to chlorine. Green algae will typically be found growing on the bottom and walls of the pool first in greenish-colored patches, but may be found free floating in the water. Yellow algae forms as more a stubborn deposit on the walls of your pool, usually in a shady area. This type of algae is also chlorine resistant and re-infection is common.
Symptoms
Phosphates are persistent and they do not break down naturally; thus phosphate levels in swimming pools can rise quickly. Your pool will show symptoms of high phosphate levels such as cloudy green water or slippery and slimy surfaces. You may also notice yellow or green-colored debris in the pool. Poor water quality and excessive chemical use are also indicators of elevated phosphates.
Treatment
A phosphate-precipitating lanthanum product can be used to eliminate phosphates from your pool. A phosphate removal product works by binding the phosphates into a solid form that can then be filtered out by your pool filter. Using phosphate removers as a maintenance product is helpful for reducing the need for chlorine shock treatments, reducing filter run-time and reducing algae build-up.
Prevention/Solution
Keep your pool water properly maintained and chemically balanced for the best defense against elevated phosphate levels. Organic decomposition is one of the biggest culprits for raising phosphate levels in swimming pools. Make sure you are dumping the bag on your pool sweep and emptying the skimmer basket on a daily basis. Having swimmers hose down or shower before entering the pool to wash off soaps, perfumes and dead skin cells may also help keep phosphate levels lower. Prevent water run-off from your lawn and flowerbeds from entering the pool where phosphate-rich fertilizers can contaminate the water.