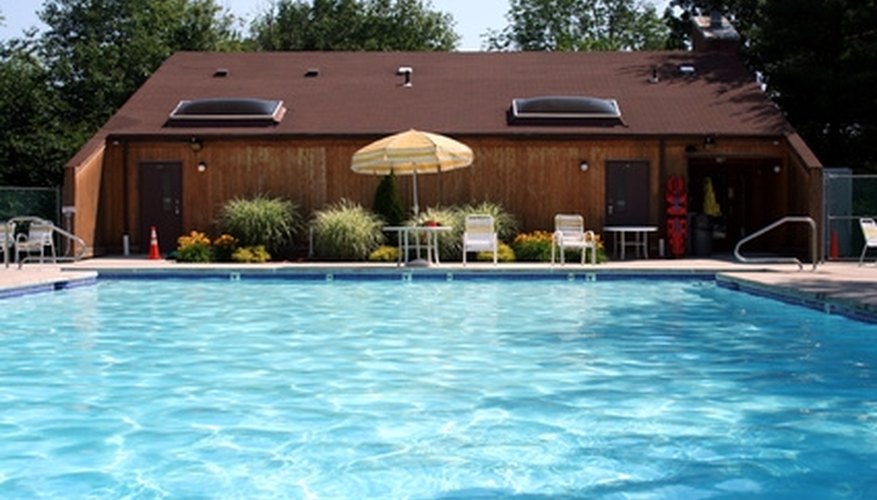 Measuring for calcium hardness in your pool determines the amount of calcium carbonate. This is a different measure than total hardness or grains of hardness which refers to both calcium and magnesium. Failing to maintain proper water balance in your swimming pool can lead to calcium hardness in the water.
Appropriate Levels
The level of calcium carbonate in the water should measure between 200 and 400 parts per million. If it goes beyond these parameters the pool alkalinity, pH level and water balance will be difficult to maintain. Pools should be checked for calcium hardness when refilled and every four to eight weeks afterward.
Low Calcium Levels
When testing your pool water, if the total alkalinity and pH level are low, then a low calcium hardness level (less than 200 ppm) is also present. This can cause the water to be corrosive to the pool and all of its operating elements. It can foam, dissolve grout, pit a concrete pool or deck surface, cause etching in pool plaster or stain the pool surface. In addition, it can cause heaters to malfunction or even fail.
High Calcium Levels
High calcium hardness levels (more than 400 ppm) will create cloudy water, cause scale formation, clog filters and heating elements, reduce water circulation and perhaps even irritate the eyes and skin. It can also minimize the sanitary effectiveness of the pool water.
Raise Calcium Levels
When the calcium hardness level is too low it can be returned to acceptable levels by adding calcium chloride. Pool suppliers will typically package calcium chloride as a hardness increaser.
Lower Calcium Levels
Once pool water reaches a high calcium hardness level it takes a lot of work to return it to an alkalinity balance. Often this is done by at least partially draining the pool and refilling it with water that has a very low level of calcium hardness. Another way to deal with high calcium hardness is by lowering both the pH and alkalinity levels with chemicals.