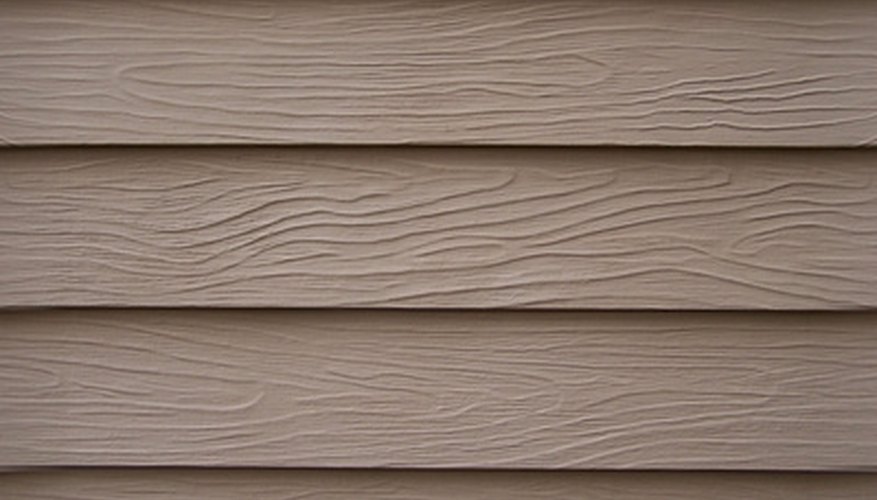 Concrete siding offers the look of traditional wood siding with lower maintenance costs and greater sustainability. It is more durable than either vinyl or aluminum and significantly cheaper than either stone or brick. Available in numerous colors and finishes, concrete siding affords homeowners a range of aesthetic options. With its unique combination of affordability, durability and flexibility, concrete siding is arguably the best cladding option on the market.
Manufacture
Concrete siding manufacturers subject a mix cement and sand to a high temperature steam curing process, called autoclaving, to produce a layer of concrete siding. They add cellulosic fibers to the mix to prevent cracking and then stack the layers to achieve desired thickness. Stamping a wood grain print onto the uncured product or stamping it in a separate, high-temperature process performed immediately after cutting the siding completes the process.
Attributes
Concrete siding is rot and fire resistant and will neither melt with exposure to a heat source, such as a grill, nor become brittle in freezing temperatures. It is impervious to termites, ants and boring insects and resists warping and shrinkage. Concrete siding looks and feels like real wood. And, it holds paint well, with some products warrantied to hold paint for up to 25 years. Depending on the degree of "pre-finish" applied by the manufacturer, transferable product warranties can last up to 50 years.
Costs
When compared to other popular cladding systems, concrete siding costs 45 percent less on average. The cost of materials, labor and paint or stain being applied determine the total cost of every siding system. Concrete siding yields long-term cost savings, as it costs less to maintain and repair. By comparison, wood siding needs repainting every few years and frequent repairs to damage caused by weather, falling branches and boring insects. Vinyl warps, melts and gets torn away by storms and high winds. Stone and brick have lower long-term cost, but their high material and installation costs often make them prohibitively expensive.
Aesthetic Options
Concrete siding comes in a many colors, styles and finishes. And unpainted, primed siding is available should you be unable to find a suitable colored siding. Dutch lap (horizontal) is by far the most popular style, but vertical siding is an attractive alternative. Concrete architectural elements such as shingles, half rounds, octagons add to the aesthetic appeal of concrete siding. Wood grain prints dominate the market, but concrete siding mimics every cladding material, from stone to cedar shingles.
Maintenance
Concrete siding is low-maintenance but requires some work to maintain its appearance. Siding requires periodic pressure washing to remove dirt and accumulated debris. And, every few years, you should examine the vertical joints and horizontal seams and remove and replace any loose caulk. Also, check for any cracks or breaks. Small cracks are not serious but should be checked periodically. Caulking and repainting usually take of small cracks. Replacing a strip of siding is a simple do-it-yourself project that should take anyone minimally competent with a hammer and nails less than an hour.