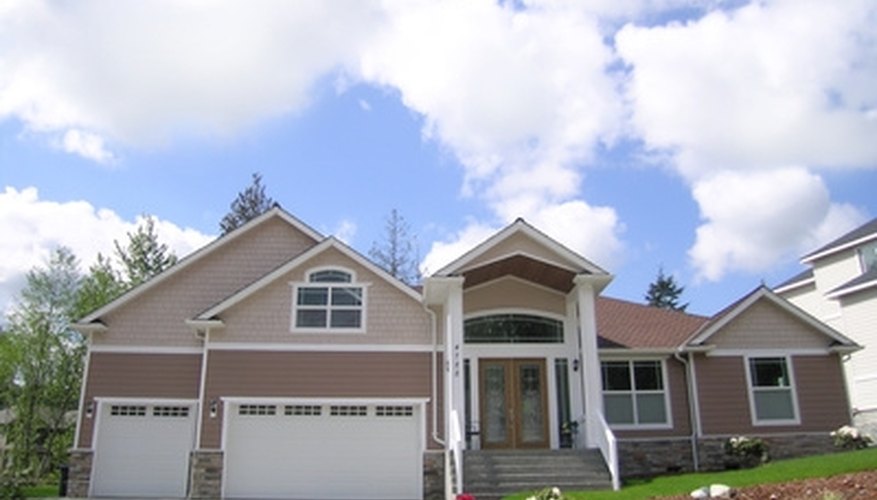 Concrete is composed of water, cement and a variety of aggregates such as shale and crushed stone. The proportion of additives in the concrete and how it is mixed depend largely on what the concrete is being used for. This is because different kinds of concrete are able to withstand varying temperatures and weight without cracking. Driveway concrete is no exception and generally needs to meet required specifications.
Basic Terms
Some basic terms to be familiar with when purchasing driveway concrete are slump, air content, compressive strength and aggregate size, according to Cement.org's "Concrete Driveways."
Slump is the "consistency, stiffness and workability of fresh concrete," according to TitanAmerica.com's "How to Buy Quality Concrete for Your Driveway." Slump is measured in inches.
The compressive strength of concrete, or how much it can hold, is measured in pounds per square inch (psi).
Air content is the amount of bubbles or air pockets that are in the concrete and is measured in percentage.
Aggregate size is the size of any added elements such as crushed rock.
The Importance of Water
Mixing the correct amount of water into a premixed bag of concrete is extremely important as adding more or less water can change vital elements of the concrete such as the air content. Air content, in turn, is vital as the air pockets act as release valves when temperatures cause the concrete to contract or expand.
Industry Standards
The general guidelines to look for when ordering driveway concrete are a compressive strength at 4,000 psi for 28 days, 5 to 7 percent air content, 4-inch slump and aggregates of ¾ to 1 inch, according to Cement.org. These guidelines were established in accordance with the American Standards for Testing and Materials specifications.
Weather Notes
Note that in milder climates that are not subject to freezing or excessive heat, air content and compressive strength can possibly be lower without affecting the durability of the concrete. Likewise, extreme temperatures may require higher compressive strength and air content. Consequently, it is important to research the recommended standards for concrete in the area prior to placing any orders.
Ordering Notes
When ordering concrete mix, be sure to follow the guidelines or tell the contractor what the concrete will be used for. Often, mixing companies will recommend appropriate proportions of aggregate and air content that best suits the area's climate.
If the concrete is being mixed and delivered, be sure it is laid down immediately or as soon as possible as it will lose water content and slump while sitting around.