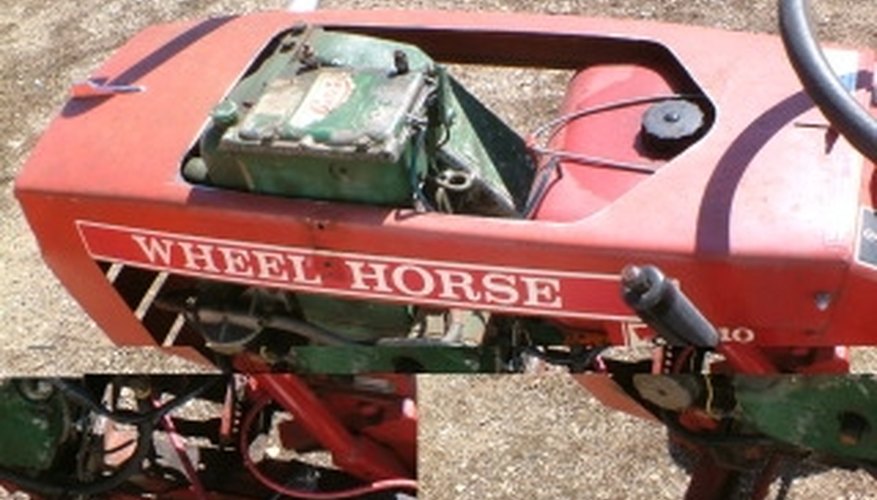 Performing strenuous tasks by hand can be cumbersome and time consuming. You can perform many tasks quickly by using a tractor. Lawn and garden tractors make short work of mowing, plowing and many other necessary outdoor jobs. When you add implements to a tractor, they become more diversified in the jobs that you can achieve.
History
In 1946, Elmer Pond began making two-wheel garden tractors from spare parts of cars and motorcycles in his garage. His idea caught on and 10 years later, he was producing a full line of riding lawn mowers and lawn and garden tractors. This marks the beginning of the Wheel Horse line of tractors, which was sold to Toro in 1986. Toro still produces the Wheel Horse tractors with its distinct name.
Features
The Wheel Horse collection of tractors is well known for its strength and durability. Toro keeps this tradition with its transaxle gears in a cast iron casing for strength, which also keeps gears intact under a load while using attachments. The front axles are cast iron also, for reliability and strength under strenuous conditions. Toro's innovation also has added new features to the Wheel Horse. With an easy turn of the dial, a height knob adjusts the height of implements, and it has a memory for the most often used positions. A new safety system allows you to use the tractor while in reverse for ease of maneuverability in tight spots.
Decks
You have a choice of eight decks to use on a Toro Wheel Horse. The recycler deck acts as a mulcher and cuts the grass into tiny pieces that fall into the ground and naturally mulch your lawn or garden. These decks are available in sizes from 32 inches to 52 inches. The side discharge decks are available for purchase in 38 inch to 60 inch models. Decks that are 44 inches to 60 inches in both kinds all have three cutting blades, and the smaller decks have two cutting blades.
Attachments
There are eight attachments to add to your tractor and increase its versatility. There is a sunshade to place over the driver for use in the long summer days that helps avoid fatigue and sunburn. A snowcab/windbreaker will protect from cold external elements in the winter and keep you dry in the rain. A bagger attachment will bag all of the grass clippings for distribution to another area. The dozer/snowblade implement will allow you to quickly clear snow off the driveway or street and is useful as a dozer to scoop up soil and debris. Additionally, there are a roller, dump cart and tiller implement for Wheel Horse tractors.
Considerations
Many of the older generations collect the original Wheel Horse tractors as a hobby. They appreciate the quality artisanship of an old heavy-duty tractor with an antique square body that they grew up trusting. You can visit wheelhorsecollectorsclub.com to view photos of the antique tractors, which are the beginning of the tractor era, as we know it today.