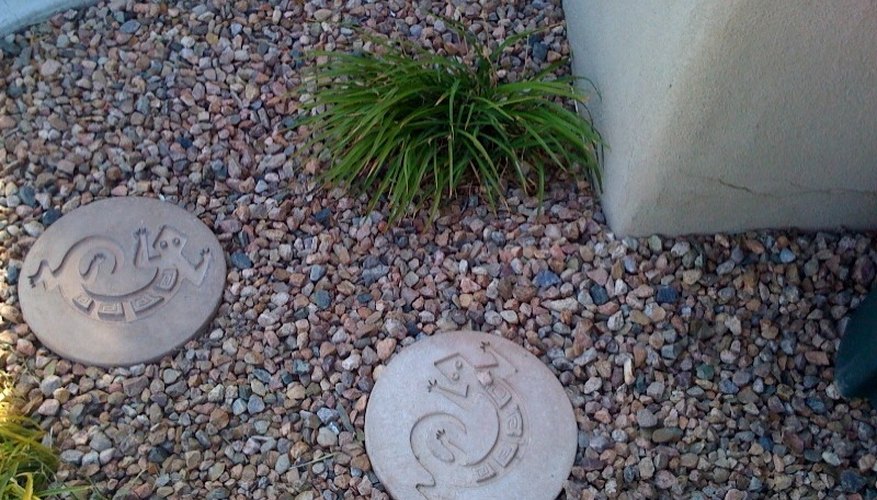 Gravel rocks are used to fill walking or sitting areas, provide extra drainage or make visible boundaries in the yard. Whether pebbles to larger stones, rocks can be decorative and practical. Gravel is also used to line a driveway or create a long, winding path. When creating gravel areas, level the area first, digging out grass, weeds or dirt evenly. Remove all roots to prevent shoots from popping up later.
Size
Gravel rocks range from 1/8 to 2 inches in diameter. The 3/8 inch rocks are the most common size sold and are suitable for walking paths and garden filler material in lieu of mulch. Use the finer grains for ground cover or picnic areas. Larger gravel rocks work well for driveways or as a border around garages and greenhouses, where drainage or heavy objects may be an issue. One ton of gravel spread 2 inches deep covers 80 to 100 square yards.
Types
There are two basic kinds of gravel, with countless varieties of each. Washed gravel, harvested from rivers, is also dubbed river stone. This has smooth rocks, typically round or oblong, whose sharp edges have been eroded by years of running water. It is ideal for filler in gardens and borders. Man-made gravel is crushed rock with sharp edges. Although more painful on bare feet, man-made gravel is more durable for heavy objects, like people and cars.
Granite
The most common man-made gravel is granite. Abundant for purchase, it is reasonably priced. Rocks are silvery-gray in color with white speckles and streaks. Some kinds come with a powdery sand mixed in with the rock, ideal for a driveway base. Fine rock pieces are appropriate for paver stone bedding or surrounding garden decorations. Larger gravel pieces are used as borders, walkways or drainage.
Pea Stone
Popular pea stone gravel is made of river stones and comes in a variety of colors and sizes. It can be used for nearly any purpose in your yard, depending on size. Stone colors are not one matching shade, but a close range of tones. For example, white pea gravel is off-white, with a mix of slightly gray and yellowed stones. Brown pea gravel comes with chocolate brown to camel to light tan stones.
Considerations
For something that stands out, try crimson stone. About ½ to 1 inch in diameter when crushed, this reddish-purple stone is nicknamed Red Dog for its distinctive color. It is effective for pathways and contrasts well with patios and lawns for visibility. Larger crimson stone is less bold in color, but still draws attention with its crimson splash on tan or brown rocks. Another eye catcher is slate gravel. Chipped into small pieces, it helps with drainage and brings a slightly formal look with its dark gray color.
References
Resources