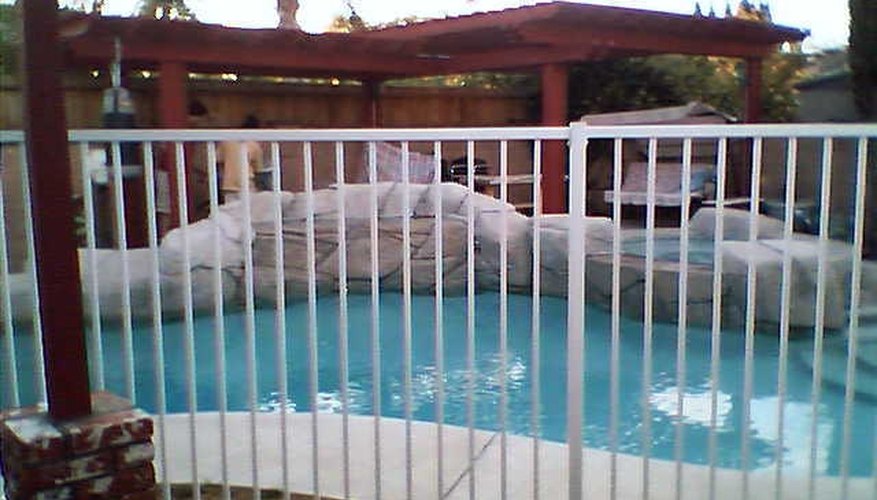 Swimming pool fences provide security and safety to prevent accidents, which can lead to injury or death from drowning. They will also prevent toddlers and small children from entering a pool area unsupervised. Pool fences also lend themselves to privacy and noise reduction, which is usually associated with play in the pool. Fencing your pool is a good neighbor policy for all of these reasons.
Function
Putting up a fence around your swimming pool area shows great responsibility as a homeowner and neighbor. Neighborhood kids have a tendency to wander over to examine a pool when they can escape unnoticed for only a few minutes. This short time can end in disaster. Some cities and surrounding areas require a pool fence as part of their city code for safety purposes.
Types
Fences made of wood are either cedar or pressure-treated wood. The pressure treated wood contains a treatment that resists rot and insects and the cedar is naturally resistant to these factors as well as weathering. Vinyl fencing is constructed of PVC that aids in its durability and it is available in a clean white color. Vinyl does not chip or rot, and its white exterior does not peel off. Steel and wrought iron are the heaviest types of fencing that you can buy. Black is the traditional color of wrought iron and steel, but you may paint it any color you choose. If you want a fence around your pool that is removable and easily reinstalled for protection of toddlers and small children only, then you may appreciate the removable mesh pool fencing. This design of this fence is specifically for safety of small ones with the idea of taking it down easily when having an adult or supervised pool party. All of these types of fencing, except the removable mesh type, are purchased in pre-assembled panels for your DIY installation needs at your local home building supply center. You can purchase the removable mesh fencing pre-assembled panels online (see Resources).
Size
Wooden pre-assembled panels vary in style and size and you can find heights of 4- to 8-feet tall in the 8-foot long panels. Vinyl fencing is also available in pre-assembled 6-foot long sheets with heights of 4- to 6-feet tall. Due to the weight, wrought iron and steel panels are available in 4-foot sections, which vary from 48 inches to 54 inches tall. Removable mesh fencing is manufactured in 15-foot sections and are 42 to 60 inches in height.
Considerations
It is easy to install each of these types of fencing in pre-assembled panels. You have to place vertical posts in the ground for the wood and vinyl fencing to attach the panels. For the iron, wrought iron and removable mesh fencing, you attach the panels to vertical poles, which put in place in the concrete, or brick that surrounds your pool. All fencing is a permanent fixture except for the removable mesh type so you can choose which ever fits your sense of style.
Benefits
The safety of your children and others is the main benefit of a pool fence, along with code compliance by the city. You can also choose styles for total privacy while in the pool and choose how much visibility you want in your pool fencing. Styles of vinyl and wood fencing are available in a solid privacy bottom with a latticework top for airflow. It is usually a good idea to be able to see inside the fence when you are not inside the enclosure, so you can see children who are in the pool.
Resources