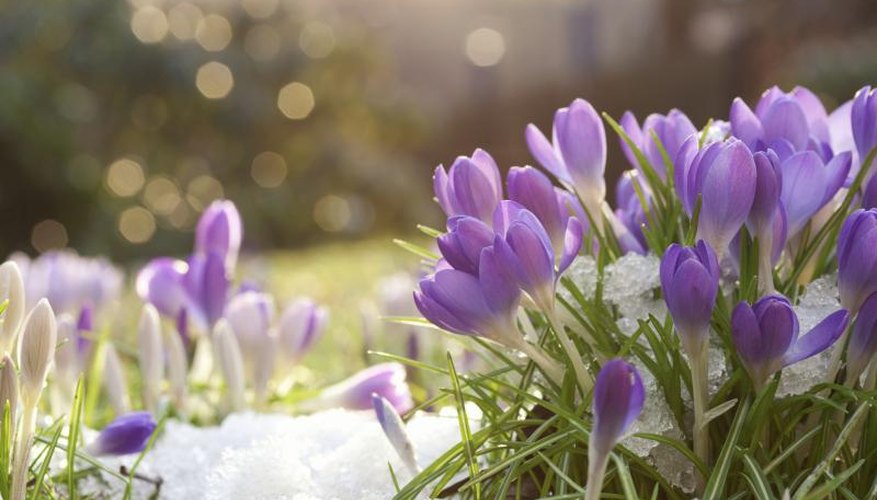 For anxious gardeners, winter normally means spring fever; after all, spring is the most common time to plant vegetable and flower gardens. Many kinds of vegetables and other plants, however, grow better in the cool temperatures of winter than the hot temperatures of early summer in certain areas of the United States. Winter is also the ideal time to plant many starts for the coming season. Many benefits come with winter gardening, including the reduction of insect pests, watering and plants bolting.
Climate Considerations
Although all of the United States defines winter as the period between the winter solstice and vernal equinox, several distinct climates are throughout the country. This means winters are very different across the country; the extreme South, for instance, may never have any frost while the Midwest and Northeast experience hard winters with frozen ground and heavy snowfalls. Seasonal changes often start early for northern parts of the country, with frosts and even snow beginning in autumn. Because winters vary so greatly, winter planting times and plant selections also vary.
Winter Crops
Several vegetables are considered winter crops. Lettuce (Latuca sativa), peas (Pisum sativum), potato (Solanum tuberosum), many other root vegetables and members of the species Brassica oleracea -- including cabbage, broccoli, cauliflower, European kales, collard greens, kohlrabi and brussels sprouts -- fall into this group.
Many wildflower seeds also do well when planted in late fall or winter, even in areas with hard winters. Plant spring-flowering bulbs October through December or January in the Pacific Northwest, South, Gulf Coast and California coast.
Planting Dates
Winter planting dates vary greatly. In Mediterranean climates, such as the San Francisco Bay area, and in parts of the South, such as central Alabama, onion sets, lettuce and potatoes are among the vegetables to plant in January or February. These areas have mild winters, making winter gardening a breeze for novice gardeners.
In colder climates, such as the Northeast and parts of the Midwest, these crops still favor cooler temperatures; however, their planting dates tend to be much earlier, with mid- to late autumn often providing the best planting time.
Put down your wildflower seeds after a killing frost but before the ground freezes if you live in a hard-winter area. On the West Coast and other warm areas, put your seeds down in mid-autumn through January, before the rainiest season starts.
Warm-Up Methods
If you live in a cold climate and want to try your hand at winter gardening, a few tips and tricks can help you get your harvest off to a good start. Some vegetables, including Siberian-type kales (Brassica napus), are hardy to as low as 6 degrees Fahrenheit, but they often need protection in colder winters.
Unheated greenhouses can offer enough protection for some crops while floating row covers -- which can be purchased or homemade -- can protect plants in the ground. Covering crops with straw or leaf mulch can provide enough insulation to protect them against hard frosts and frozen ground.
Indoor Planting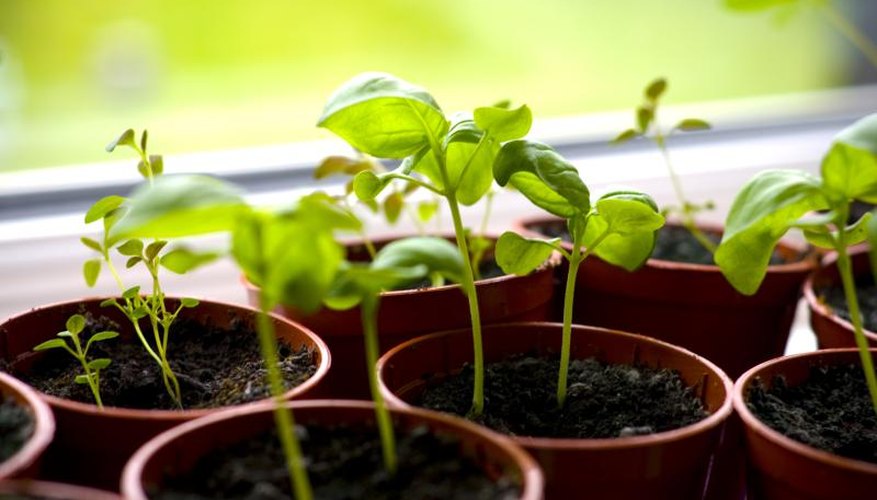 If you're not up for trying your hand at outdoor winter gardening, winter can be the ideal time to start seeds indoors. Seed-starting trays line the shelves of hardware stores and garden centers during mid- to late winter, offering shoppers the chance to start their vegetable and flower seeds before the warmth of spring takes over.
Many of the commercially available seed-starting trays come with growing medium and several planting compartments. After planting the seeds according to their individual requirements, place these simple-to-use trays in front of a sunny window and provide water according to the seed packet instructions. Within a few weeks, you will have transplants ready to go in the ground at a fraction of the cost of buying starter plants.