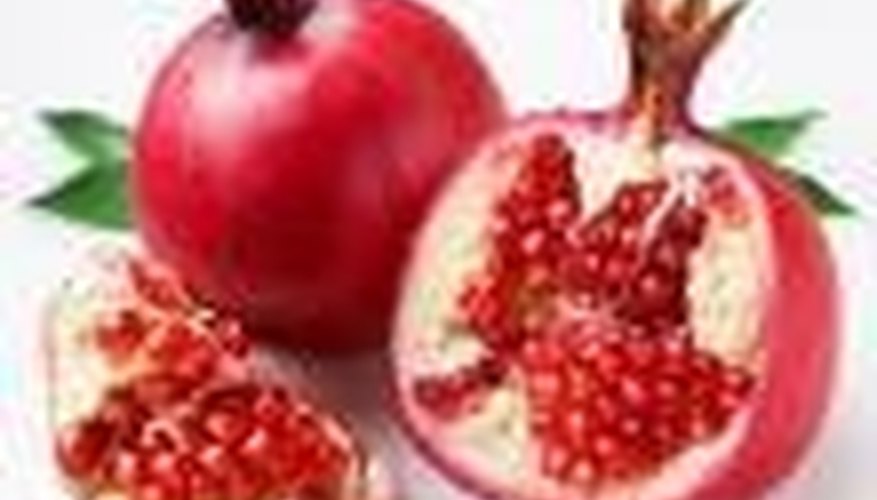 Pomegranates are nutritious fruits that ripen in the late summer or fall. Also known as Punica granatum, the pomegranate forms on a shrublike small tree that grows in semiarid areas that have mild temperatures. It is a hardy tree that can live for 200 years or more if grown in the right conditions. Pomegranate juice is said to be healthful with its antioxidant properties and is sometimes taken to combat prostate cancer and diabetes.
History and Description
Hailing from the Middle East, pomegranates have been cultivated for centuries. In 1769, Spanish explorers introduced the pomegranate to California, where it has become a commercial crop. It is also grown in Arizona. The unusual pomegranate fruit is round, up to 5 inches wide. It has a tough skin that turns yellow-red when ripe. Inside, the fruit consists of numerous "cells" or "sacs" filled with sweet- and sour-tasting pulp.
Nutritional Value
Pomegranate fruit is low in saturated fat, cholesterol and sodium. It provides dietary fiber and folate. Its vitamin C content is 48 percent of daily values; calcium comprises 3 percent and iron makes up 5 percent. A 4-inch pomegranate contains 234 calories, much of which comes from sugars. Its carbohydrate content is high---53 percent.
Growing Pomegranates
If you live in a dry region with a mild to subtropical climate, try growing pomegranates. Its northern range in the United States extends to southern Utah and Washington, D.C., but it produces fruit better farther south. Purchase pomegranates from nursery stock and plant in a sunny location. Part shade is also acceptable. Expect fruit to drop during your tree's first 3 to 5 years of life---after that, they keep fruit better.
Fertilizing Pomegranates
Use 4 oz. ammonium sulfate or another nitrogen-rich fertilizer twice during the tree's first two spring seasons. Apply fertilizer sparingly after this age, but if you want, you can spread composted manure or another form of compost once each year, at the beginning of the tree's growth cycle in March. For established trees, apply 2 lbs. of an 8-8-8 fertilizer in November---double that amount for older trees. Do not overfertilize or overwater pomegranates.
Interesting Facts About Pomegranates
Pomegranates are called Grenada in Spanish and Grenade in French. Along with red currants, they are made into the sweet, red syrupy liqueur Grenadine, which is added to mixed drinks, including the Tequila Sunrise and Shirley Temple. If you grow pomegranates, you'll find they are easy because most pests and diseases do not bother them. Gophers don't eat their roots, but watch out for deer, which like to eat the leaves.
References
Resources