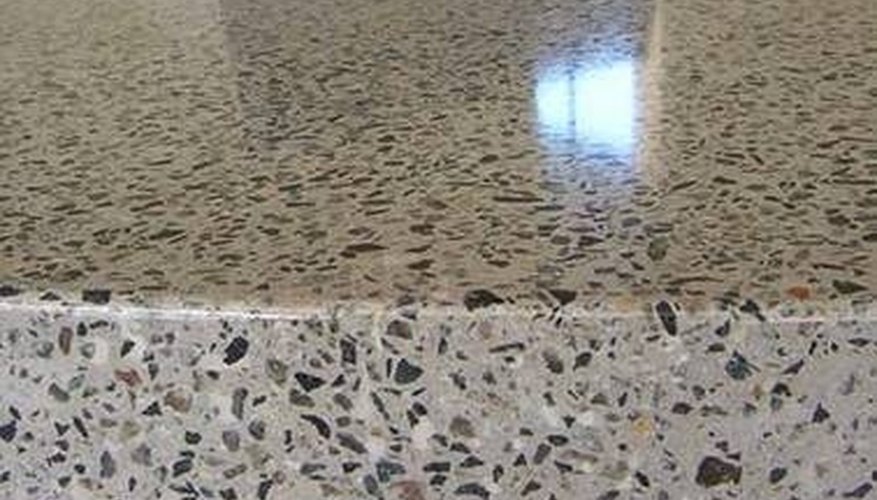 Concrete floors no longer belong in garages or commercial spaces. This durable, utilitarian flooring surface has gone upscale in a big way. High-quality installations with embedded decorative elements, stamped design, painting, washing, staining, inlays and fine stone-like polishing along with eco-friendly characteristics have solidly positioned concrete as a floor of the future.
Acid Staining
Acid staining is a relatively new concrete floor treatment where acid, water and metallic salts, in a range of colors, are applied to a concrete surface to stain the concrete. The stain penetrates a thin layer of the concrete surface. This type of treatment requires sealing with an acrylic sealant or a couple coats of a urethane will provide a beautiful and long-wearing finish.
Overlays
Overlays provide an opportunity to rejuvenate or update a concrete floor appearance, particularly if there has been some damage or a crack or hole that is in an awkward placement. According to Anne Balogh in her article published at ConcreteNetwork.com, "Polymer-modified overlays can be applied in layers as thin as a credit card or up to several inches thick without delamination or failure." This type of overlay, built on a solid foundation, can dramatically alter the aesthetic appearance of a floor.
Chemical Stains And Dyes
Chemical stains and concrete dyes offer the homeowner and contractor limitless options for colors, textural appearances, versatility of effects and very fast drying times. Stains and dyes mixed with stamped or tiled concrete cuts can deliver the appearance of large tile floors with the option of borders and intricate designs without the labor of intense tile cutting. These floors also benefit from stain-inhibiting, surface-penetrating sealers.
Stenciling
Stenciling treatments allow for the application of contrasting colors of stains, dyes and paints, as well as the opportunity to sandblast for textural changes. This popular option can create strong focal points and design elements that would be cost prohibitive in other flooring options. Sealing protects the stenciled effects.
Polishing
High-luster floors have become possible due to improvements in grinding pads (such as those used on stone floor surfacing). By applying the same polishing techniques that are used on fine marbles, granites and travertines, concrete floors can be polished to a high luster that is virtually impervious to staining and produces floor effects similar in quality to polished stone. This treatment is gaining in popularity because concrete is an eco-friendly product that can be installed in applications that are difficult for other products. Because it flows wet, it is easier to manipulate around curves and tight areas.
Considerations
Often these new treatments for concrete are mixed together to produce the specific effect that is required. Concrete floors can be heated with pre-installed radiant heating and the mixture or quality of the concrete itself can be modified to meet the needs of the finish. Other effects include terrazzo or the embedding of other materials like glass or tiles can additionally transform this universal product into a flooring masterpiece.