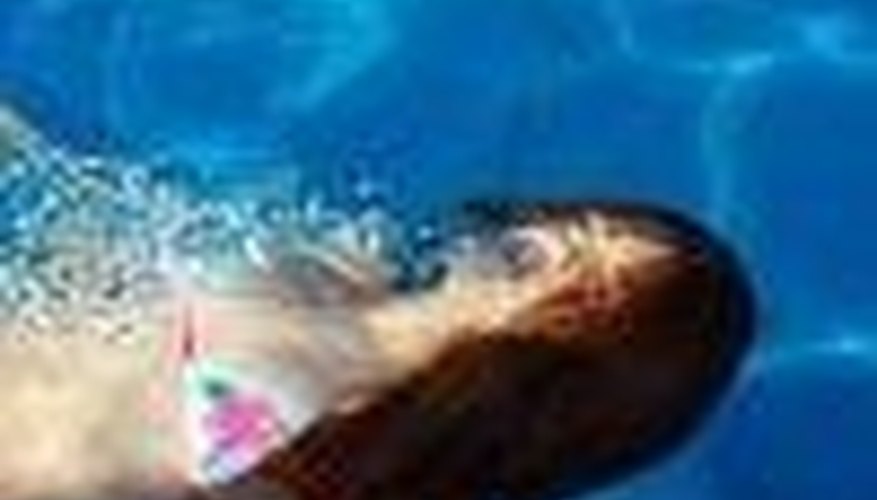 Swimming in a pool is an enjoyable and relaxing past time. For people who want a pool but don't want to spend a lot of money, an above-ground pool is a viable option. There are two main types of above-ground pools, hard-sided and soft-sided. Hard-sided pools usually have a metal shell or side. Soft-sided pools are either filled with air or are structured to hold up the lining with piping. Each type has several different styles from which you can choose. Some are easy to put together while others are a bit more technical.
Metal Hard Side
A simple round or oval-shaped pool is a popular choice among pool buyers. A round metal hard-sided pool is made of sheet metal and a heavy vinyl liner. The outer layer of sheet metal is put together to create a wall and then reinforced by a metal railing. A heavy liner is placed inside and secured on to the railing. The pool is then filled with water. A round or oval-shaped metal pool can fit into any-sized space depending on the diameter you select. A metal-sided pool can stand a bit more wear and tear than a soft-sided one. A metal-sided pool can come in different depths from very shallow to the standard four-foot depth.
Inflatable Soft Sides
An inflatable soft-sided pool is can come in many different depths and sizes. Because they are soft-sided, they can be taken apart and stored away during winter months. This type of pool is inflated with an air pump and then filled with water. It's very important that this pool be placed on level ground. A platform that isn't level can result in a crooked pool. An inflatable pool, while easy to set up, is susceptible to punctures. In case of a puncture, a patch kit would be needed.
Frame Set Pool
A frame-set pool is another type of soft sided pool. This type of pool requires a moderate amount of skill to piece together the frame. The frame is usually made of plastic or metal tubing. These tubes are screwed together to make a frame with a railing that runs the diameter of the pool. A vinyl liner is then stretched across the frame and secured into place. Then the pool is filled with water. Frame-set pools are available in circular and rectangular shapes. You can also find a frame-set pool that is covered with a wood sheathing.
Portable Pools
A portable pool is one you can take to a park or event. Portable pools are usually on the larger side, as they are intended to hold many people. Portable pools are often elliptical shaped and are made to fit into narrow spaces. Like their smaller counterparts, these soft-sided pools are filled with air via an air pump and then filled with water. Portable pools can be purchased or rented.
Saltwater Pools
The newest trend in pools is the saltwater pool. You can choose an above-ground saltwater pool or add a saltwater chlorinator to your existing above-ground pool. A saltwater pool can be soft-sided or hard-sided; the difference is the pump. The pump uses salt and converts it to chlorine. The chlorine creates a clear pool with less eye irritation for pool users.
Resources