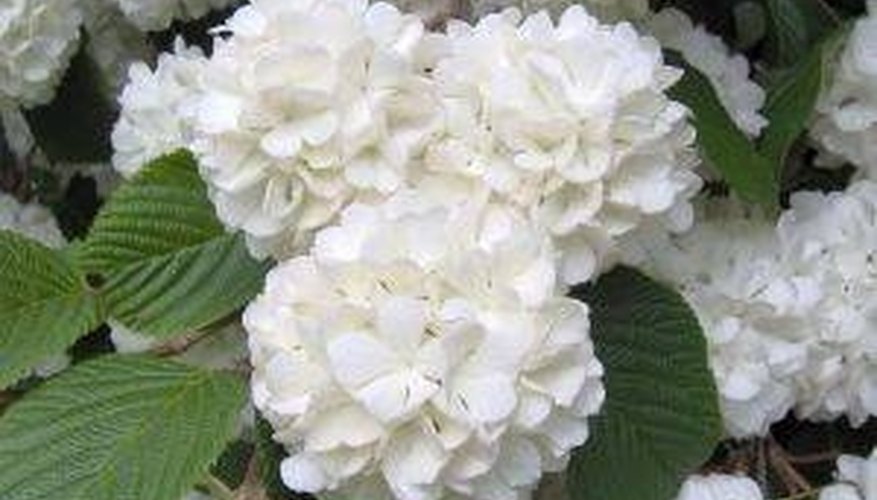 http://www.sxc.hu/index.phtml
There are at least thirty different types of viburnum, and the burkwood variety is one of the most fragrant of them all. The snowball-shaped flower clusters and shiny green leaves add a dramatic form of sophistication to the home landscape in the warmer months, slowly changing into a colorful array of foliage in the autumn. Aside from its beauty, the hardy stems and strong immunity to foliage diseases and mildew, makes the burkwood viburnum a plant that truly never goes out of season.
Identification
Burkwood viburnum is also referred to as "mohawk" and is known for its bright red buds, which give off a clover scent when in bloom. The blooms last for approximately two weeks in the spring, and are followed by the growth of red berries that later change to black in the late summer. Burkwood viburnum is part of the caprifoliaceae, or honeysuckle family, and is considered an ornamental shrub which has a height of approximately eight feet, and a width of ten feet when fully grown.
Geography
Burkwood viburnum flourishes in USDA zones five through eight, and is best planted in partial shade or areas that receive full sunlight. The plant prefers an acidic soil that is moist at all times, yet has good drainage. Burkwood viburnum makes for great landscaping because it thrives as a border or foundation plant.
Considerations
Pruning is necessary in order for the burkwood viburnum to have a neat appearance and blend in with the clean lines of a well maintained landscape. So, if you are not handy with a set of pruning shears or hedge clippers, you may want to consider only planting burkwood viburnum in an area where it is acceptable for it to grow wild. Also, the shrub has the tendency to grow quite tall, so a ladder may also be necessary to reach the top branches during pruning.
Potential
Burkwood viburnum can create a safe haven for the local bird population, pleasing bird lovers of all ages. Birds feast on the berries and nest under the protection of the shrub's dense foliage. The burkwood viburnum shrub has the potential to attract varying species of birds, most notably the mockingbird, cardinal and oriole.
Warning
It is a good idea to offer the burkwood viburnum plenty of growing space during planting. Generally, border plants should be placed at least six to eight feet. But, if soil conditions are optimum and the shrub are planted in direct sunlight, they may grow taller and wider than expected. Therefore, it is a good idea to consider a wider spacing scenario. Some landscapers prefer to plant burkwood viburnum a minimum of ten to twelve feet apart to avoid overcrowding.
Resources