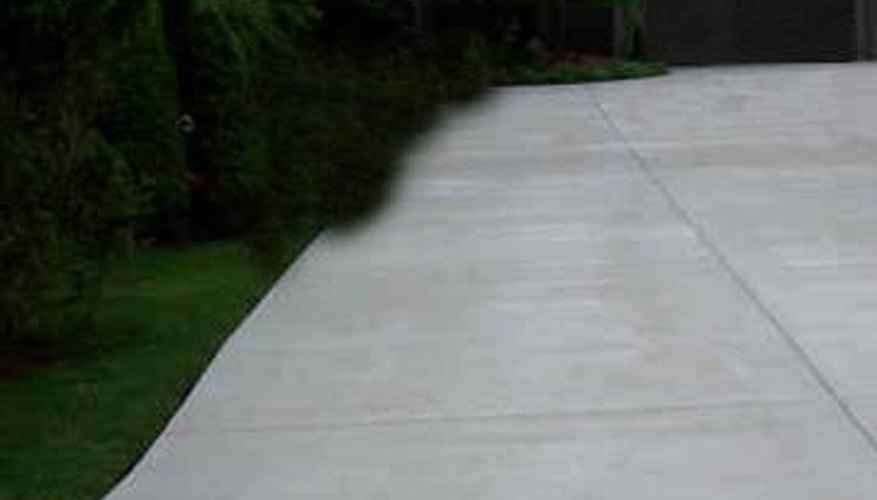 A concrete driveway provides a solid surface on which you can drive your vehicles and park them without damaging the surrounding lawn or landscaping. If you are pouring a new driveway or replacing an old damaged one, some general guidelines will assist you in understanding the process and the nature of the project.
Significance
A do-it-yourself driveway requires excavation and the correct forms and tools. Removal of only the soil necessary for the depth of the concrete, usually a minimum of four inches plus two inches of sand, is imperative. Disruption of the deeper soil reduces compaction rates and the new driveway may settle and crack. Skim off only as much soil as needed.
Types
A standard driveway is wide enough to allow a vehicle to enter and the driver to step out comfortably. A single driveway, leading to a one-car garage should be a minimum of 10 feet wide. The minimum standard for a two-car driveway is 18-feet wide. However, in some areas, custom driveways provide only two concrete strips, separated by soil in the middle, often planted with grass. Generally, adding a foot or two to the width of the driveway provides additional functionality.
Size
Pour a do-it-yourself driveway in sections small enough for you and your helpers to successfully handle. After wet concrete is poured into the form, you have a limited amount of time before the concrete hardens and everyone must work quickly to spread and smooth the section before it cures. After one section dries, you may pour the next one. In hot dry weather, concrete dries rapidly.
Considerations
Plan the grade of your driveway to slope away from any nearby structures. Direct water runoff away from a home or a garage by using a minimum slope of 1/4-inch per every four feet. For instance, if you are pouring a 10-foot wide driveway, one side will be at least 5/8-inches lower than the other side. In addition, call your local utility companies before removing soil. They will send a worker out to mark where their utilities run and notify you of the depth of the lines or pipes.
Warning
Pouring concrete is labor-intensive. Arrange for numerous workers, at least one of whom has experience in pouring concrete. Rent concrete tools from a construction rental store before you begin. You will need shovels or concrete rakes, a screed, a bull float and hand trowels. Power screeds and trowels reduce labor. Wear safety goggles, rubber boots and gloves to prevent wet concrete from coming into contact with bare skin.