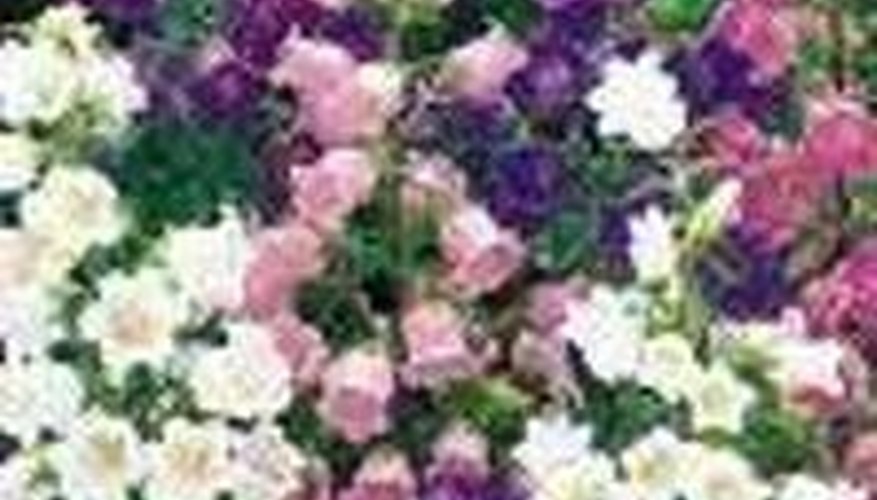 A favorite of gardeners for hundreds of years, Canterbury bells are a beautiful addition as mass plantings in mixed border gardens or as single plantings in containers. Because of their reseeding habit, these flowers are often considered a perennial; in reality, Canterbury bells are hardy herbaceous biennial flowers. A part of the Campanula family, which means "tower of bells" in Latin, the tall flower spikes of delicate bell-like blossoms to be cut and placed in vases indoors.
Time Frame
Canterbury bells can be planted between April to June outdoors. Sow seeds from the fall to right after the last frost. The first year, it produces foliage only. The leaves can be mistaken for a weed. Use a plant marker to avoid accidentally uprooting it. During the second year, campanula produces masses of bell-like flowers in late spring to early summer. It reseeds itself and then dies. Plant the annual dwarf variety, "Chelsea Pink" in February and it will bloom three months later.
Geography
Campanulas are native to the mountains of southern Europe. They were introduced as "Coventry bells" to British gardens in the 16th century. In the United States, they can grow well in USDA Hardiness Zones 4a to 10b.
Features
Canterbury bells grow 24 to 36 inches tall, while the dwarf variety grows 6 to 8 inches. The bell-like flowers are either single or double blooms in shades of blue, pink, mauve, white, off-white and purple. The first year, the biennial plants form an evergreen rosette; the following year, the rosettes stretch into the bell-shaped florets. The variety "Cup and Saucer Mixed" has florets that resemble tiny cups and saucers.
Considerations
Campanula grow best in light shade to full sun. The soil needs to have good drainage yet retain moisture, with a pH level of 6.6 to 7.8. Prepare the garden by working in plenty of well-rotted manure or compose several weeks before planting. If they are planted in containers, plant only 1 Canterbury bell for each 10 inch pot and use a multipurpose compost. Provide average watering, but do not let the soil dry out. Starting a few weeks after planting, provide a monthly liquid planting. Allow the seedheads to dry on the Canterbury bells to gather the seeds. Then remove the seeds and add to the compost.
Prevention/Solution
Canterbury bells suffer from slugs, which eat the crowns of the plants during the early summer, especially after a rain. Use slug pellets or scatter grit or coarse sand around the base of the flower to deal with this problem.