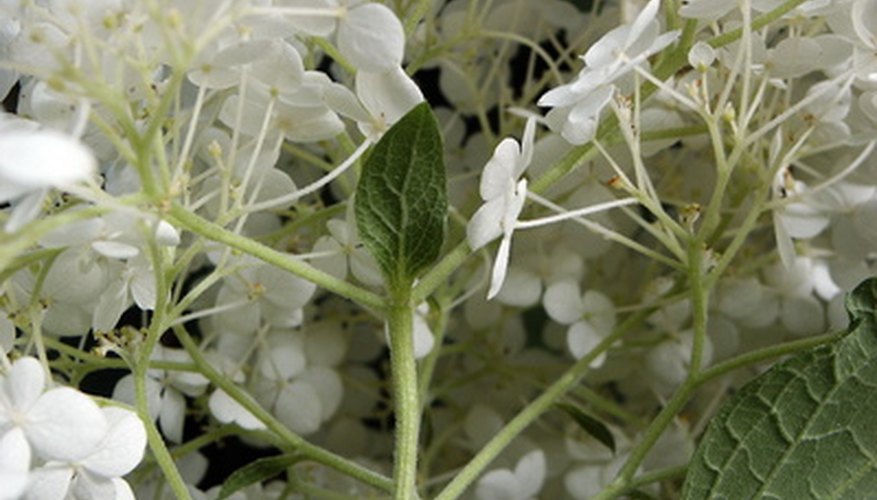 Annabelle hydrangeas are deciduous, smooth-leaf shrubs native to southern Missouri and surrounding areas. Gardeners value the plants for their large, rounded clusters of pure white flowers that appear in late spring and last until the first frost of winter. Hardy in USDA Plant Hardiness Zones 3 to 9, Annabelle hydrangeas grow in most areas of the United States with only minimal maintenance. The fast-growing shrubs reach heights of up to 5 feet with a 6-foot spread and produce blooms up to 12 inches across.
Plant Annabelle hydrangeas during spring in a location that receives partial sunlight throughout the day. Ensure the site is composed of rich, well-drained, fertile soil for optimal growth. Space Annabelle hydrangeas at least 4 feet apart.
Apply a 1-inch layer of chopped leaves to the soil surrounding Annabelle hydrangeas to improve moisture conservation and increase the fertility of the soil. Begin the layer about 3 inches from the crown of the plant to reduce the risk of disease.
Water once every five to seven days during the first spring, summer and fall of growth to establish the root system. Decrease watering frequency thereafter to once every 10 days, or once per week during periods of drought. Soak the soil to a depth of 8 to 10 inches at each application.
Feed once per year during winter, just before active growth resumes, using a balanced 10-10-10 NPK fertilizer. Water immediately after applying to release the nutrients into the soil. Apply at the rate described by the manufacturer's instructions for the best results.
Prune Annabelle hydrangeas during late winter just before new growth resumes. Use pruning shears to trim away any leggy, excessively long or damaged limbs to increase the appearance and health of the plant.