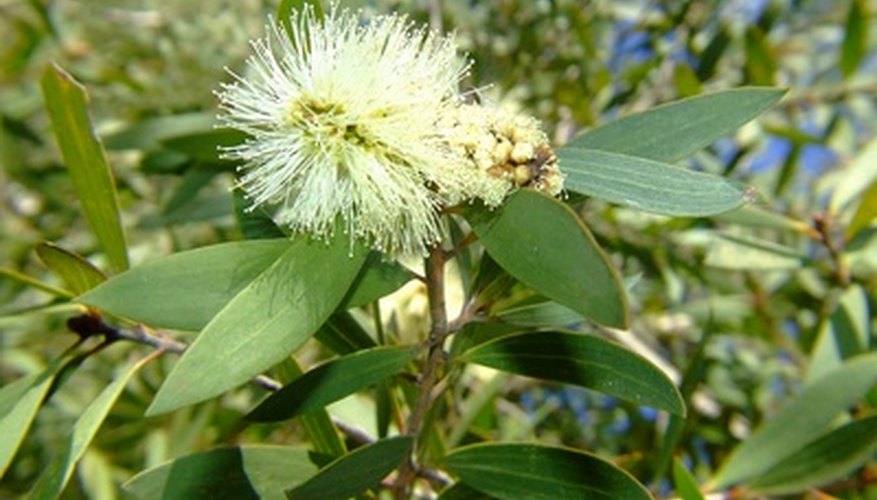 yellow bottlebrush image by Vanessa Pike-Russell from Fotolia.com
Home gardeners may be hesitant to purchase a flowering shrub for a shady area of the garden. While it is true that many blooming shrubs need full sunlight in order to thrive, there are just as many that will bloom in part shade. In fact, some flowering shrubs need afternoon shade in order to protect their delicate leaves from being scorched by the intense rays of afternoon sunlight. These beautiful shrubs thrive in partial shade and will brighten up the darker corners of any landscape.
Bottlebrush Buckeye (Aesculus parviflora)
Bottlebrush buckeye is named for its long, white flowers, which look like bottle brushes. The shrub, which is native to America, blooms all summer long in United States Department of Agriculture (USDA) hardiness zones 4 through 8 and prefers partial shade. The bottlebrush buckeye is a large shrub, reaching heights of 12 feet and widths of 15 feet.
Summersweet (Clethra alnifolia)
Summersweet is an excellent choice if you want a showy, year-round display from your shrub. In the spring, the attractive, glossy green leaves uncurl. In mid-summer, this plant wows with highly fragrant, long spikes of flowers. In the fall, the leaves of the plant turn bright yellow. Summersweet is also the perfect shrub for overly wet areas of your garden, as this plant tolerates saturated soil much better than most other shrubs, and thrives in part shade. Summersweet can grow up to 8 feet tall and does best in USDA growing zones 4 through 9.
Oakleaf hydrangea (Hydrangea quercifolia)
Oakleaf hydrangea is desirable for its huge, white clusters of flowers. This shrub, which is one of few hydrangeas native to the U.S., prefers cool, moist soil and part shade, especially in the afternoon. In the fall, the leaves turn a rich burgundy color. Oakleaf hydrangeas can grow as large as 8 feet in height and width. These shrubs must have well-draining soil, or they will suffer from root-rot. Oakleaf hydrangeas thrive in USDA growing zones 5 through 9.
Witch Alder (Fothergilla gardenii)
Witch Alder is a wonderful choice for small, shady spaces. This shrub is slow growing and will keep its small, mounded shape (only 2 to 3 feet tall) for years. In the spring, the plant blooms with creamy fragrant flowers even before the leaves appear. Witch alder is spectacular in the fall, with leaves that turn orange, red and yellow. The shrub thrives in USDA growing zones 5 through 9 and prefers cool, rich soil that is well-draining.