Denali National Park contains about 450 species of plants from 54 species of flowering plants. The average person thinks of these as wildflowers; botanists call them forbs, or herbaceous flowering plants. The fireweed, ubiquitous to the entire state, flourishes in Denali, along with the Alaska state flower, the Alpine forget-me-not; and poppies, goldenrod, gentian, larkspur and lupine.
Types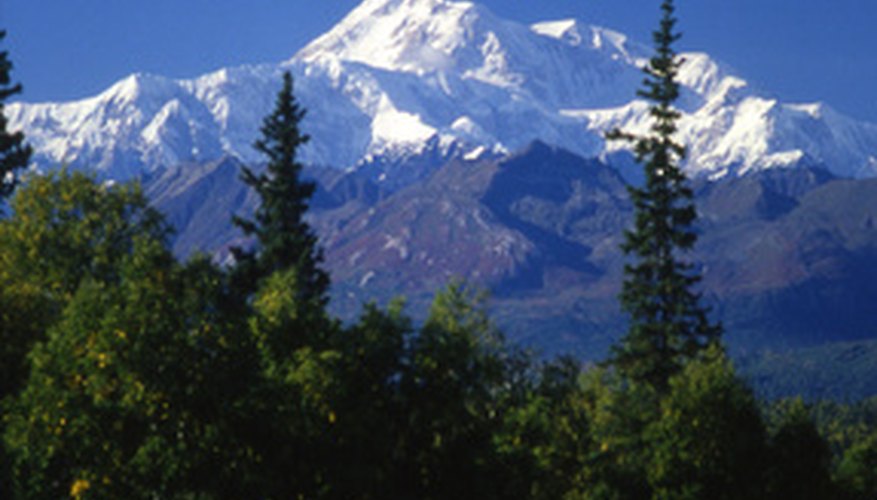 The aster family has 59 species in the park, the most of any family, according to the National Park Service. These wildflowers resemble garden asters, with narrow petals, unbranched stems up to 4 feet tall, and purple flowers with about two dozen narrow petals. Other wildflowers include the mustard family, with 45 species; buttercups, 32; pinks, 31; and saxifrage, 31.
Features
Lupines, a tall spiky plant like the fireweed, feature fatter, purple, red and white flowers resembling a gladiolus. The Alpine forget-me-not is fragrant in the evening and at night, grows to 6 to 12 inches high and often features pale blue flowers in a configuration of five wide petals with a white or yellow center. Fireweed grows alongside Denali's road system and in clearings from 1 to 7 feet high, with lavender or mauve flowers that blossom higher and higher on tall stalks, indicating summer's swift progress. Yellow pond lily grows in the park's ponds and lakes, featuring dark green rubbery leaves and large, bright yellow flowers. Sundews grow in black spruce forests and feature purple hairs that trap insects. Scamman's spring beauty, found only in Alaska and the Yukon, features five lavender leaves and grows on inhospitable scree slopes.
Identification
Correct identification of species requires noting the color of flowers, number of petals, height and stem and leaf features. Many hikers photograph the flowers, make notes about height and features and attempt final identification once back home. Given the numerous species in the park, a field guide such as "Wildflowers of Denali National Park" or an academic work such as ""Flora of Alaska and Neighboring Territories" (Resources) may be essential in identifying unusual specimens.
Size
While fireweed and lupines feature a tall, spiky habit, many pretty Denali flowers grow on plants under a foot high, more resembling those used in cultivated borders, including buttercups, pinks and saxifrage, as well as the Alaska poppy and Alpine forget-me-not. In general, Denali wildflowers may resemble smaller versions of plants also found in warmer climes.
Geology
Much of Denali's soils are permafrost, and only a thin layer of topsoil thaws each summer. Long bitter winters and short growing seasons pose challenges to Denali's wildflowers, yet each summer, colorful forbs carpet Denali at altitudes up to 7,200 feet. Wildflowers and other plants provide a key element of the ecosystem for park wildlife.