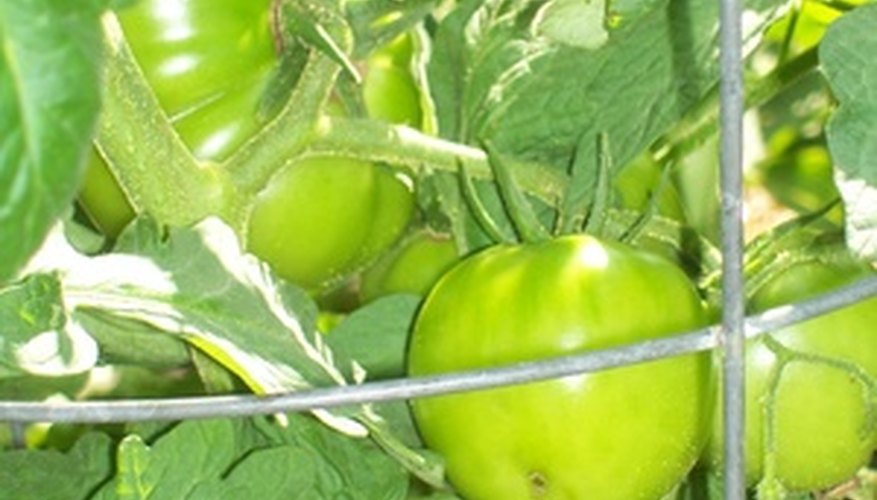 It's easy to see why the tomato is a top choice among home gardeners. Plants adapt well to most soil conditions, they are perfect for small garden spaces, and the tomato itself has many uses. Tomatoes are a high crop yield so just a few plants are necessary to satisfy the needs of most families for the entire season. Tomato plants are relatively easy to grow, but they are susceptible to a few ailments.
Early Blight
Caused by a fungus Alternaria solani, early blight is also known as target spot or alternaria leaf spot. Signs of early blight are loss of leaves on the lower part of the plant and brown or black spots that are 1/4 to 1/2 inch in diameter that appear on lower leaves. Spots often merge and form odd-shaped blotches and may look like a target. Leaves will fade to yellow and dry up. Early blight often attacks the tomato as well, leaving large black concave areas on the tomatoes. Warm damp weather helps spread early blight. Fungicide is used to control early blight. Follow manufacturer's instructions when using any fungicide on your plants.
Verticillium Wilt
The fungi Venticillium albo-atrum and Verticillium dahlie are the cause of verticillium wilt. Small yellow patches appear on the lower leaves of the plant and, eventually, as the disease spreads upwards, leaves turn yellow, wither and drop. Verticillium wilt also causes the internal browning of the stem near the soil line. Infected plants can survive but their growth is often stunted and their crop yield is lower. Controlling verticillium wilt is difficult; no fungicidal treatment has been effective. The best way to prevent verticillium wilt is to choose tomato plants that are not susceptible to the disease. Look for tomato plants or seeds that are labeled "V" for verticillium-resistance. The Better Boy, Big Beef, Roma and Early Girl are a few varieties of tomato that resist verticillium wilt.
Bacterial Spot
Bacterium Xanthomonas campestris pv. vesicatoria causes bacterial spot. This disease appears as brown spots on the leaves and stems of the tomato plant. The splotches are about 1/8 inch across and feel slightly slimy to the touch. As the spots begin to grow they often appear to be surrounded by a yellow halo. Once spots become abundant, they will grow together and cause the leaves to turn brown and wither. Bacterial spot can affect the fruit of the plant. Black dots will appear on the tomato and will enlarge to 1/4 to 1/2 inch in width and become sunken, gray and scab-like. Keep areas around tomato plants weed-free to help reduce the chance of bacteria growth. Fungicide is effective in controlling bacterial spot. Follow manufacturer's instructions when using fungicides on your plants.
Bacterial Canker
Plants infected with bacterial canker often appear to have the disease on only one side. Eventually the disease does spread to the entire plant. Caused by a bacterium Clavibacter michiganesis subsp. michiganesis, bacterial canker can cause extensive damage to your tomato crop. Young plants will suddenly wilt and older plants will experience browning along the edges of their leaves. In rare occasions, the stems of the plant will develop cavities or brown cankers. Raised white spots may occur on tomatoes, sometimes called birds-eye-lesions, and the white spots will turn brown as it ages. Control bacterial canker by planting disease-free plants and keep areas weed free to reduce chances of bacterial growth. Copper spays have little effect on the bacterial canker and, most likely, will not stop the spread of the disease.