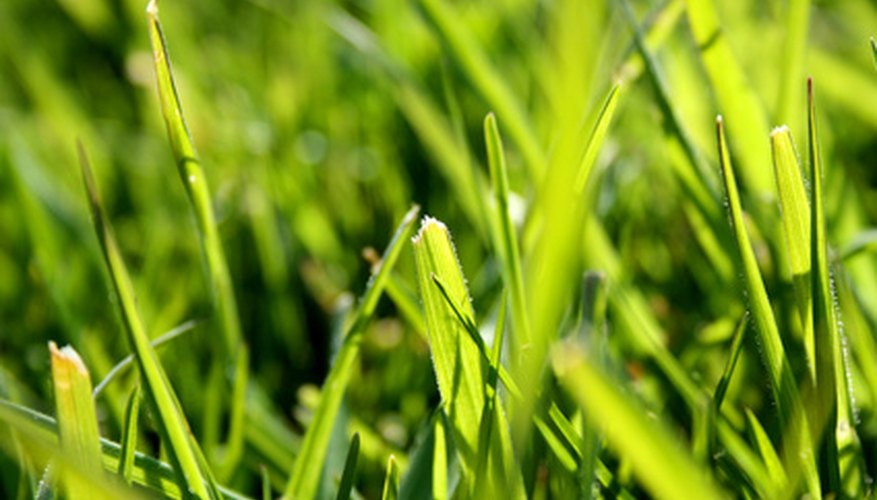 Located in the southeastern United States, Mississippi's warm-temperate environment supports the growth of most warm season grasses and the limited growth of cool season grasses in northern parts of the state.
Warm season grasses grow only during warmer months and turn brown as they become dormant during the winter. When selecting a grass species for your home lawn consider your location in Mississippi and the amount of sunlight, maintenance and usage.
Tall Fescue
Tall fescue is a perennial, bunching, cool season grass that grows well in the northern half of Mississippi. This hardy, cool-season grass grows year round and is resistant to drought, shade and heavy foot traffic.
Zoysia
Zoysia grass is a warm season grass native to southeast Asia that is well suited to coastal regions of Mississippi. This slow growing lawn grass prefers well drained, sandy, seashore environments and is moderately tolerant of shade and drought.
St. Augustine
St. Augustine grass is a coarse textured, warm season grass grown in the southern half of Mississippi. Forming a dense, green turfgrass, St. Augustine grass is easy to grow but lacks tolerance for heavy foot-traffic.
Centipede
Centipede grass is a low, slow growing warm season grass found throughout all regions of Mississippi. The slow growth of Centipede grass makes it one of the most low maintenance turfgrasses in the south, requiring little mowing, fertilizing and aerating.
Bermuda
Bermuda grass is a warm season grass with a high tolerance for foot-traffic, making it a popular choice for Mississippi's parks, sports fields, golf courses and home lawns. This dense, light green turf, requires direct sunlight, irrigation and periodic fertilization and aeration for optimal health.