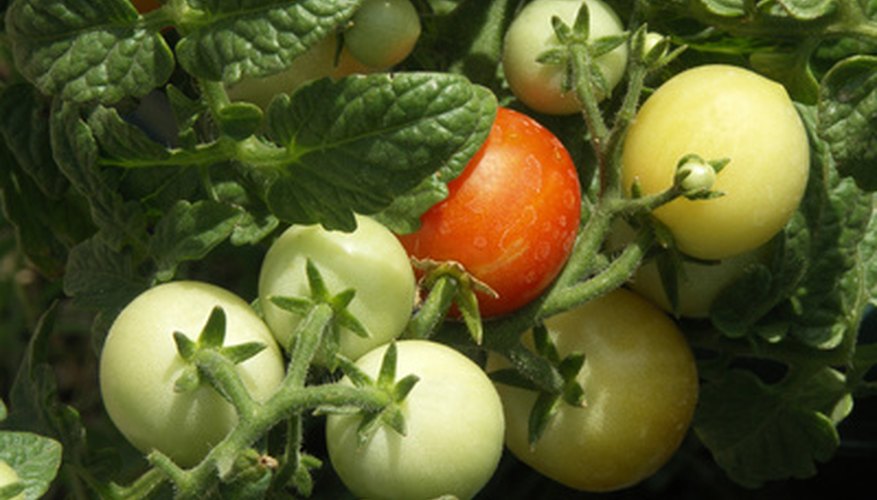 Anyone can enjoy fresh tomatoes during the summer no matter the size of your garden area or lack thereof. Growing tomatoes in containers is ideal for those living in small spaces such as apartments, where containers can be placed on a balcony or small patio. Or perhaps you choose not to grow a large garden but want to have fresh tomatoes at hand all summer long. Containers allow you to enjoy tomatoes without all of the fuss.
Select a container to plant your tomatoes in that best fits the space you have. For instance, half of a whiskey barrel works well for larger patios and yards, while a five-gallon container is small enough for an apartment balcony. Be sure the container has drainage holes in the bottom so there is no standing water around the roots, which can cause the plants to die.
Set the container where the tomatoes will receive at least six hours of full sun daily. Fill the container to within 3 inches of the top with an organic garden soil, then mix in perlite or vermiculite to ensure good drainage.
Place the tomato plants in the container so they are planted deeply up to the first set of leaves. This ensures a strong, healthy plant. Fill in with rest of the soil and firm over gently with your hands.
Water your newly planted tomatoes well and water deeply once a week. For containers set on a patio or in a yard, use a garden hose with the water trickling slowly into the container for about 10 to 15 minutes or until water runs out of the bottom of the container. For balcony containers, use a watering can with a spout instead of a garden hose and water just long enough for the water to start draining out of the bottom of the container. During summer months water once a day if necessary to keep the soil moist, but water less often once the fruit starts to ripen or the tomatoes will have a watery taste.
Feed your vigorous growers a balanced fertilizer, 10-10-10, after planting and every two weeks throughout the growing season up until the fruit begins to ripen. Water in the fertilizer well after applying.