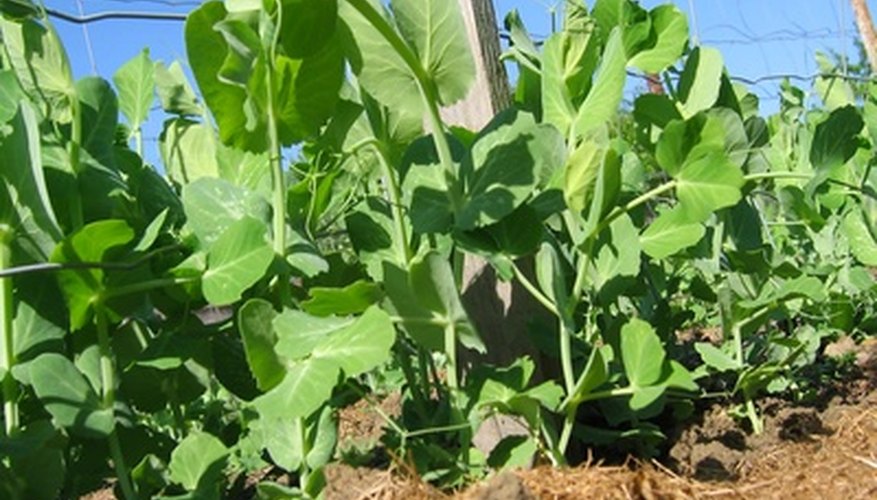 The majority of Michigan is in USDA Plant Hardiness zones 4 and 5, which means the state generally has a short, cool growing season. Nevertheless, with appropriate vegetable selection and the use of transplants, Michigan gardeners can have a successful garden. One of the surest ways to success is to select easy-to-grow vegetables.
Tomatoes
A popular homegrown vegetable, the tomato is easy to grow as well as nutritious. Tomatoes are a good source of vitamins A, B, and C. In Michigan, tomatoes need to be started indoors to allow plants enough time to bear fruit. Start seedlings mid- to late March in order to be ready to plant them outside when air and soil temperatures are warm enough, usually mid- to late May. Staking or caging tomato plants helps maintain fruit quality.
Peas
One of the oldest cultivated vegetables, peas are an easy and quick-growing vegetable. The Michigan State University Extension recommends growing peas in early spring. Plant peas as early as you can work the ground--from March 20 to May 15. If you want to lengthen the pea harvest period, plant both early and late varieties.
Beans
Because Michigan is a major producer of dried beans, it comes as no surprise that beans grow well in the state. Whether you plant bush beans, pole beans, wax beans, lima beans, dry beans, edamame or French or Italian beans, a minimum amount of effort will provide tasty results. Beans need warm soil for germination, so plant them when the soil temperature is above 60 degrees Fahrenheit, which is often not until the end of May in Michigan.
Onions
The most popular onion grown in Michigan is the pungent yellow globe onion, which does well in Michigan's cool summers. Yellow onions keep well; they are a good growing choice for those who want to store onions for later use.
Greens
Greens include Swiss chard, spinach, mustard, kale and collards. High in vitamins and minerals, greens provide great nutrition for little effort. These tasty leaves and stems may be used in salads, sandwiches or cooked dishes.
Sween Corn
Though corn is relatively easy to grow, it does require more garden space than other vegetables. Corn will grow in most types of soil, provided it is well drained. Plant corn in late May when soil has warmed. For best results, plant corn in blocks or squares with at least three rows. This will encourage even pollination.