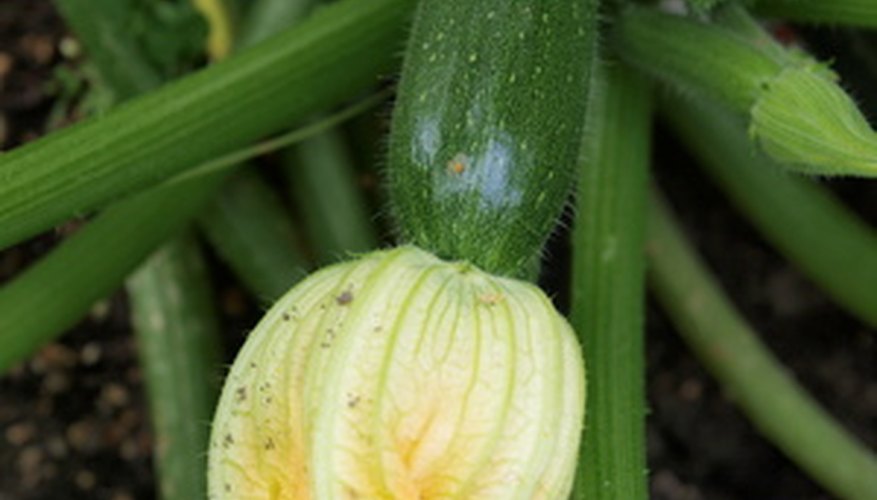 If your garden is producing more zucchini than you know what to do with, and the zucchini is turning from tender little veggies to boat-sized beauties overnight, consider eating a few of the zucchini blooms.The bright yellow flowers, which taste similar to the zucchini vegetable, will add pizazz to any meal. Zucchini blooms are perfectly safe to eat, and are commonplace in many Mediterranean dishes, usually stuffed with cheese and baked, sauteed or fried like fritters.
Harvest zucchini blooms in late morning, after the dew has evaporated, but before the heat of the day. Choose blossoms that are just barely fully opened, but not yet beginning to fade and wilt.
Wash the zucchini blossoms under cool running water. Place the blossoms between paper towels to remove the excess water.
Place the zucchini flowers in a zip-lock bag with a damp paper towel if you aren't ready to prepare the flowers right away. If possible, use the blooms the same day they are picked.
Dip the blooms in flour seasoned with salt and pepper. If desired, put a chunk of cheese or a spoonful of breadcrumbs inside the blooms. Dip the blooms in a beaten egg and fry them on both sides in butter, olive oil or vegetable oil. You can also put the zucchini blossoms in a baking pan and bake them at 400 degrees F until they're brown and crispy.