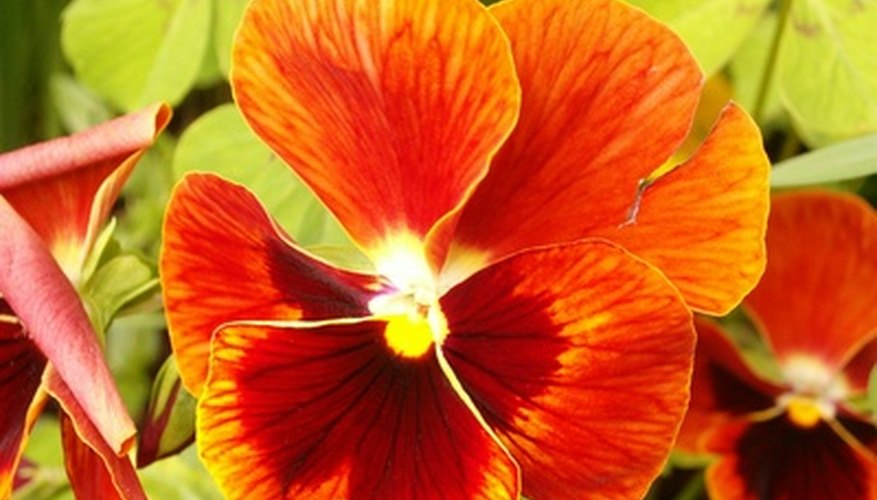 Native to the Southern Hemisphere and related to pansies, violas are early-blooming perennial flowers that enjoy cooler, moist environments. You can grow violas anytime of year in a cool greenhouse and see them bloom throughout the spring and summer. When the violas would normally wilt and stop blooming in the mid- and late-summer heat, you can keep them cool in the greenhouse and extend the blooming period into early autumn. Violas are easy to grow from seeds in the controlled greenhouse environment.
Prepare a seed tray that has drainage holes in the bottom by filling the tray with 2 to 3 inches of one part rich potting soil mixed with one part organic compost.
Spread the viola seeds on top of the potting mixture, spacing the seeds about 1 inch apart. Cover the seeds with a 1/8-inch layer of potting soil.
Water the potting mixture thoroughly to moisten it completely. Place a clear plastic lid on top of the seed tray and place the tray on top of a heating mat set to warm the soil at 75 to 85 degrees Fahrenheit.
Position the seed tray in bright light in your greenhouse. Water the potting mixture lightly each day to keep the soil moist but not wet until the viola seeds germinate.
Remove the tray lid and transplant the viola seedlings into individual 6-inch-diameter planter pots after they sprout. Plant the viola seedlings in a mixture of two parts peat moss, two parts potting soil and one part coarse sand. Also mix in an all-purpose granular flower fertilizer, according to the dosage instructions on the label.
Maintain air temperatures in your greenhouse of 65 to 75 degrees. Keep the humidity levels slightly elevated but the air cooler and not hot.
Feed your violas an all-purpose flower fertilizer once each month, according to the directions on the label. Water your violas moderately and evenly two or three times each week, allowing the soil to dry out slightly between waterings.
Things You Will Need
Viola seeds

Seed tray with clear lid

Potting soil

Organic compost

Heating germination mat

Planter pots, 6-inch diameter

Peat moss

Coarse sand

All-purpose granular flower fertilizer
Tip
If you're planting multiple violas in the same container, space them about 6 inches apart. You can deadhead the spent flowers to encourage re-blooming.
Warning
Don't over-water your greenhouse violas. Keep the soil moist but not wet or soggy.