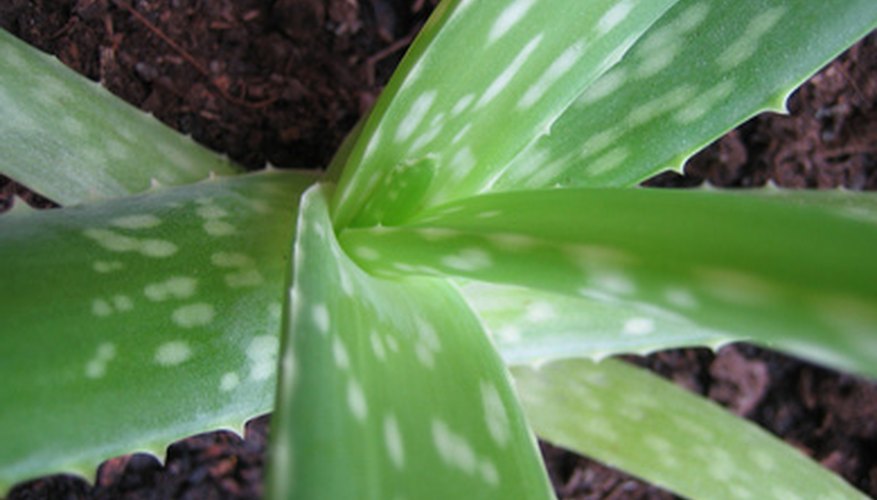 Aloe, which is a succulent that is a member of the Lliaceae family, comes in many varieties, ranging from small, clumpy plants to small trees. Most aloe is native to South Africa, is showy and easy to grow. Aloe cannot tolerate frost and grows best in USDA Plant Hardiness Zones 8 and above. These plants have interesting leaves that may be deep green to green-gray in color and some varieties have white spots or bands. All varieties flower and perform best in light shade with regular to little water.
Tree Aloe
Tree aloe (Aloe arborescens) can reach 18 feet in height and have branching stems with gray-green, spiny leaves. This showy plant produces yellow flowers in long, spiky clusters in the early to mid-winter. Tree aloe can tolerate partial to full shade in the hottest climates and is salt tolerant.
Aloe Saponaria
Aloe saponaria is a short plant that can reach 2 feet in height and grows in broad clumps. This aloe has thick leaves with white spots that may be 8 inches long and long-lasting flower spikes that produce flowers that range in color from red-orange to medium pink. Aloe saponaria spreads quickly and clumps may be separated and transplanted.
Medicinal Aloe
Medicinal aloe (Aloe vera) is also known as Barbados aloe and is well-known for treating inflammations, sunburn and insect bites. This small, clumping plant has rosettes of thin, fleshy leaves that may have white dots. The leaves grow upright and are bordered with small spikes. The leaves may be broken open to expose a viscous substance that may applied directly to the skin. Aloe vera produces a yellow flower on a thick stalk that can reach 3 feet.