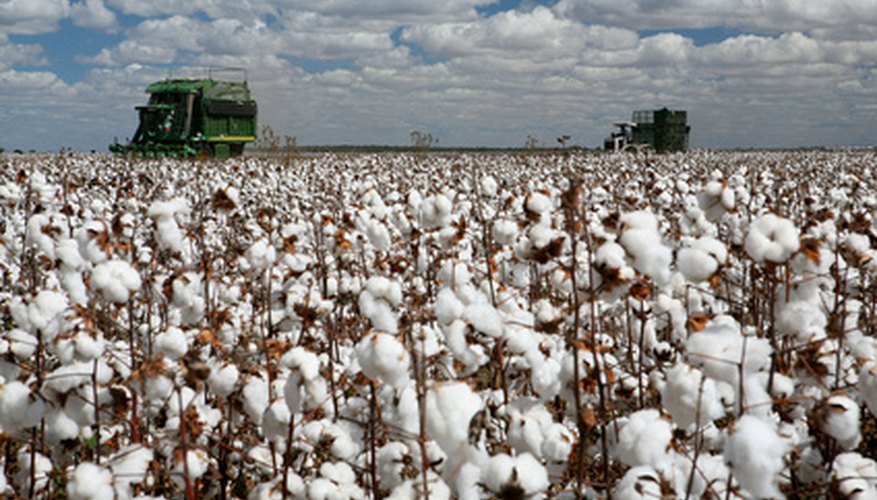 Although not typically grown in the home garden, cotton is grown throughout the United States from the southeast all the way to California. The most commercially planted variety of cotton is the upland variety (Gossypium mexicanum). It is a tall-growing plant, reaching heights of 4 to 5 feet tall, and is indigenous to regions in Central America. Growing cotton on a large scale can be both challenging and time consuming.
Cultivate the area for planting cotton using a shovel, a garden fork or a rototiller to a depth of about 6 to 8 inches. According to Mississippi State University, cotton prefers being grown in a soil pH between 5.8 and 7. Contact your local agriculture extension office to test the soil in the planting area to check for proper pH levels.
Eliminate any rocks, weeds, roots or sticks from the cultivated area. Mix into the soil 1/2 to 1 cubic foot of aged compost, dehydrated manure or any other similar type material.
Create planting rows that are approximately 16 to 18 inches wide and spaced about 20 to 24 inches apart from each other. In the center of each row, create a small furrow that is approximately 1 inch deep.
Plant 2 to 3 cotton seeds every 4 to 7 inches within the 1-inch deep furrow. Cover the cotton seeds with approximately 1 inch of garden soil.
Push in planting stakes at the start and end of each of your planted rows. Do not water the planted rows until the seeds sprout in approximately three to four weeks. Water the cotton seedlings every seven to 10 days, depending on growing conditions.
Fertilize the cotton seedlings every two weeks using a potassium-rich fertilizer such as 0-0-60. Depending on the results of the soil test, you may also need to incorporate a nitrogen-based fertilizer into the soil as well.
According to Mississippi State University, one bale of cotton generally requires 50 to 60 lbs. of nitrogen fertilizer when the soil is light. Medium-type soils typically require 60 to 70 lbs. and for heavy, clay-like soil, 70 to 80 lbs. Generally, in the U.S. it requires 1 1/3 acre of cotton to produce one bale.
Cease watering once the cotton plants begin to flower to allow the bolls (pods) to dry. Cotton is typically ready to harvest anywhere from 135 to 190 days after planting, depending on soil and growing conditions. You will know cotton is ready to harvest when the bolls crack open and the fiber inside the pods is dry.