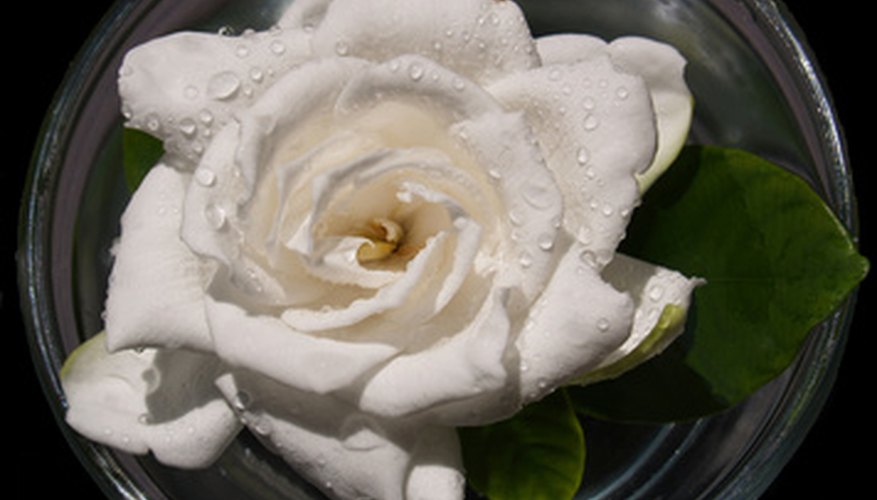 Indulge in the sweet scent of the gardenia flower, a large white blossom nestled in dark green, glossy foliage. The flower's smell and appearance makes it popular in both floral arrangements and corsages. Gardenias only live a couple of days after they are cut from the shrub. To care for a gardenia flower arrangement, provide the flower with the nutrients, hydration and environment it needs to stay fresh and beautiful.
Wet your hands before handling cut gardenia flowers. This minimizes the risk of tearing or bruising the fragile flowers when you touch them.
Place the gardenias in water supplemented with cut flower food, available from most floral shows and garden stores. This provides vital nutrients and keeps them looking fresh and hydrated. If the gardenias are on a long stem, put them in a vase. Shallow-cut gardenias, such as those used for corsages, can be floated in a shallow dish.
Put the gardenias in the refrigerator when they're not in use or being viewed. The cool temperatures extend the life of the flowers.
Keep the flowers away from all types of vegetables and fruits. Such produce release ethylene, which gardenias are very sensitive to, according to the Whole Blooms Group floral company.
Increase the humidity in the room. This keeps the petals from drying out and wilting. If increasing the humidity isn't possible, mist the gardenias with water every couple of hours.