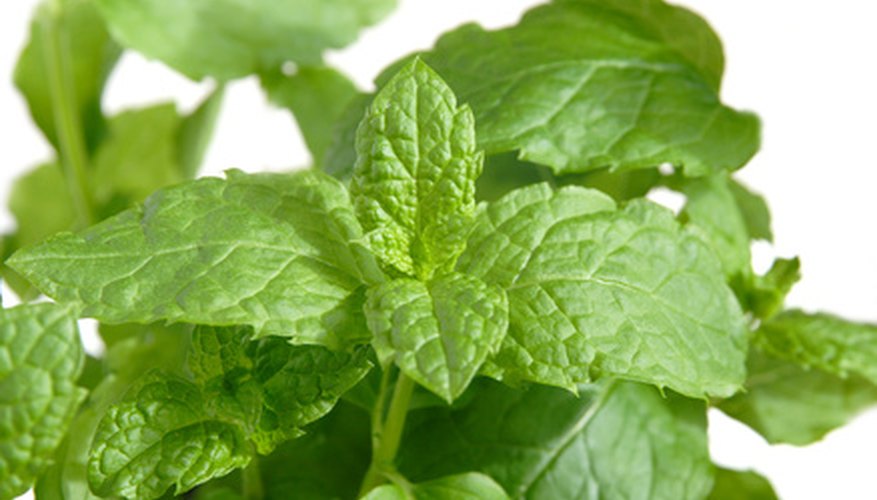 Plant mint in your herb garden, and you will have a thriving patch of the herb for years to come, as mint will grow just about anywhere with very little maintenance. Once the plant is established, you'll have fresh mint for garnishes, to flavor food and beverages and to make into jelly. Most gardeners plant mint in the form of root cuttings or as young plants. If you aren't in a hurry, mint is also easily started from seed.
Choose a sunny spot to plant mint seeds. Use a hoe to cultivate the soil to a depth of 8 inches. Work 3 to 4 inches of well-rotted manure, peat moss or compost into the soil for every square foot of planting area, along with 2 tsp. of time-release granular fertilizer.
Make shallow trenches with the corner of a hoe. Plant the seeds 1/4 inch deep, with the rows 24 to 36 inches apart.
Water the planting area carefully with a watering can or a hose with a gentle spray attachment. Be careful not to wash away the mint seeds. Keep the soil moist. Once the mint seeds germinate, give the plants 1 to 2 inches of water every week. Don't allow the soil to become soggy, as excessively wet soil can lead to rot and disease.
Divide the mint seedlings when the plants begin to get crowded. Pinch off weaker, spindly seedlings with your fingernails, allowing the strong seedlings to grow larger. Don't pull the weak seedlings, as it's too easy to accidentally loosen the roots of the stronger seedlings.
Begin harvesting fresh mint when the mint plants are 3 to 4 inches tall. Use kitchen shears to cut the mint plants to about an inch. Harvest mint late in the morning, after the dew has evaporated, but before the heat of the day.