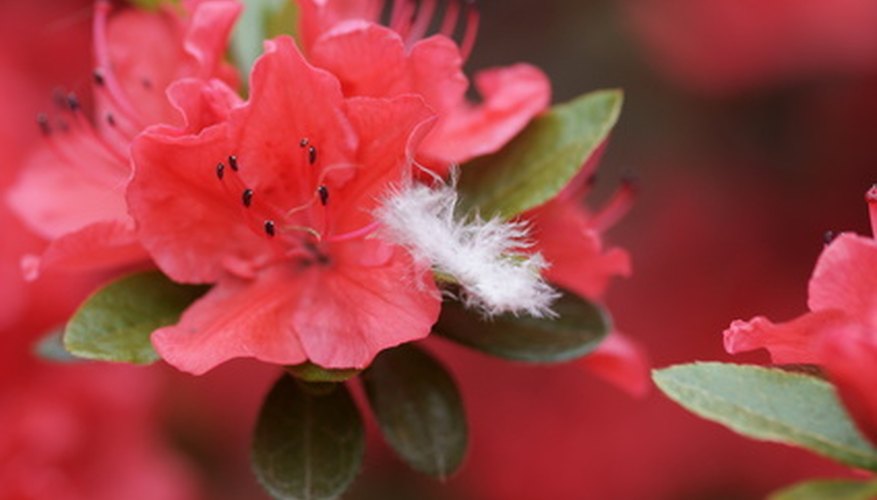 Landscape shrubs are grown in dozens of varieties, each with their own growing requirements, color, shape, size and texture. Some landscape shrubs are evergreen, meaning they keep their color and foliage all year round, while others are deciduous and die down at the end of their growing season. Many landscape shrubs are grown for their showy foliage and long-lasting blooms that brighten up the landscape and garden.
Flame Azalea
Flame azalea (Rhododendron calendulaceum) is a slow-growing deciduous shrub with course texture. The upright form has loose branches. During fall, the medium green leaves on the flame azalea change to yellow and red for a bright burst of color to the garden. Flame azalea shrubs have 2-inch, spring-blooming flowers that grow in a wide range of colors including, pink, orange, scarlet, yellow, salmon, gold and apricot. Flame azalea shrubs grow 4 to 8 feet tall and 8 to 10 feet wide and are a good choice for flanking a front flowerbed or garden walkway. Drought-tolerant, flame azalea prefers partial shade and moist, well-drained soils to thrive. They also require a few hours of direct sunlight. The USDA hardiness zone for planting is 5 to 7.
Japanese Boxwood
Japanese boxwood (Buxus microphylla japonica) is an evergreen shrub with a moderate growth rate and medium to fine texture. The rounded form of Japanese boxwood is loose and upright, creating shrubs to nestle along a backyard patio for a makeshift privacy screen. Japanese boxwood shrubs grow 3 to 6 feet tall and 3 to 4 feet wide. The dark green leaves are lustrous and grow up to 1 inch long. Drought- and nematode-resistant, Japanese boxwood are hardy shrubs. The fragrant flowers emerge in spring. Japanese boxwood shrubs prefer full sun to partial shade and moist, well-drained soil. The zone for planting is 6 to 9.
Camellia
Camellia (Camellia japonica) is a vibrant and colorful evergreen shrub with medium texture and a slow to moderate growth rate. Camellia shrubs have an upright, pyramidal shape with dense foliage. The dark green, leathery leaves are lustrous and range from 2 to 4 inches long. The semi-double to double blooms grows 3 to 5 inches wide and emerge in winter to spring for a rich burst of color. The flower colors on camellia include white, red, pink, rose, as well as variegated blooms with more than one color swirled together. Excessive shade, cold or sun reduces the camellia's ability to flower, so choose the planting site accordingly. Camellia shrubs prefer partial shade and well-drained, moist soil that is acidic in nature. The zone for planting is 7 to 9.