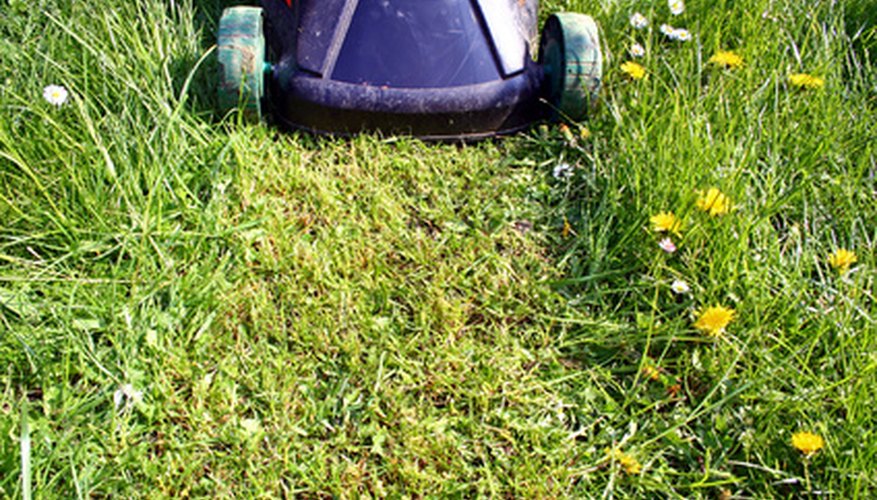 A self-propelled lawnmower works just like a traditional push mower except it can move forward on its own. All you have to do is steer, making lawn maintenance much easier. Even the best lawnmower can malfunction. Troubleshoot common difficulties encountered with a self-propelled mower to resolve these problems and get back to tending your lawn.
Make sure you are holding down the bar on the lawnmower's handle that triggers the propelling mechanism. Releasing this bar will cause the lawnmower to stop moving or stall.
Check the lawnmower's gas reserves if the mower doesn't start or turns off unexpectedly, especially on inclined surfaces. Refill the mower with gas if it's low.
Turn off the mower, and turn the appliance on its side. Inspect the bottom blades if you're experiencing poor mowing results or if the machine stalls. Vegetation may have wound around the blades; clear it away if needed. Dull or bent blades, often caused by heavy use or running over rocks, must be professionally serviced. Contact your lawnmower's manufacturer to find an authorized maintenance center in your area.
Pull out the lawnmower's spark plug, typically found on the mower's central engine block, if you can't get the lawnmower to start. Wipe it down with a rag and inspect it. Black spark plugs are burned out and must be replaced. Your lawnmower's manual will have specific part numbers for the spark plug so you can buy a compatible replacement.