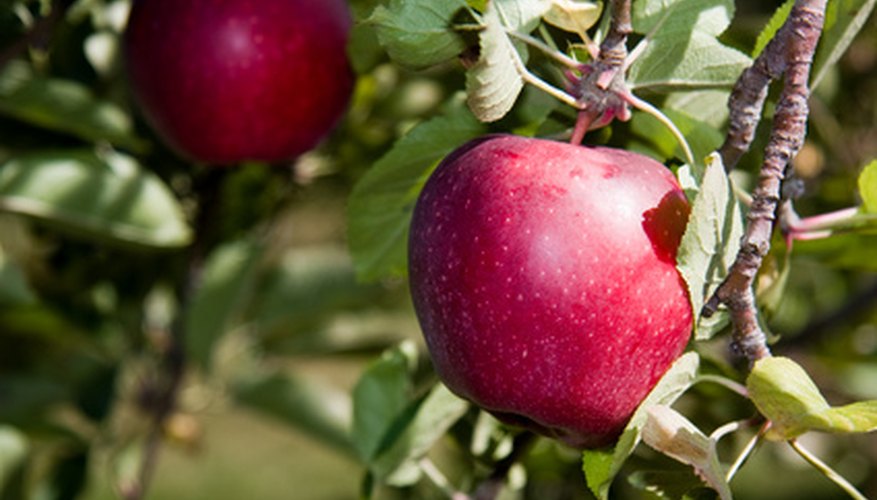 A variety of apples grow well in Wisconsin, making it easy to find an orchard where fresh apples can be picked right off the tree. To get a feel for the apples available in Wisconsin, several festivals focus on apple harvests including the Bayfield Apple Festival and the Gays Mills Apple Festival. These festivals usually include tours of orchards and plenty of apple products and foods, giving apple enthusiasts a way to pick all the apples they want for baking, canning and fresh eating.
History
Settlers planted apple seeds in Wisconsin as far back as the early 1800s. Most of the apples grown then were used by the family as an important food source, especially during the long winters. Commercial orchards started appearing in the mid-1800s. While Wisconsin's harsh winters and short growing season make growing apples a challenge, 46 of the state's 72 counties grow apples commercially as of 2010.
Measurements
Most apple orchards charge by the pound for pick-your-own apples. A pound of apples equals about four small, three medium, or two large apples. A bushel of apples equals about 42 lbs. of apples. A 9-inch pie requires about 2 lbs.of apples while 1 lb. of apples yields about 3 cups of diced apples.
When to Pick Apples
Different varieties of apples mature at different times of the year. Some apples, such as Jerseymac and Paulared, mature by the middle of August while Honeycrisp tends to ripen in late September. Apples such as Golden Delicious and Jonagold mature in October. Individual orchards should be contacted to determine the best days for picking ripe fruit.
Locations
The highest apple production comes from four regions although commercial orchards are found across the state. These main areas include Gays Mills in Crawford County, Door County, Bayfield County and the area surrounding Milwaukee. Individual apple pickers find these areas to be highly productive when looking for a pick-your-own orchard.
How to Pick Apples
Apples taste best when they're fully mature since their sugar content is at its highest. Picking apples off the tree requires a quick twist of the wrist while holding the apple firmly in the palm. The stems should still be attached to the apple when plucked, indicating a perfectly ripe apple.
What to Bring
Since it may take a few hours to pick apples, water and snacks may come in handy. Containers to carry the freshly picked apples also need to be brought to the orchard. To protect from sunburn, apple pickers should bring sunscreen and hats.