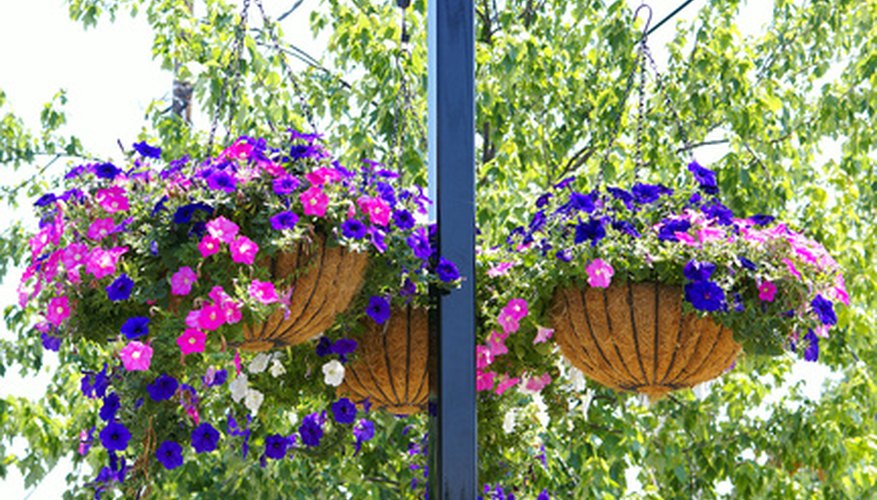 Living in an apartment building can sometimes cut down your chances of gardening. You may have just a small balcony for your outdoor living. This doesn't mean that you have to give up on enjoying your favorite flowers each summer. Use some creative planting solutions, and choose your varieties wisely, and you can have a balcony filled with colorful flowers all season long.
Clematis
Long known as a popular flower for growing up fences and trellises, clematis growers are developing varieties especially for container gardening. These smaller versions have vines that only grow about 5 feet long, making them attractive additions to balcony railings, while still producing large purple or pink blooms. For good results in containers, choose "Climador" or "Fascination" varieties.
Petunia
Long a favorite in many flower gardens, petunias can do just as well in containers on a balcony. Many of the grandiflora types of petunia are designed to straggle over a container edge, trailing flowers down in an attractive cascade. Plant petunias in hanging baskets or window boxes on the edge of railings for the best effect.
Marigold
Marigold is a sunny favorite in almost any flower garden and one of the easiest to cultivate. Smaller varieties bred for containers grow as small as 6 inches when full grown, with flowers about 1 inch across. These bright yellow, orange and cream blooms are good for flower boxes and planters in the center of a patio table.
Chrysanthemum
Chrysanthemums, or mums, are one of the most popular bedding flowers for autumn color. Blooming later in the season and lasting until frost, these bushy flowers do very well in planters on a balcony. When the early plants have died back, mums will still give you a splash of bright yellow, orange or burgundy blooms until the frost comes. Chrysanthemum's compact bushy shape lends itself to individual containers or planting in a row in a long planter.