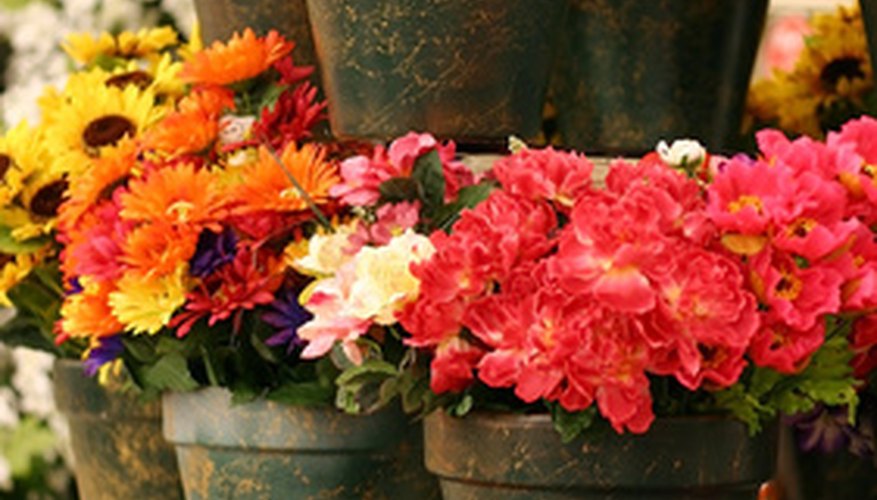 All the vibrant colors of spring and summer, cut and arranged, lighten up any room. The bold blooms of freshly cut gerbera daisies, irises, dahlias, asters and many other inspiring flowers make a huge impact, whether used for casual or formal arrangements. When you want to let your creativity shine without breaking the bank, buckets, whether decorative, plain, metal, plastic or antique, make an excellent container for festive, casual arrangements and a useful gift after the flowers fade away.
Wash bucket thoroughly with warm, soapy water, to remove any dirt and chemical residue.
Use a large, serrated knife to cut the floral foam sphere in half, and place one half (cut side down) in bottom of bucket. If using floral foam bricks, place brick(s) wide side down in bottom.
Use a paring knife to poke 6 to 7 holes in the foam, then add enough water to saturate the foam and allow it to soak for 30 minutes to an hour before inserting stems.
Decide how tall you wish the flowers to stand in the bucket. Place several stems in the bucket to determine what basic height is needed for the arrangement.
Cut off one stem to the desired height to make certain that it will sit at the proper level. Once you are satisfied with the height, cut all stems to the same height or varying heights to create different visual impact. Use pruning snips or a sharp knife to cut stems at an angle, in order to allow for absorption of water.
Remove foliage from the length of each stem and insert stems into floral foam to control positioning.