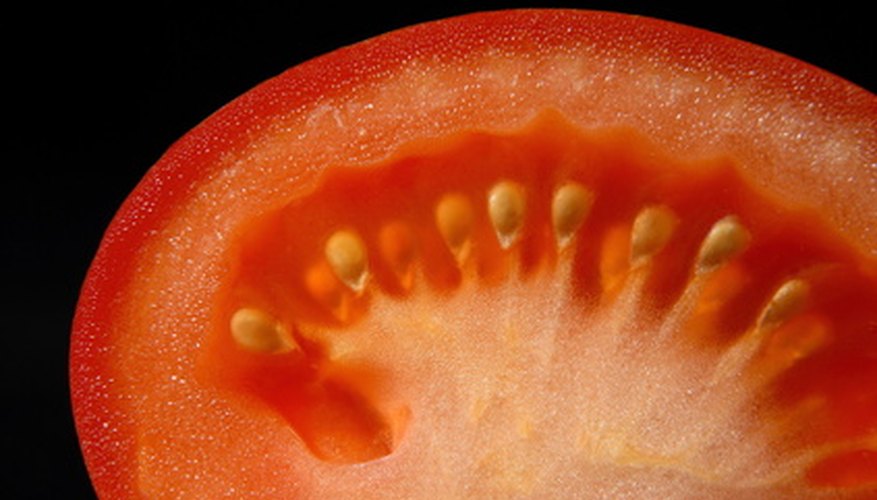 Tomatoes are a summer garden favorite, and if you are fond of your tomato crop, try saving seeds from this year's harvest for next year's garden. In order to keep the seeds viable and ready to produce a good crop next year, they need to be harvested and stored properly. Thankfully, this is an easy task to complete, and the rewards are well worth it.
Harvest your tomato seeds by cutting a tomato in half and scooping the pulp into a jar. If you already have packets of tomato seeds, and wish to know how to store them, move on to step 6.
Cover the jar and let it sit for three days, shaking it occasionally to stir up the seeds and pulp.
Add some water to the container after three days. If you jar has one cup of seeds and pulp, then add one cup of water. Add water at a 1:1 ratio. This will bring the pulp and useless seeds to the top of the container, while the fermented viable seeds will go to the bottom.
Pour off the pulp and garbage seeds, then pour the bottom seeds into a sieve.
Allow all of the water to drain off the seeds, then spread the seeds out on a paper towel, or a window screen that is laying on the counter top, to dry. Drying time can range from one to three days, depending upon how many seeds you are drying and how close they are together on the drying medium.
Place the dry seeds in a paper envelope, and then store the paper envelope in a sealed plastic container or jar. Set the jar in a cool, dry place.