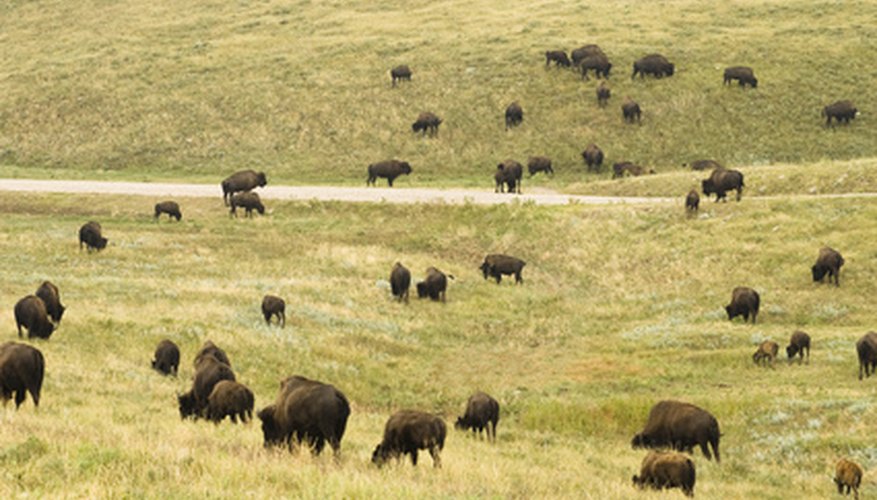 The native grasses of America's Upper Midwest are seeing increased interest as ornamental additions to home gardens. These grasses, with built-in pest and disease resistance, can handle the region's long, bitter winters, hot summers, and torrential rainstorms. Accompanying that toughness is a surprising variety of grass textures and colors. Some are tall and graceful, while others form low mounds ideal for smaller gardens.
Indian Ricegrass
Indian ricegrass (Achnatherum hymenoides) is a short perennial (up to 2 feet tall). Narrow sage-green leaves and creamy white seed heads last from June to September, giving the grass an appearance similar to baby's breath. During winter the foliage is tan. Native to Minnesota, Nebraska and South Dakota, Indian ricegrass grows wild on sand dunes and in rocky soils. It's very effective for land reclamation, notes the Lady Bird Johnson Wildflower Center. Wildlife and birds eat the seeds.
Plant this drought-tolerant grass in a sunny location with deep dry soil. Divided clumps will grow more quickly than seeds, which take up to two years to establish. If seeding the grass, plant it 1 to 2 inches deep. The grass is most effective in ornamental groups.
Sideoats Gramagrass
In days gone by, 3-foot clumps of perennial sideoats gramagrass (Bouteloua curtipendula) spread as far as the eye could see across Iowa's tall-grass prairies. Also native to Nebraska and the Dakotas, its greenish-blue leaves turned the autumn prairies into a sea of reddish-purple. Oats occur on one side of the stems, accounting for its name. Purple when they appear, they become rust-colored when ripe.
Their relative sturdiness makes the stems and oats attractive in fresh and dried flower arrangements. Because clumps of the grass are short in the spring, they work well with spring-blooming plants. Plant it in dry well-drained sand, loam or clay high in limestone. The grass likes a sunny or partly shady location and does well in disturbed areas.
Big Bluestem
Sometimes called turkeyfoot, big bluestem (Andropogon gerardii) is a summer-blooming perennial grass native to the prairies of Minnesota, Nebraska, and the Dakotas. Normally growing between 4 and 8 feet high, it has greenish-blue stems with tri-part seed heads shaped like turkey feet. Autumn grass is rust colored.
Big bluestem was favorite forage for the enormous herds of American bison that once roamed its range. While domesticated cattle love it as much as the bison did, the plants adapted to the bison's migratory lifestyle. They don't survive under year-round grazing. More than 20 bird species, including several sparrows, nest in or feed on the grass. Its flowers attract butterflies.
This grass likes sun or part shade and moist soil, either slightly acidic or rich in limestone. Excessive shade or moisture in your garden may make the grass topple.