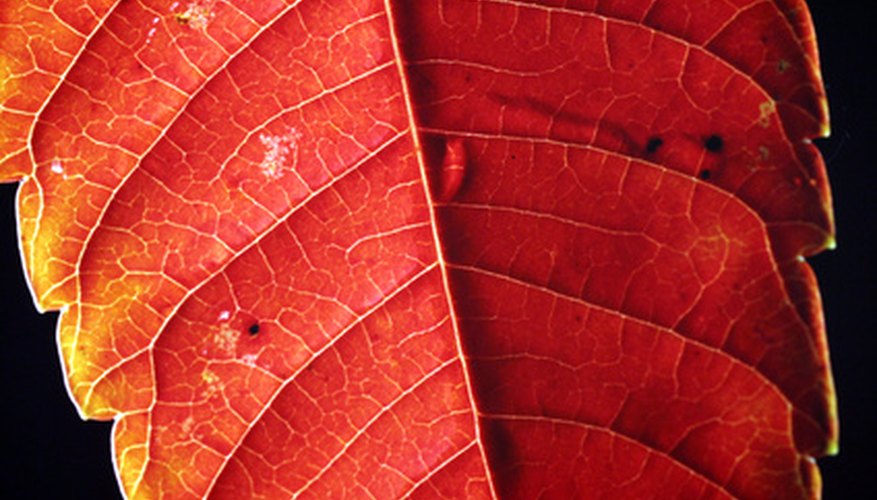 Deciduous pinnate shrubs have frond-like foliage often called leaflets, arranged on either side of a long, and often times, bristly stem. The number of leaflets varies from shrub to shrub with some encompassing more than 30 per stem. When mature, pinnate shrubs have an irregular, cascading shape that is striking planted along a front garden bed. Some pinnate shrubs have bright flower blooms, while others have fiery fall colors that light up the garden.
Smooth Sumac
Smooth sumac (Rhus glabra) is a deciduous shrub with a moderate to rapid growth rate and pinnate green leaves that are medium to course in texture. With age, the compact, dense form becomes more open and irregular in shape. The trunk on the smooth sumac is short and crooked with attached wide, spreading branches. Ranging from medium to dark green, the smooth sumac contain 11 to 31 leaflets per stem. In fall, the colors on the foliage turn a fiery scarlet and yellow color to light up the landscape. Smooth sumac shrubs have summer-blooming yellow-green flowers that range from 6 to 10 inches long. The velvety fruit is red and emerges in late summer to last into winter. Drought tolerant, the smooth sumac grows 10 to 15 feet high and wide. Smooth sumac requires full sun to partial shade and is tolerant of dry, poor soils. The USDA Plant Hardiness zones are 3 to 9.
False Spirea
False spirea (Sorbaria sorbifolia) is a deciduous shrub with masses of branches that are loaded with dark green pinnate leaves that grow 8 to 12 inches long. False spirea is fast-growing and reaches 5 to 10 feet tall and wide, ideal tucked along backyard patio for privacy. False spirea has an erect and stiff form with multistemmed branches. In summer, the white, billowing flowers emerge to cover the shrubs for a bright burst of color to the landscape. False spirea prefers full sun to partial shade and well-drained, moist soils that are nutrient-rich. The zones for planting are 2 to 7.
Bristly Locust
A moderate growing deciduous shrub, bristly locust has compound pinnate leaves that are bright green in color that grow on bristly stems. Bristly locust grows 6 to 10 feet tall and wide and has showy flowers that emerge in early spring. The pink, fragrant blooms grow in pea-like clusters to last into the summer. The flowers attract bumblebees and butterflies and are sometimes accompanied by bristly red seed pods. Bristly locust requires full sun and moist, rich, well-drained soil to thrive. They also tolerate poor, dry soils, making the bristly locust a versatile shrubs to grow among the landscape. Prune bristly locust in late summer to early fall. The zones for planting are 6 to 11.