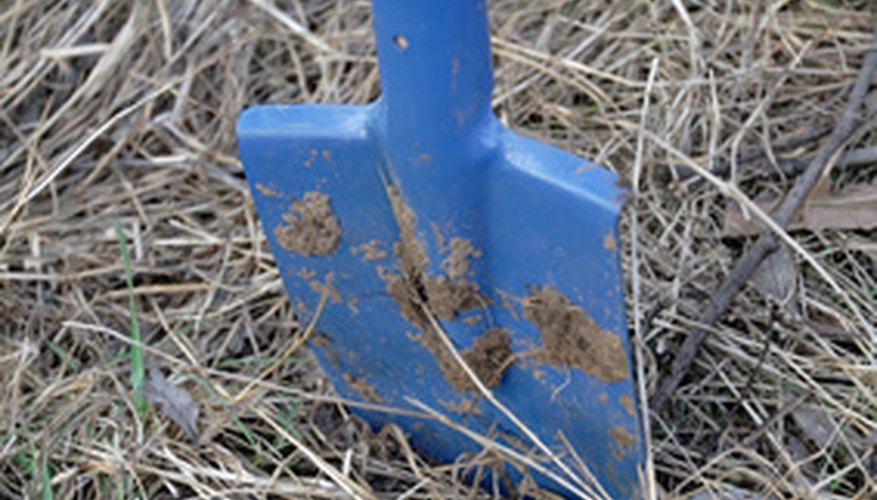 Landscape edging defines lawn and garden areas by sharpening the dividing line between two landscape elements. Edging involves using tools to create the sharp edge that characterizes a well-manicured landscape. Edging tools include both motorized and hand tools that can be used for weekly landscape maintenance. The use of hand edging tools tends to be more labor intensive than motor driven.
Flat Blade Edging Spade
The most manicured lawns feature definition between grass and garden areas. Some homeowners choose to add landscape pavers, bricks, wood or cement borders to these areas to define both sections of the yard. In cases with physical borders, one method stands apart in creating the delineation needed between grass and garden space. Flat blade spade shovels allow gardeners to create an angled trench edge between these two elements. These spades feature a looped handle on the end to firmly hold the shovel when digging.
Manual Edger
Manual edgers come in two models that can be used to edge the point where pavement meets grass. Both types feature long handles to limit bending. These two models differ in the design of the butting edge. One type features a circular blade that rotates to cut deeply into grass blades. A wheel mechanism helps hold the edger in a straight line. The second type has a curved blade that chops downward through the grass. This motion occurs when the user steps down on a lever to compress the blade.
Motorized Edgers
Motorized edgers contain either a gas-powered or electric engine to propel the grass-cutting blade. Power edgers feature a circular blade and a guide wheel that rolls on the ground to direct the movement of the machine. This type of edger has adjustments to modify the blade angle for a precise cut.
Walk-behind Edger
Landscaping professional use a bigger tool for the bigger job of edging long private driveways and commercial properties. Walk behind edgers feature a heavier model machine with an increased number of depth settings to adjust cutting angle and depth. Walk behind edgers roll on multiple wheels and have a rotating steel blade that creates the sharp edge between pavement and grass. This style of edgers comes in both gas and electric models.
String Trimmers
String trimmers (also called weed eaters) work in a pinch to trim edges along driveways and sidewalks. This type of trimmer works perfectly to edge areas along brick borders and retaining walls. Weed eaters feature a tightly wound spool of mono-filament line that extending outward for 6 to 8 inches. The motor spins this "string" at a high velocity against the grass to form the cutting edge. String trimmers typically don't work well for edging pavement/grass areas because these trimmers contain no guides for height control.